On April 2, teachers went on strike in both Oklahoma and Kentucky to demand improved funding for education. Then, shortly after the teacher walkouts began, schools across both states began shutting down.
The teacher walkouts have happened less than a month after teachers in West Virginia ended a nine-day strike that shuttered schools there, and less than a week after thousands of Arizona teachers rallied to demand a 20 percent pay increase.
Several teachers said they were tired of having to beg for everything and decided enough was enough.
According to USA Today, Oklahoma ranks near the bottom among states in average pay for its teachers. And, despite a $6,100 pay raise that Oklahoma Gov. Mary Fallon signed into law, the teacher walkouts are still taking place.
Oklahoma Education Association President Alicia Priest called the legislation a "down payment."
The association has three main demands: $10,000 raises over three years for teachers; $5,000 raises for bus drivers, custodians and other staff; and the restoration of more than $100 million in education funding that has been trimmed in the last decade.
The superintendent of Noble Public Schools, Frank Solomon, said that the speech and drama programs at his high schools had to be cut. He also said he had to push back on buying buses and air conditioners.
"The funding issue is the biggest roadblock we have right now," he said. "When you have to Band-Aid everything together, it's frustrating."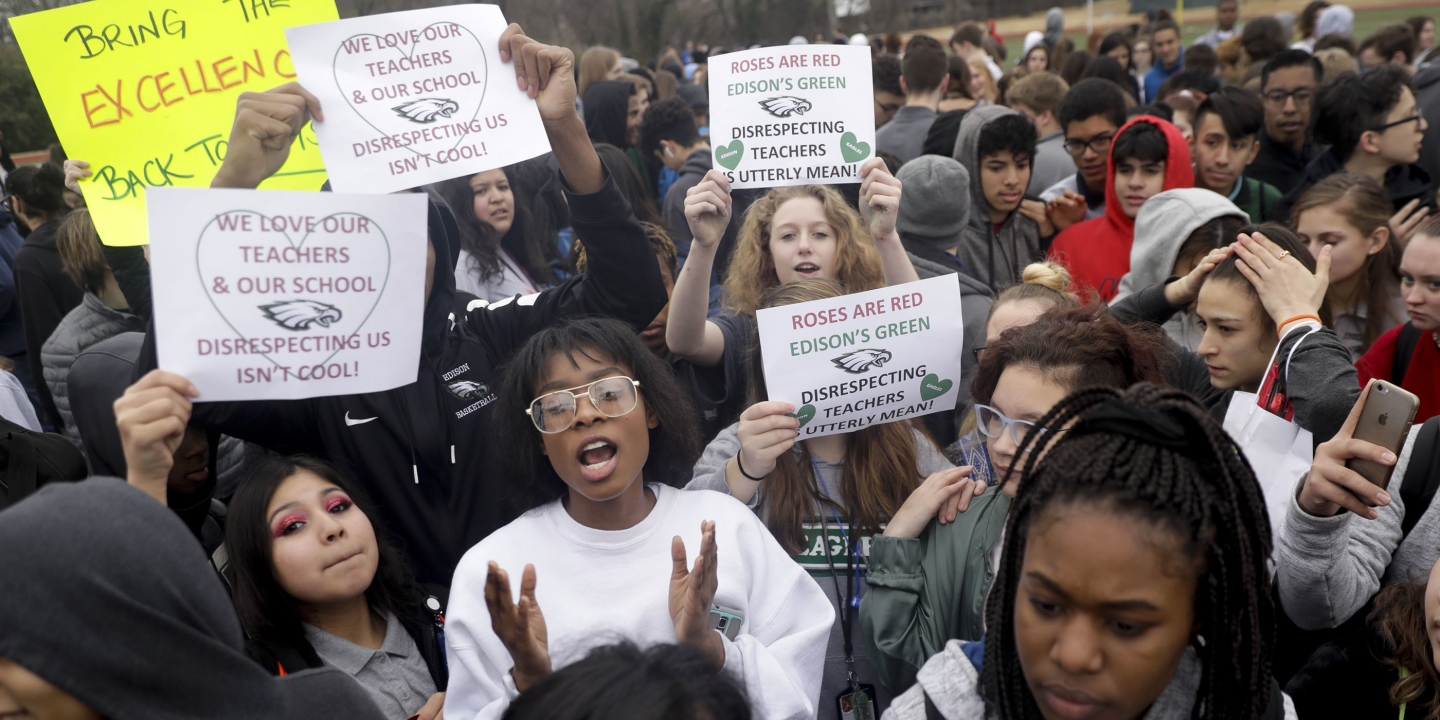 According to CBS News, the teacher walkouts are happening simply because the teachers can no longer afford anything. One third-grade teacher claims that if she had not gotten a second job, she would be on food stamps.
The teacher walkouts in these states have inspired educators in Arizona to consider a strike over their demands for a 20 percent salary increase. "Their success has shown us that collective activity can work," Kentucky teacher Corey Sayre said of the West Virginia walkout.
One art teacher in Oklahmoa, Laurissa Kovacs, says her kids aren't even getting the basics at Puterbaugh Middle School.
"The chairs are in awful condition," Kovacs said. "They're broken and they literally hurt the kids to sit down. If you look through the stacks, you can just see how many of the broken areas and cracks that will pinch you and jagged tops."
In Frankfort, Kentucky, many teachers gathered outside the Kentucky Education Association and chanted,  "Stop the war on public education," and held signs that say "We've Had Enough." Teachers were chanting, "We won't back down," and crammed into the Capitol, filling the rotunda and hallways near the House and Senate chambers.
Republican lawmakers in Kentucky passed a pension overhaul Thursday that preserves benefits for most workers, but cuts them for new teachers. Republican Gov. Matt Bevin has not yet signed the bill, but last week tweeted his support, saying public workers owe "a deep debt of gratitude" to lawmakers who voted to pass it.
Many teachers were angry at the lawmakers' decisions and have demanded for them to be voted out.