Current vice president and long time conservative Mike Pence has been adamant about fighting what right-wingers refer to as "the gay agenda" through every phase of his political career. In numerous interviews, appearances and even campaign debates, Pence has been accused of promoting anti-LGBTQ legislation and practices. However, he claims he is not against the LGBTQ community personally.
The former Indiana governor and Columbus native received interminable nationwide attention for his religious freedom bill. In 2015, Pence (then governor of Indiana) signed an Indiana Senate Bill, titled the Religious Freedom Restoration Act (RFRA).
The bill granted business owners and companies the right to refuse service to members of the LGBTQ community, as well as the right to deny them employment. Pence stated laws that required lawmakers to hire or serve gay individuals were religious discrimination.
The law remains in action in Indiana despite the immense backlash and disapproval from celebrities, citizens and local politicians including Indianapolis Mayor Greg Ballard and former Indiana Governor and President of Purdue University, Mitch Daniels.
Daniels stated that the university is opposed to any governmental measure that interferes with their anti-discrimination policy. Actor Ashton Kutcher, as well as other celebrities called the law "a devastating detriment to America's freedom."
Many Hoosiers, as well as citizens and lawmakers nationwide, cited the signing of the bill as an invitation to sexual-orientation-based discrimination.
In addition to his signing of the RFRA, Pence, a self-described "Christian, conservative and a Republican, in that order," has a well-constructed resume of acts and statements that some would say are anti-gay and even homophobic.
In the 2010s, Pence was a prominent opposer in congressional battles over marriage equality and LGBTQ rights. In a speech on the House floor in 2006, Pence urged support for the anti-gay Marriage Protection Act, stating same-sex marriage would lead to the "deterioration of the family" and "complete societal collapse."
He then went on to dispute that the argument of same-sex marriage was not even the House's to argue, but rather, God's.
His anti-gay sentiments continued with the reemergence of a statement back in 2000 on his campaign site, stating his support for conversion therapy. Pence has since denied ever approving of the immensely controversial practice.
Still, critics have claimed the only way for Pence to undo the damage of once supporting conversion therapy is to not deny ever doing so but to come out full-throttle in opposition to the idea many cite as dangerous and ineffective.
With Pence's longtime battle and offenses to the gay community, some Hoosiers fear that Pence's anti-gay sentiment has overshadowed the beliefs of current Indiana natives. Numerous accredited Indiana institutions including Indiana University have come out to show their support of the gay community, as well as anti-discriminatory legislation.
Most recently to come forward in an attempt to promote the individuals in the state who do support the gay community is Indiana resident Erin Bailey. Bailey, of Columbus Indiana — the hometown of Vice President Mike Pence — wants to show that even the people who shared a community with Pence do not support his "anti-gay ideals" or "agenda."
To spread awareness, the young high school senior began organizing Columbus' first-ever gay pride festival. Bailey, who is bisexual, had the idea of organizing the festival as her senior class project.
"Most people would think that all of us are also anti-LGBT, but there are plenty of us who very much support the LGBT community and are members of the community," said Bailey.
Even though Columbus has never had a gay pride festival, it is one of the select Indiana communities that have added LGBT protections to city ordinances. The city's largest employer, Cummins Inc., was among the Indiana companies that opposed the state's Religious Freedom Act.
In 2000, the engine maker became the first company based in the Hoosier state to offer health insurance and other benefits to the same-sex partners of employees. However, Baily says that is not enough, stating that "The LGBT community needs to be celebrated." With the first gay pride festival, Bailey strives to achieve just that.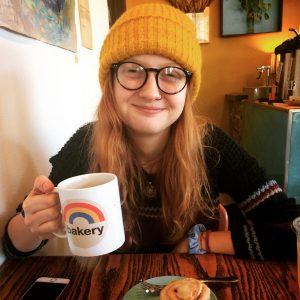 Organizers hope that the festival set for April 14 will send a message of inclusiveness from the hometown of Pence, showing their support for issues important to the gay and lesbian community. The festival has received nationwide attention and celebrities and lawmakers have taken to social media to show their support.
Bailey told USA Today that the event will include information booths, drag performances, vendors and plenty of rainbow flags. Most importantly, the festival hopes to impart a message to the LGBTQ community of the mostly-conservative town: "You are not alone. There are others like us."
The pride festival, with a current reported attendance of almost 500 people, even has T-shirts made for the momentous occasion. Bailey and other members of the community encourage citizens to purchase the pride T-shirts to wear to the festival or to simply display support for the LGBT community.
The event will be held in downtown Columbus and aims to help "make Columbus a more welcoming community for everyone."
With news of the gay pride festival in his hometown, Pence responded to the formation of the event, saying he's "heartened" by Bailey's activism. Pence's Press Secretary Alyssa Farah said, "Vice President Pence commends Erin Bailey for her activism and engagement in the civic process."
Farah went on to add that Pence applauds young people such as Bailey from his hometown engaging in politics.
Yet again, however, members of the LGBT community felt Pence's words to them were "empty." One member stated in a series of tweets that Mike Pence owes the gay community more than kind words on activism and involvement in the civic process.
Since his promotion to the White House, Pence has been trying to draw attention away from his anti-LGBT past actions and statements. According to the LGBTQ Nation organization, the only way for Pence to move forward is to completely own and denounce his past anti-gay sentiments and to openly endorse the community and its deserved rights.