Since the sobering election results on Tuesday, November 8, Trans Lifeline (a nonprofit with a focus on suicide prevention for transgender people) has received at least five times the call volume it normally gets.
According to ThinkProgress online, lesbian, gay and bisexual students are more than twice as likely to experience feelings of depression or hopelessness compared to their heterosexual peers.
Awareness doesn't equal action — to "educate yourself" is simply not enough. In order to make change, you have to do something with the information you obtain. You know members of the LGBTQ+ community don't feel safe in their own country. What are you going to do about it?
Perhaps people choose not to volunteer their time because they don't know where to start. Maybe the problem at hand seems "too big," or they don't feel comfortable and want to avoid "crossing the line." If you want to be an LGBTQ+ ally, you have to do more than feel embarrassed or sorry. You have to do your research, become familiar with the resources available for LGBTQ+ people and more importantly: Get involved. Listed below are organizations and more that focus specifically on the LGBTQ+ community, and offer to anyone willing to help big and small ways to do so.
1. The Trevor Project
Founded in 1998, The Trevor Project is the leading national organization providing crisis intervention and suicide prevention services to LGBTQ+ people ages 13-24. To reference information above, on Wednesday, November 9, The Trevor Project received more calls, texts and online chats than it's gotten on a single day in four years.
There are plenty of volunteer opportunities. For one, you can become a TrevorChat or TrevorText volunteer. You would be trained to answer instant messages or texts online from young people struggling with their identities, depression or even suicide — you could complete the following in any private place with strong internet connection.
There are call centers located in Los Angeles and New York City — there, you could become a Trevor Lifeline volunteer, and be trained to answer phone calls. Most young people (especially LGBTQ+) are looking for non-judgmental spaces to just talk. The Trevor Project's official website details several other volunteer opportunities, as well as orientation seminars both in person and online.
In addition to volunteering, The Trevor Project offers internship and job opportunities. You could be an Operations Intern, Community Engagement Intern, Development Intern, Special Events Intern and more. The Trevor Project's current available jobs include Human Resources Director or Lifeline Crisis Worker.
More simply, you could sign up to receive The Trevor Project's newsletters. Emails will provide you with information regarding upcoming events.
Sharing the Trevor Support Center page on any of your social media accounts could help someone struggling. There, FAQ are answered like, "I told my mom I think I'm trans, but she thinks it's just a phase. What if she's right?"
When you're hanging out with friends, think about (as a group) each donating just $5. I know $5 seems like a small amount, but if you can get nine other friends to donate with you, that's $50 raised in the matter of minutes. You could do something interesting on your campus like host a bake sale, or a talent show — all proceeds go toward helping The Trevor Project grow.
2. GLAAD
GLAAD formerly stood for "Gay & Lesbian Alliance Against Defamation," but the name was dropped in 2013 to confirm the organization's dedication to inclusivity, and not leaving bisexual or transgender people out of the conversation.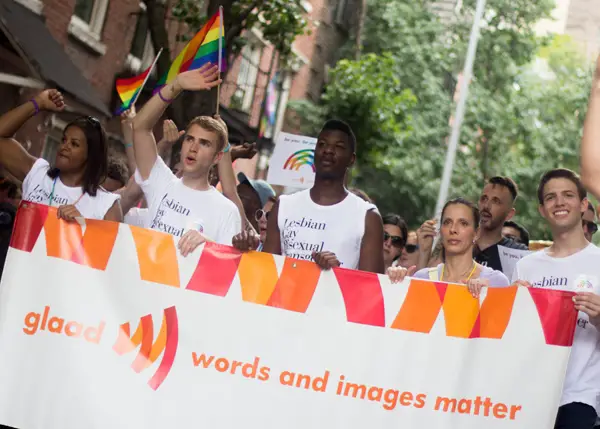 On the official website it reads: "GLAAD brings LGBT characters and plotlines to movie theaters, television sets and even comic books — working with writers, producers and studios to ensure accurate and diverse representations of LGBT people on the big and small screens." Essentially, GLAAD works to combat anti-LGBT attitudes in the media, provides tips for allies of transgender people, includes on the website five ways to take action against HIV and AIDS and so much more.
Much like with The Trevor Project, you can intern with GLAAD in the fall, spring or summer in either New York or Los Angeles. You can be a Youth Engagement Intern, Trans Media Intern, Spanish-Language & Latino Media intern and more. Career opportunities include: Development Officer, Director of Campaigns & External Engagement or Video Production Manager.
You can join the GLAAD email list and receive updates about future GLAAD events, and read the GLAAD blog as LGBTQ+ people share their personal stories. More importantly, support the organization on social media, including Facebook, Twitter, Instagram and YouTube. By sharing GLAAD's online content, you're helping to amplify the voices of LGBTQ+ people, as well as hold the media accountable for misrepresenting the community.
Transgender Awareness Week began on Monday, November 14, and ends on Sunday, November 20, known as Transgender Day of Remembrance. Trans Awareness Week is meant to raise the visibility of transgender and gender non-conforming people. GLAAD suggests, on Transgender Day of Remembrance, either attending or organizing a vigil to honor the transgender people lost due to senseless acts of violence.
3. Camp Ten Trees
Camp Ten Trees has been a nonprofit summer camp in Washington State since 2001. Every year, two weeks of residential summer camp programming are offered. One week is for LGBTQ+ youth and their allies, while the other week is for children and youth of LGBTQ+ or non-traditional families. Traditional camp activities include swimming, archery and nature hikes, but campers also engage in workshops exploring identity, and issues of oppression and privilege.
Camp Ten Trees relies heavily on year-round volunteers, and there are a multitude of opportunities to get involved. You can volunteer at a weekend camp, become a Layover Counselor or join the Board of Directors.
You can also apply to be a summer camp volunteer — opportunities include becoming a Cabin Counselor, Health & Wellness Provider or a part of the Kitchen Crew.
Summer camps for LGBTQ+ youth can be life changing. One of my closest friends (who happens to be a part of the LGBTQ+ community) impulsively bought a plane ticket to Seattle, Washington, last week because she wants to volunteer at Camp Ten Trees. There are many summer camps focused on LGBTQ+ youth throughout the country, including: Camp Brave Trails in Southern California, Camp Lightbulb in Provincetown, Massachusetts and Camp Highlight in Pennsylvania.