For the hefty price tag of $2.4 billion, the fun, cheeky brand of Kate Spade New York is being acquired by Coach, Inc., the long-standing multinational luxury brand.
Coach has been around for almost 80 years, so their primary motivation for wanting to acquire the Kate Spade brand was to draw in a younger consumer crowd.  The problem is  that the target market they are looking to acquire through the acquisition isn't interested in being acquired. There is a growing concern among Kate Spade shoppers that the brand is going to suffer because of the Coach acquisition, and they aren't interested in watching it fall apart.
According to an article from Racked on the subject "…fans of the quirky, girly handbag brand expressed concern that Coach would meddle with everything they love about it.  Some threatened to stop shopping Kate Spade altogether."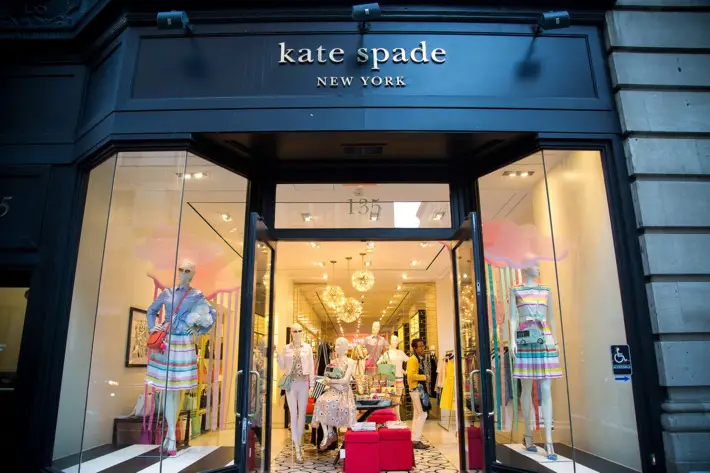 Coach's attempt to capture the love and money of millennials isn't working, but they are successfully wooing Wall Street. According to a Barron writer, "…Kate Spade's share price has surged almost 8.2 percent, to $18.36, in recent market action on the news of its purchase by the rival handbag maker for $18.50 a share. But it's the 5 percent jump in Coach's share price, to $44.75, that illustrates Wall Street's approval of a deal.  It is common knowledge that if investors disapprove of a deal, they punish the acquirer's stock price."
Financial analysts across the web are stating their approval of the merger, provided that Coach doesn't overstep and muddy up Kate Spade. Part of the reason for their approval stems from the fact that, two years ago, Coach acquired the high-end shoe brand Stuart Weitzman.
With the help of a previous Valentino executive, the brand under Coach has been a success, even though after the announcement of the acquisition Coach's stock price fell more than 1 percent, which normally indicates a lack of support from investors. This shows investors' reaction to news isn't always a reliable predictor of future success.
Coach has been trying to turn things around for their company since 2014, which was a very rough year for their sales and stock prices. In addition, the Coach brand is regarded as boring and "blah" by most of the younger generations, and Coach hopes to remedy this by acquiring colorful, popular brands like Kate Spade. The octogenarian company isn't moving slowly in their plan to turn their image around, though; a year ago Coach unsuccessfully attempted to acquire British luxury clothing brand Burberry, and Coach has been eyeing London-based luxury shoe brand Jimmy Choo for quite some time.
Coach has plans to launch Kate Spade into multiple international markets as soon as possible; currently, only 15 percent of Kate Spade's sales come from outside North America.  The purchasing company is very experienced and well known internationally, and they hope to use their expertise to propel the newly acquired brand into new international markets.
Coach has also said that there will be less discounting and fewer flash sales for Kate Spade, because it erodes the luxury image of the brand and, over time, hurts their bottom line. Executives at Coach have already decided to pull the brand from 25 percent of the department stores Kate Spade is normally found in.
In addition to Coach using their long-reaching arms in international markets, they are hoping to help Kate Spade and themselves by cutting costs by combining operations. According to an article from USA Today, the synergy of the two companies will "…shed $50 million in annual costs within three years after completing the deal. That will include 'supply chain optimization' and elimination of overlapping costs…"
Even though Coach is cutting costs, launching Kate Spade into new markets and attempting to increase and stabilize profit margins, there are still many things working against them. Historically, mergers and acquisitions (M&A) in the luxury industry usually fail to regain consumer's attention. In addition, combining two different companies and cultures is a huge obstacle that few companies in the industry have successfully navigated.
Fifth & Pacific, Inc., the parent company selling Kate Spade to Coach, used to own Juicy Couture, a luxury brand that has now fallen below luxury status after being acquired by Authentic Brand Group (ABG). Juicy Couture once was a well known luxury brand of Hollywood stars, but is now available at Kohl's and is deeply discounted. The quality and craftsmanship is no longer present, and even though ABG is trying to maintain the image that Juicy Couture once exuded, the brand's image is just a shell of what it used to be.
Another obstacle faced by Coach and Kate Spade is Trump's proposed overseas tax plan, which will affect profits in international markets. With Coach generously reinvesting profits overseas, there could be a very ugly tax bill coming their way.
Although the Kate Spade brand might soon be muddied and lost to its loyal and loving fan base, the designer Kate Valentine (formally Spade) has launched a new designer line called Frances Valentine. Although her new design line isn't as whimsical and young as her previous line, it is still something to consider if you are looking to purchase something designed by Kate Valentine (Spade), the founder of the Kate Spade New York brand.
In summary, the fate of the Kate Spade brand is yet to be seen and there are many obstacles for Coach to overcome as their new parent company. Despite the challenges of a M&A and possible changes to tax codes concerning international earnings, the fate of the brand really depends on whether or not millennials will accept Kate Spade after being acquired by Coach.
Approximately 60 percent of Kate Spade's customers are millennials and, according to The Economist, "…by 2026 the main consumers of luxury will be millennials…"
Although Coach's decisions concerning international markets and cutting costs are important to the future success of the brand, the real indicator of success is whether or not they can convince millennials that their adored brand is what it used to be and that it will remain that way. This leads us to the million-dollar question:  Will Coach win the hearts of millennials?