He Will Not Divide Us
Though no stranger to performance art, LaBeouf may have outdone himself with his latest project.
By Ashley Wertz, University of Pittsburgh
---
Celebrities have been and always will be an important component of political discourse.
Leonardo DiCaprio has used his status to promote conservation and climate-change awareness. Ashton Kutcher's involvement in fighting child sex-trafficking has recently made news. And yet, many people still believe famous actors and musicians should keep their mouths shut when it comes to politics.
When you have a platform, why not use it?
Not everyone has good intentions, but, just like with any other person, you can agree or disagree. All activism and expression of political opinion is not as clean cut as DiCaprio or Kutcher's though, and if there's one controversial star out there right now, it's Shia LaBeouf.
Who Is Shia LaBeouf?
What kind of question is that? Of course you know who he is. He's Stanley Yelnats, Louis Stevens and Sam Witwicky. He gave this generation a few childhood heroes, and then, years later, he yelled at everyone to follow their dreams. As odd of a motivational tactic as it was, it kind of worked. He's been the subject of an iconic song about cannibalism and gave an unexpectedly harrowing performance in Sia's "Elastic Heart" video.
Like many other child stars, LaBeouf went through a bit of a rough patch. From wearing a paper bag on his head at an event with the words "I am not famous anymore," to a disturbing account of being a victim of sexual assault during a performance-art piece (followed by peoples' flippant attitudes toward sexual assault on men), LaBeouf has had his fair share of low points.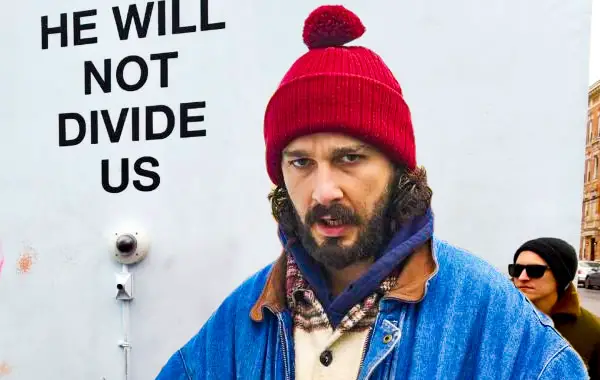 Since then, he has become an activist of sorts, fighting back against the forces that led him down such an unsavory road. With the political climate revealing some equally disagreeable people, LaBeouf's rise to the challenge is well timed.
His brand of activism may not be as palatable as those of other celebrities, but that's pretty much what his job is at this point. He no longer acts, so his life has become one giant performance-art piece. Many find his techniques too abrasive, verging on the point of divisive, but I think it takes a closer look to understand what he does.
The "He Will Not Divide Us" Project
On January 20, 2017, LaBeouf started a project at the Museum of the Moving Image in New York that is intended to last through the entirety of Trump's presidency. The project, entitled "He Will Not Divide Us," is pretty simple. The piece consists of a white wall with "He Will Not Divide Us" in large black letters, as well as a web camera positioned to look out onto viewers 24/7.
The idea was to create to a space of solidarity for those who needed it after the election. At first, the crowd consisted of people chanting the phrase alongside LaBeouf and not much else, but performance art isn't always exciting in the way you expect it to be. The fact that so many people had gathered in one place to provide mutual support was amazing enough.
However, the pros can't exist without cons. Soon enough, hateful individuals stepped into the frame to do nothing more than show what true divisiveness is. After an "alt-right" member started spewing Nazi propaganda into the camera, LaBeouf wasn't about to sit back and let it happen. Using his own freedom of speech, he yelled loud enough to drown out the hateful words, getting right into the perpetrator's face. Critics reacted to the showdown by claiming LaBeouf was in the wrong and not the literal white supremacist.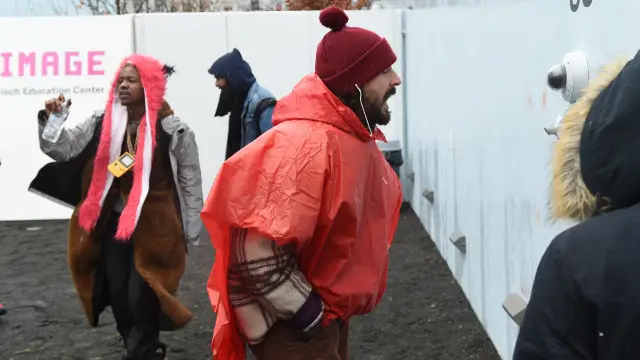 No matter how you believe it happened, white supremacist groups have reared their ugly heads after years of subterranean dwelling. LaBeouf's project was clearly a prime site to shake things up. It's even more personal when you learn LaBeouf's mother is Jewish, and thus, he was raised in an environment that exposed him to Judaism as well as Christianity on his father's side.
Having a connection with a religion that has been persecuted ceaselessly throughout history makes the subsequent critiques of LaBeouf's attitude toward white supremacists all the more unsettling. Obviously, this is not the first instance of victim-blaming in the U.S. and it won't be the last, and water is wet.
Fast-forward to January 25, and LaBeouf is once again dealing with harassment from antagonizing spectators. This time, he's provoked just enough to get physical, which resulted in his arrest.
After the project started to become more of a liability than a positive investment, the Museum of the Moving Image dropped the display altogether on February 10. The Museum of the Moving Image is much smaller than other museums in New York, though, so it's understandable that they wouldn't want to put their business or patrons in danger.
Neo-Nazis Can't Spoil Everything
After the project was removed from the New York museum, there was a sense of defeat, a feeling of being silenced once again. Luckily, the project was given a second chance when it was moved to the El Rey Theatre in Albuquerque, New Mexico. The difference between a New York City setting and New Mexico may be a challenge though. Perhaps the change in scenery will fix any problems the performance artwork was experiencing in traffic-heavy New York.
In a statement by LaBeouf and his partners, Rönkkö and Turner, they insisted that the museum created "the misleading framing of our piece as a political rally, rather than as a participatory performance artwork resisting the normalization of division." Maybe in a less bustling city, like Albuquerque, the project will be able to find its footing.