American Apparel is a walking contradiction: They've been through hell and back in the fashion industry. I love everything about the aesthetic of the brand and the products they have to offer. At the same time, the brand's history can easily put them in a negative light. After being run by former CEO Dov Charney for fourteen years, American Apparel shut down due to bankruptcy last April.
Come July, I really thought I was saying goodbye forever to the brand which I adorned my underwear and sock drawer with. I even remember the sad feeling of nostalgia walking past one of the abandoned, vacant shops in New York City. But if you didn't know, it's back guys!
After a good couple months of repeatedly refreshing the website every other day, I found out that American Apparel made their come back last August. They're here, better than ever and under a completely new management system.
From the classic "Easy Jean" to the spandex bodysuits, American Apparel has always been a timeless favorite of trend-searchers across the globe. After years of running the business as a small side one, in 2003, Dov Charney opened up his first shop in Echo Park, Los Angeles. Receiving multiple awards such as Ernst & Young's entrepreneur of the year, Charney brought years of success and also failure to the empire of a company that he created.
Eventually, stores began opening all across the country. The label "Made in the USA" became such a staple that as the popularity of the brand grew, those little labels seem to be the sole reason people shopped at American Apparel. With authentic, bold advertisements of men and women in odd and suggestive poses, the brand grew on encouraging self-expression and embracing your sexuality.
Underground of the vintage and retro, classic tees and dresses that the brand thrived on, controversy over what others perceive as overly-sexualized advertisements and accusations of Dov Charney's sexual harassment eventually took its toll on the brand. Words about Charney masturbating in front of models and during his interview with journalist Claudine Ko circulated through any media platform you could imagine—and he didn't make much of an effort to keep it a secret either.
Before being thrown out, Charney was always heavily passionate about social issues around homosexuality and immigration rights and supported them through his brand. Through campaigns such as Legalize Gay, Legalize LA and using American sweatshop-free factories, the brand has attracted dressers of all types from across the country. As a leader, Charney created a tremendous impact on the success of the brand, but it wasn't enough to hold American Apparel under his management and marketing.
Unfortunately, all wishy-washy, good and bad things, come to an end. Beside the fact that Charney still had a lawsuit pending during American Apparel's plummet in April, other elements also factor in its downfall. After going bankrupt once already in January 2016, the financial instability of American Apparel didn't stop there. Last November, the company was told to be $177 million in debt at a bankruptcy hearing. Despite years of financial issues and the ousting of the former CEO in 2014, American Apparel has been a staple in American fashion for decades.
Come January, a Canadian apparel company, Gildan, acquired the company for $88 million and spent an additional $15 million to gain all of American Apparel's inventory. The company didn't bid for the any of the 100+ retail stores around the world, so we can say goodbye to those trademark "American Apparel" street-side signs for sure.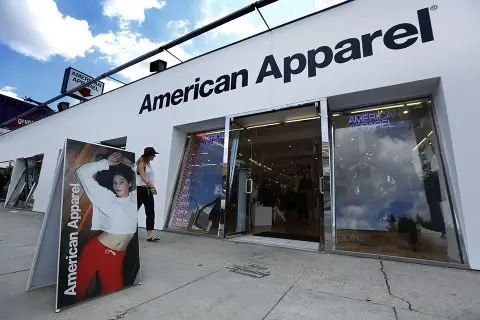 Gildan has the American Apparel website up and running as if nothing ever changed, but there are some slight (or should I say big) differences in between the lines. Looking at the site, everything looks pretty much the exact same as it was under the management of Dov Charney. Maybe a couple less provocative pictures and no collaboration or sales items available yet, but for the most part everything seems to be pretty peachy. That is, except for the fact the famous "Made in America" symbol has been toned down fifty notches everywhere on the website.
The slogan that once decorated the website has now been replaced with "Globally Sourced, Ethically Made, Still Sweatshop Free. That's American Apparel." American Apparel just isn't as American as it once was. The management under a Canadian company and supplies of globally made clothing will really put the loyalty of Americans to the test. Do people genuinely care if the clothes are made in America?
Just to be safe, Gildan has provided globally clothes made as well as American made ones. The only difference between the two is that the American made clothes are significantly pricier, which isn't a problem if you truly want to stay loyal to the brand, and investigations have been conducted on how true the new American Apparel is to keeping their word about sweatshop-free factories.
Gildan isn't known for caring too much about the conditions their global employees work in, let alone those in Honduras (where most of their factories are). Despite what remains unclear within the brand's ethics and morals, we can only hope they put out quality clothes that American Apparel has always stood for.
Now, we know that American Apparel is headed in a hopefully successful direction after a rough history, but what about Dov Charney? Because he had such a personal attachment to the company, Charney took matters into his own hands and has created a whole "new" brand, Los Angeles Apparel.
The new brand is nothing less than an American Apparel replica. It has the same idea model-wise, picture-wise, clothes-wise and has a more than less appealing website set-up (if you ask me). What more could the Los Angeles brand offer if it's just another mix of tri-blend tees and nylon bodysuits under a different name?
In an interview with 89.3 KPCC radio, Charney said, "Certain companies that buy clothing for the music industry or for online retail…they need it in their fit, they need it their way, on time, now." He added, "So there's actually an economic demand for 'made in Los Angeles' or 'made in U.S.A.'" I'm not sure what the success rate of Los Angeles Apparel will be, but it's currently in the works of putting out clothes that I'm sure won't fall short from the American Apparel aesthetic.