Alaska was the third state to legalize recreational pot, and now a total of eight states and the District of Columbia have followed suit, all in the hopes that getting high will finally be legal and easy. But while I don't mean to kill your buzz, it hasn't been as simple as that.
The integration of cannabis into an economy seems straightforward, and voters often think that once pot is legal in their state, they will be able to go out and purchase it the next day and continue to do so indefinitely.
However, Alaska's experiences with cannabis have showed the country that legalization is just the first step in a longer process, a realization that began in Alaska when retail pot was still unavailable more than a year after its decriminalization.
Indeed, even after a state has decided to legalize the drug, there is still plenty of waiting, changes and controversies that follow before consumers have easy access to marijuana.
1. Getting Marijuana Takes Time
Just because cannabis is legalized doesn't mean that businesses selling it will immediately open. Although there was significant demand for the product, the first Alaskan pot store did not open until almost two years after Ballot Measure 2 passed.
Alaska voted to legalize weed in Nov. 2014, but the first dispensary, Herbal Outfitters, didn't open until Oct. 2016, nearly 24 full months later. Not only that, but the store opened in Valdez, a small town 300 miles away from Anchorage.
Even once stores are established in larger population centers, there could still be a secondary waiting period. Anchorage shops sold out the first month of 2017 because, although the demand was there, the supply wasn't.
2. There Will Still Be Votes to Outlaw Pot
In addition to waiting, marijuana users also have to worry about repeal efforts. Alaskan communities have tried to ban weed within their borders ever since legalization.
In Oct. 2016, the Matanuska-Susitna Borough voted down a ban on marijuana sales outside cities. However, that same month, the city of North Pole prohibited any pot businesses, a decision that a local citizen, Santa Claus (formerly named Thomas O' Connor), publicly spurned.
More recently, in Oct. 2017, lawmakers considered bans on the growing, manufacturing, selling and testing of weed in Fairbanks and parts of the Kenai Peninsula. Alaskans continue to debate the cannabis issue nearly three years after legalization, perhaps out of concern for younger people using it as a gateway drug.
3. Marijuana Will Make Its Way into Schools
At least some of these bad vibes undoubtedly come from a focus on the health of Alaskan youth, especially because drug offenses in high schools have been increasing.
In 2015, there were 69 first-semester marijuana offenses in the Anchorage School District. In 2016, the year cannabis became available in stores, that number increased to 97. In 2017, the suspensions jumped to 166.
Pot use has also increased in rural Alaskan schools. At the end of 2017, the Bethel superintendent described the year's marijuana offenses as "unprecedented." Two months earlier, students were selling doped gummy bears at the high school for five dollars each. Not only did more underage marijuana use follow legalization, but illegal sales, in general, did not end.
4. Illegal Sales Will Continue
Cannabis is taxed heavily in Alaska, so many people still prefer buying illegally. After six months of taxes, the state collected $693,029. Even though the current tax structure benefits the state financially, it still unintentionally incentivizes continued illegal activity.
Illegal transactions continued through Nov. 2017 when the city investigated the infamous ex-reporter Charlo Greene for selling marijuana without a license, an event authorities described as a part of a much larger trend in the district.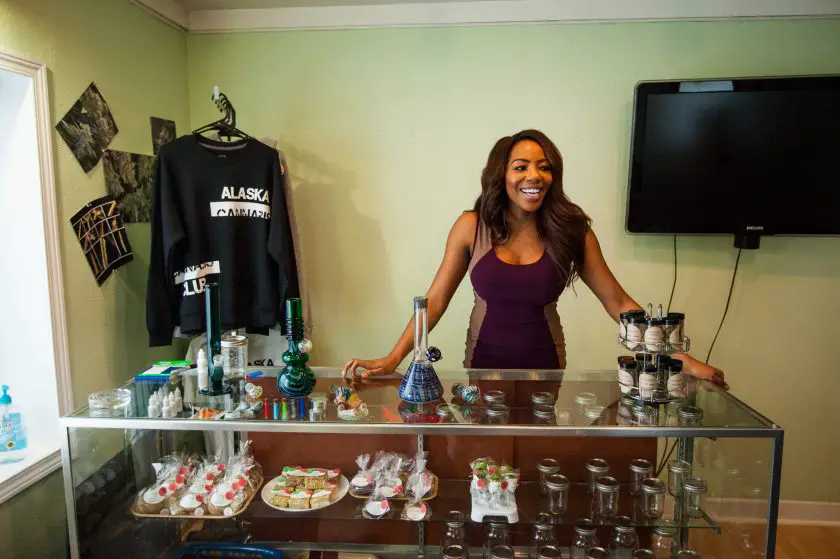 In Feb. 2018, a petition arrived in the state legislature to amend the tax on cannabis in order to lower prices for consumers and limit illegal sales. The petition argues that with a flat tax, pot shops can't make enough money to stay open when oversupply lowers prices. They also say that the inflated prices of marijuana encourage black market sales.
The Marijuana Control Board will meet again in April to discuss a proposed percentage for the tax, while the House is currently voting on the treatment of old marijuana offenses.
5. Old Drug Charges Won't Be Cleared
Though the state has chose to decriminalize marijuana going forward, it declined to clear the records of past offenders, meaning that those with outdated cannabis misdemeanors might still continue to struggle with job or housing discrimination.
Harriet Drummond proposed House Bill No. 316 on Jan. 31 of this year, a bill that would seal marijuana misdemeanors that occurred before the legalization of the drug. Supporters like Cary Carrigan hope "stigma" will no longer "follow them around for small mistakes" if the legislation removes pre-legalization misdemeanors from Alaska CourtView.
The legal system must continue to adapt after a vote because no one proposition can cover all the facets related to the legalization of recreational marijuana.
6. Regulation Will Evolve
Many other issues related to cannabis continue to change. Alaska shows how, even after the vote for legalization, regulation of the drug and its derivatives will evolve. Further community debates include onsite consumption, who can own a marijuana business and the legalization of industrial hemp.
As of 2017, no state had allowed onsite pot consumption inside cannabis stores, but Alaskans are still pushing for approval. Then, in May of last year, the state council banned police officers from running a pot business because cannabis is still illegal on the federal level. Finally, this February, the House legalized industrial hemp.
Most recently, Fairbanks proposed an ordinance to allow no more than 12 pot stores in the city, capping further growth of the current five. The ordinance includes a ban on onsite consumption that would take effect regardless of changing state laws.
Even though Alaskans voted on the legalization of recreational marijuana in late 2014, pot controversy continues to this day. Whether the delay of distribution or votes to outlaw it in communities, underage use in schools or illegal use due to cost constraints, changing discussion and regulations show that the process doesn't end with a state vote.