Dogs and Easy Cash? Wag Has You Covered
Are you looking to pet some pups while earning some extra cash? Working for Wag! just might be the perfect fit for you.
By Joanne Paquin, Emerson College
---
While most dogs wouldn't be thrilled by a stranger entering their home, Lucy, a spotted dog with lots of heart, greeted Safiya Leslie with a toy slipper and a wagging tail in Newtonville, Massachusetts.
"You want to go for a walk?" Leslie asked Lucy. The dog's tail thumped silently while Leslie pulled Lucy's harness out of the closet and placed it gently on her back. Within moments the dog was by the door, leash attached, and ready to go. "I walk her every Tuesday," Leslie says. "She's been a sweetheart. But she's not a fan of bunnies. She'll chase after them."
This is Leslie's fourth time walking Lucy as part of her job at Wag!, an on-demand dog-walking app frequently compared to Uber.  It allows dog owners to book walks or boarding for their pet when needed, but also presents the opportunity for animal-loving individuals—particularly students and recent graduates—to earn a little extra cash by becoming a "wagger," or a Wag dog walker. The app is available across the United States in major cities, including Boston, Seattle, Austin, Chicago, San Francisco and New York City, and is continuing to expand its reach.
After setting up an account, dog owners can either schedule or request an immediate walk for their dog, but according to Channing Barringer, a Wag spokesperson based in Los Angeles, the appeal of Wag comes from its puppy report. This feature is activated as soon as the "wagger" starts the dog's walk, and shows not only the route the dog takes during its stroll, but also provides photographs or video of the dog exercising, notes from the walker and live updates to the owners acknowledging if their dog pees or poops—a seemingly silly addition that a lot of dog owners actually really appreciate.
On top of learning about whether or not their dog went to the bathroom, dog owners also appreciate the qualifications of the "waggers." Prior to using Wag, 23-year-old dog owner Victoria Henry looked into the questions applicants had to answer in order to become a "wagger" and was impressed by the depth of the application.
Becoming a "Wagger"
To become a dog walker for Wag, applicants have to go through several application processes. First they have to take an online quiz that asks about prior dog-related experiences, CPR certifications (both for humans and animals) and the different ways the applicant would handle potential dog-walking situations. They also are asked about different types of dog harnesses and the correct ways to assemble them.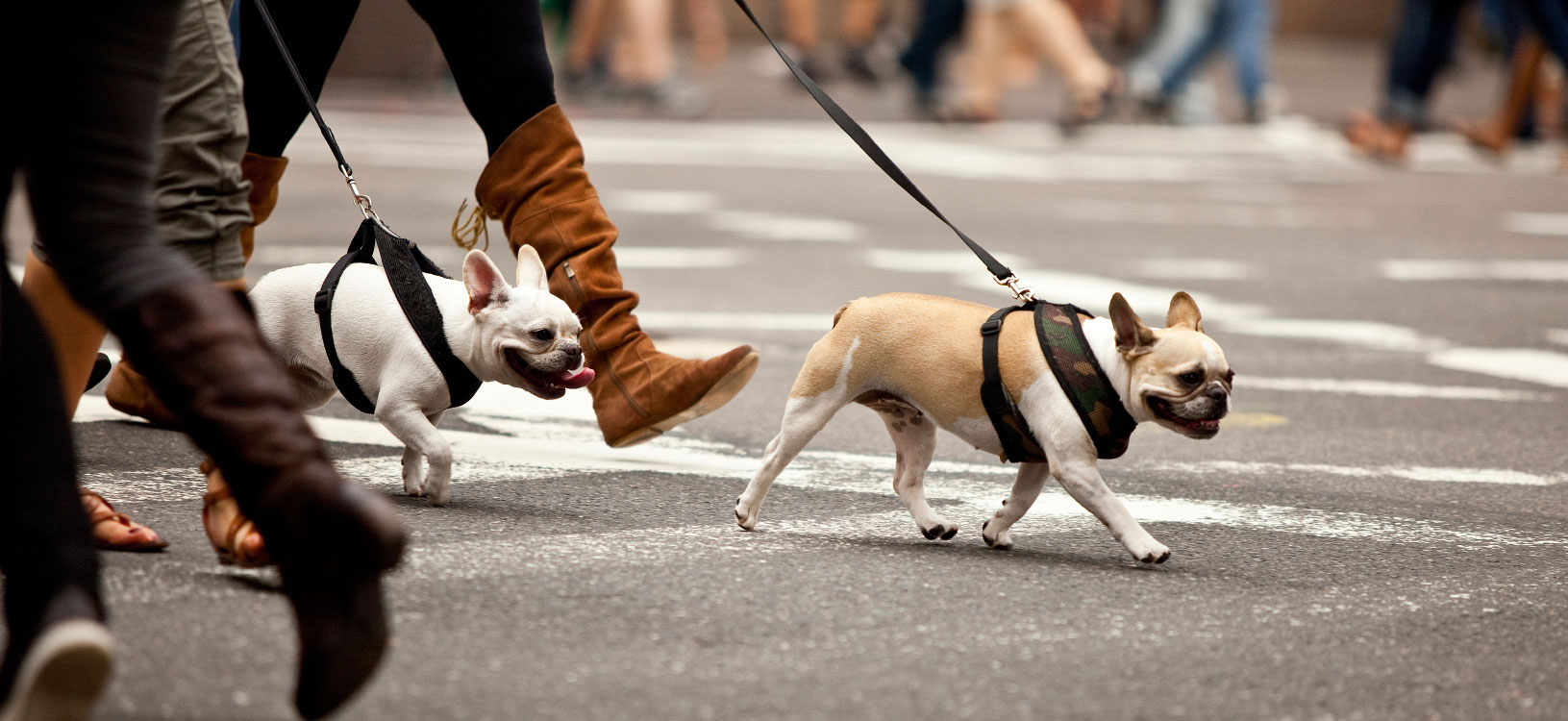 "I don't think I'm qualified to be a walker based on the quiz [waggers] have to take," Henry laughs.
If the applicants pass the quiz, they'll be asked to partake in a phone interview. Maddie Fabricant, a 2016 college graduate who has been working for Wag since February 2016 in New York City, was asked a lot of questions about dog safety during this part of the application process. Then she was called in for an in-person interview.
"There, I had to put different types of leashes on a stuffed dog," Fabricant says. "They also make you pay and sign for a background check. Which makes sense because you're going into people's homes, so you have to be a trustworthy person."
According to Barringer, approved "waggers" will also work with applicants to ensure they are qualified for the position. "It's an intense process," Barringer says. "Fewer than 5 percent of the applicants get the job."
But despite the many steps in the application process, most "waggers," including Fabricant and Leslie, found it all to be worth it.
Leslie, a sophomore at Berklee College of Music, was one of the first approved "waggers" in Boston, where the app launched less than three months ago. She was drawn to the position because of her love of animals and a need for a flexible job due to her intense curriculum. She has only been in Boston for a year, and she wanted an activity that would allow her to see more of the city.
"I've found so many beautiful places," Leslie says. "It's been a lot of fun traveling."
What About the Money?
Wag's service varies in price. A thirty minute dog walk costs $20 while an hour long dog walk costs $30, and an additional $5 is charged if the dog owner has more than one dog. When originally looking for a dog-walking service, dog-owner Victoria Henry found these prices to be a bit steep. But due to bad experiences with other dog-walking services, she decided to give Wag a chance and was immediately impressed by the quality of their care.
"I learned that a cheaper plan might not be the better plan," Henry says. "But I wish there was a reward system to help with the price."
For the "waggers," every thirty minute walk pays $12, plus an extra dollar for advertisement if the "wagger" wears a Wag shirt while walking or ties a Wag bandana around the dog's neck.
"If it's two dogs, I'll get $15," says Leslie. "Plus whatever tips they give me."
But to Leslie, despite all the traveling she has to do to get to these dog's homes, the seemingly low takeaway is worth it.
She says, "It helps me to pay off rent but I also can maintain my studies without worry. And I'm enjoying what I'm doing, so it's great."
Also, in areas where Wag is becoming more and more popular, the money can quickly add up as the number of dogs that need walks increases. This has been the case with Fabricant, who signed up for Wag in New York City as a way to supplement her income from her job at the Lincoln Center.
"It's a really easy way to pick up some extra cash," Fabricant says. "I'll also post all the different dogs I walk on Facebook and a lot of people comment that they like the pictures and the stories behind the dog."
Fabricant has also made a lot of dog friends during her time as a "wagger," which is maybe one of more rewarding parts of the position. One particular owner requests Fabricant to walk her dog, Penguin—a young Australian Shepherd with two different colored eyes—because the dog loves Fabricant so much.
"[Wag will] text me and they'll say 'Penguin's owner really wants you to walk him tomorrow. They asked for you specifically. Can you do it?'" Fabricant says and laughs. "It feels nice to be loved by a dog."