On Sunday, the 72nd Tony Awards were held at New York City's Radio City Music Hall to honor the year's best Broadway productions. The Tonys are a fantastical celebration of the arts, with attendees ranging from theater legends to movie stars.
Perhaps more so than any of the other major awards shows, the Tonys are notable for their progressive bent and for fostering marginalized voices. This year's ceremony was particularly memorable for its warm message of inclusivity and many a political statement.
Hosts Sara Bareilles and Josh Groban opened the Tonys with a duet dedicated to the night's eventual losers. Although past hosts have often relied on a throwing together a spectacle for their opening monologue, Bareilles and Groban are both singer-songwriters by profession and their understated performance was the perfect vehicle for their talents.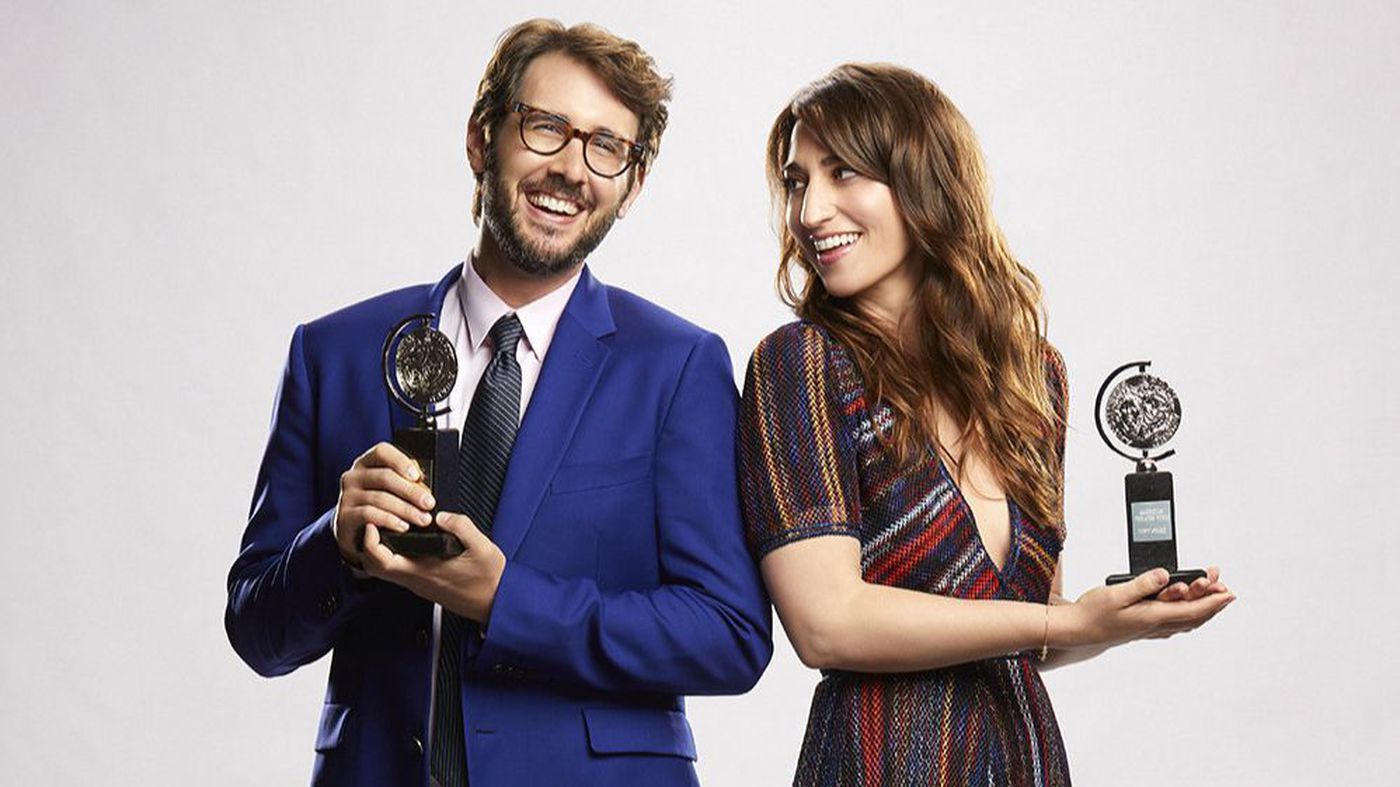 It also helped to set the mood for the rest of the night. With lyrics like "In a world that is scary and hard to endure / if you make art at all you're a part of the cure," the tone of the show was cemented in its opening moments.
The aptness of those words became clear with the first win of the night. Andrew Garfield was awarded leading actor in a play for his role as Prior Walter, a gay man battling AIDS, in the revival of Tony Kushner's "Angels in America." In his acceptance speech, Garfield lauded people like his character who "represent the purest spirit of humanity" and reject "oppression, bigotry, shame and exclusion."
In gratitude to the LGBTQ community, he dedicated his award to those who died to protect that spirit during the AIDS crisis. Garfield finished by referencing the Supreme Court's recent ruling on the Colorado baker case, saying, "Let's just bake a cake for everyone who wants a cake to be baked."
The light political tone of the Tonys continued when Amy Schumer introduced a performance by the cast of "My Fair Lady" and emphasized the show's focus on classism, sexism and, in Schumer's words, "equal rights for women, 'cause we actually don't have that."
That performance was followed by the award for featured actress in a musical, given to Lindsay Mendez for her performance in Rodgers and Hammerstein's "Carousel." On stage, Mendez said she was proud "to be a part of a community that celebrates diversity and individuality." She advised young actors to remain true to themselves: "The world will take note."
Next, the award for featured actor in a play went to Nathan Lane for his performance as Roy Cohn in "Angels in America." Lane praised playwright Tony Kushner for writing "one of the greatest plays of the 20th century."
The show is a revival and originally appeared on Broadway in 1993, but Lane stated that "it is still speaking to us as powerfully as ever in the midst of such political insanity." Indeed, the Pulitzer-winning "Angels" is now the most nominated play in Broadway history.
Another production that made history at the Tonys was "The Band's Visit," which is the fourth musical in history to win the Tony's top six awards: musical, score, book, leading actor, leading actress and direction.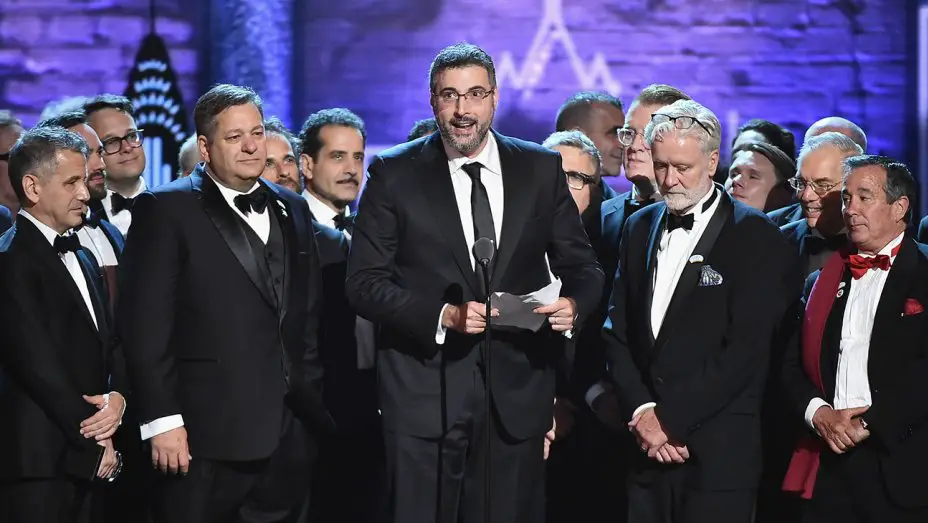 The featured actor in a Musical Prize was awarded to "The Band's Visit" actor Ari'el Stachel. Visibly shaken, Stachel pointed out his parents in the crowd, saying that it was the first time he'd taken them to an awards show because he always tried to conceal his Middle-Eastern identity, especially after 9/11.
Stachel used his speech to reference the ongoing Arab-Israeli conflict, praising "The Band's Visit" for its willingness to tell "a story about Arabs and Israelis getting along in a time when we need that more than ever."
The speech was also a timely reminder of how important it is for young people from marginalized communities to see themselves represented in the arts; Stachel revealed he'd received dozens of messages from Middle-Eastern youth in response to the musical. "Your biggest obstacle may turn into your purpose," he encouraged them.
The emotional tone prompted by Stachel's speech was heightened during a performance by students from Marjory Stoneman Douglas High School. The director of the school's drama department, Melody Herzfeld, was honored at the Tonys with the award for excellence in theater education.
When the Parkland, Florida, school had a campus shooting in February, Herzfeld sheltered students for two hours in her classroom. Since then, she has encouraged her students to express their sorrow through performance and they did so on Sunday night with a with a rendition of "Seasons of Love" from the musical "Rent."
The MSD students were commended by actress Glenda Jackson, who won the next award for her lead actress performance in the play "Three Tall Women." The prize came upon Jackson's return to the stage after a 30-year hiatus from acting.
In her acceptance speech, Jackson praised the diverse makeup of American society: "There are people in this country … from every other country in the world. You as always are welcoming and kind and generous and America has never needed that more –– but then, America is always great."
If that last part seems like a political statement, it very well might be: Jackson was a member of British Parliament for many years.
The mood lightened when John Leguizamo, currently on Broadway with his one-man show, "Latin History for Morons," was awarded the special Tony award.
"I'm a living example of how theater can change you," Leguizamo said. "Theater teaches you how to understand other people, how to feel empathy for this who are not like us." Appropriately, he then presented the award for best revival of a play to "Angels in America."
"Angels" playwright Tony Kushner made the second most blatantly political statement of the night as he encouraged viewers to prepare for the U.S. midterm elections in November.
"Twenty-one weeks to make sure that the right of citizens to vote is protected and exercised," he said. "Twenty-one weeks to save our democracy and heal our country and heal our planet."
Not long after, Kushner's call for midterm mobilization was overshadowed by Robert De Niro, who took the stage and didn't mince words: "I'm gonna say one thing. Fuck Trump."
As the audience erupted in cheers and gave a standing ovation, De Niro continued: "It's no longer 'down with Trump'; it's 'fuck Trump.'"
De Niro got back on-script as he honored special Tony recipient Bruce Springsteen, praising the Boss' political activism: "In these perilous times, you rock the vote, always fighting for truth, transparency and integrity in government. Boy, do we need that now!" Springsteen gave the Tonys' final performance with a heartfelt rendition of "My Hometown."
The final three prizes of the night were awarded to Tony Shalhoub (leading actor in a musical) and Katrina Lenk (leading actress in a musical) for "The Band's Visit," which also took the top prize (best musical).
Shalhoub used his speech to honor the aspirations of immigrants, saying that he hoped their descendants would "never lose sight of what they taught us." The production follows a group of Egyptian musicians who accidentally end up in an Israeli town, where they and the locals overcome their differences through shared sadness and hope.
Historic victories for "The Band's Visit" and "Angels in America" were a stark reminder of the Broadway community's longstanding acceptance of different identities and backgrounds. This was also reiterated by the show's #TonyDreaming hashtag, which encouraged aspiring performers to send in photos of themselves on stage.
The gesture was made even more touching as each presenter that night was backdropped with a photo of their younger selves during a theater performance. It was a reminder of everything that the Tonys are: a pillar of inspiration for future performers, beckoning them to join an accepting community of artists.
Complete List of Winners:
Best Musical: "The Band's Visit"
Best Play: "Harry Potter and the Cursed Child, Parts I and II"
Best Revival of a Musical: "Once On This Island"
Best Revival of a Play: "Angels in America"
Best Actor in a Musical: Tony Shalhoub, "The Band's Visit"
Best Actress in a Musical: Katrina Lenk, "The Band's Visit"
Best Actor in a Play: Andrew Garfield, "Angels in America"
Best Actress in a Play: Glenda Jackson, "Three Tall Women"
Best Featured Actor in a Musical: Ari'el Stachel, "The Band's Visit"
Best Featured Actress in a Musical: Lindsay Mendez, "Carousel"
Best Featured Actor in a Play: Nathan Lane, "Angels in America"
Best Featured Actress in a Play: Laurie Metcalf, "Three Tall Women"
Best Book: "The Band's Visit"
Best Original Score: "The Band's Visit"
Best Scenic Design of a Play: Christine Jones, "Harry Potter and the Cursed Child"
Best Scenic Design of a Musical: David Zinn, "SpongeBob SquarePants"
Best Costume Design of a Play: Katrina Lindsay, "Harry Potter and the Cursed Child"
Best Costume Design of a Musical: Catherine Zuber, "My Fair Lady"
Best Lighting Design of a Play: Neil Austin, "Harry Potter and the Cursed Child"
Best Lighting Design of a Musical: Tyler Micoleau, "The Band's Visit"
Best Direction of a Play: John Tiffany, "Harry Potter and the Cursed Child"
Best Direction of a Musical: David Cromer, "The Band's Visit"
Best Sound Design of a Play: Gareth Fry, "Harry Potter and the Cursed Child"
Best Sound Design of a Musical: Kai Harada, "The Band's Visit"
Best Choreography: Justin Peck, "Carousel"
Best Orchestration: Jamshied Sharifi, "The Band's Visit"
Special Tony Award: Bruce Springsteen and John Leguizamo
Lifetime Achievement Award: Andrew Lloyd Webber and Chita Rivera