Exploring the Popularity of 'Waitress the Musical'
It may have been overshadowed by "Hamilton" at the Tonys, but "Waitress" should definitely be on your radar.
By Samantha Gross, Concordia University
---
A good percentage of "Hamilton" fans have listened to the cast album non-stop since getting their copy.
Most of them know the lyrics (or at least most of the fast paced raps, not everybody can keep up with Daveed Diggs) and harmonies by heart. And while I doubt anyone will ever tire of the brilliance that is "Hamilton," it may be time to find another show to obsess over.
That is where I have excellent news, friends. If you watched the Tonys, you'll know that "Hamilton" wasn't the only cast to perform. Based on the 2007 movie, which was based on a book by Jessie Nelson, (an interpretation of an interpretation, anybody feeling like the end of "Inception" yet?), "Waitress The Musical" is here to fulfill your newfound musical needs. The cast performed the number "Opening Up" and "She Used To Be Mine" at the Tonys, and let's just say that Lin Manuel Miranda isn't the only one who blew us all away (I'm making "Hamilton" puns, and I feel I should say that just in case somebody didn't catch them. Because I'm funny and y'all should recognize that).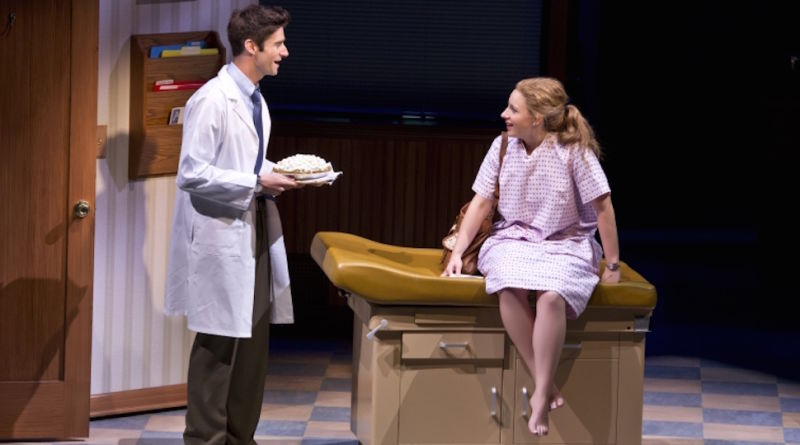 "Waitress The Musical" tells a story of romance and the importance of being true to yourself, with a cast of Broadway and TV all stars, ready to take on the world with the recipe for independence and delicious smelling pie. The musical follows a young waitress named Jenna, who's trapped in an unhappy marriage in a small town. She spends her days baking and wishing for a way to escape, until suddenly her life is made much more complicated by a positive pregnancy test and an illicit affair with her doctor.
Musical theatre fans will recognize Tony-award winner Jessie Mueller, who stars as Jenna, and energetic Christopher Fitzgerald, who was in the Broadway original cast of "Wicked." I know, right? And that's just two of the characters.
Netflix fans will recognize Kimiko Glenn from "Orange is the New Black," where she plays Soso, Poussey's lovable yet naïve girlfriend. In "Waitress," Glenn picks up the roll of Dawn, a similarly lovable and naïve waitress pursued romantically by Fitzgerald's character, Ogie. And even if you don't recognize any of these or other cast names, their vocals are just as good without faces and credits.
The story is driven by female characters, something people in the entertainment industry claim to be working on but seem to still be lacking. Jenna, Dawn and the third female lead, Becky, played by Keala Settle, face problems that may be inherently female, but can absolutely be seen as universally relatable.
Jenna, trapped in a place she hates by her own body, an abusive husband and a misguided love affair, represents the attachments residents tend to feel toward their hometowns, and despite their best intentions to remove themselves from their circumstances, often find themselves tied irrevocably and unable to leave.
But, as Jenna learns through the course of the musical, there is always a way to find happiness, even if it needs to be where it didn't seem possible. Her pregnancy and reluctant motherhood resounds with young women everywhere, with the near constant pressure to balance a work and family life. Listen to "She Used to Be Mine" if you feel like crying and questioning the decisions you've made in life.
Dawn, an eccentric young woman with a tendency toward optimism, is terrified of finding the wrong guy and even more terrified of finding the right one. Her search for love culminates in an unwelcome suitor, who with some admittedly unhealthy methods, convinces Dawn to give him a chance. Scared of love but relentlessly pursued, Dawn eventually finds her own happy ending, learning that sometimes you have to let love in.
A word of warning for Dawn's story, though, is that love shouldn't be pursued that aggressively, especially when there is such an adamant no in the beginning. Sure, the musical teaches people to give one another a chance, and that perhaps there's more below the surface than expected, but it should not encourage discomfort to the person that says no to another person with persistency. Chill, dudes, Dawn is the exception, not the rule. Listen to this cute but admittedly problematic song: "Never Ever Getting Rid of Me" and understand what I am saying.
Regardless of gender and romantic inclination, being afraid of both acceptance and the lack thereof is understandable, especially when it comes to love. Everyone wants to find a way to live happily ever after, and for a large percentage of people that includes a significant other, so that fear of never finding love is countered by the fear of finding the wrong kind of love. That might not make a whole lot of sense, but just go listen to "When He Sees Me" and you'll get it. And please, even if you skipped the other links (which, first of all, rude), listen to this song, because I relate to it on such a personal level and I need other people to love it like I do.
Fuck, I need to pause for a second because the songs are too good. I can't translate the feelings they bring to me. Sara Bareilles, how? Everybody go back and click those links again.
Done? Okay, keep going.
Becky's story is less explored in the musical soundtrack than it is in the musical and movie story, and I actually had to go find and watch the movie to understand her character. Her song "I Didn't Plan It" is vocally fantastic and meaningful, and I won't rob y'all of the opportunity to learn about her character yourselves. What? I can't take all the mystery away.
Female power is strong with this musical. And I am living for that.
And I mean, the male characters do cool stuff too. Ogie sings about tables. Earl is a douche bag. Dr. Pomatter is awkward in a cute way. Joe sings a sweet song to Jenna.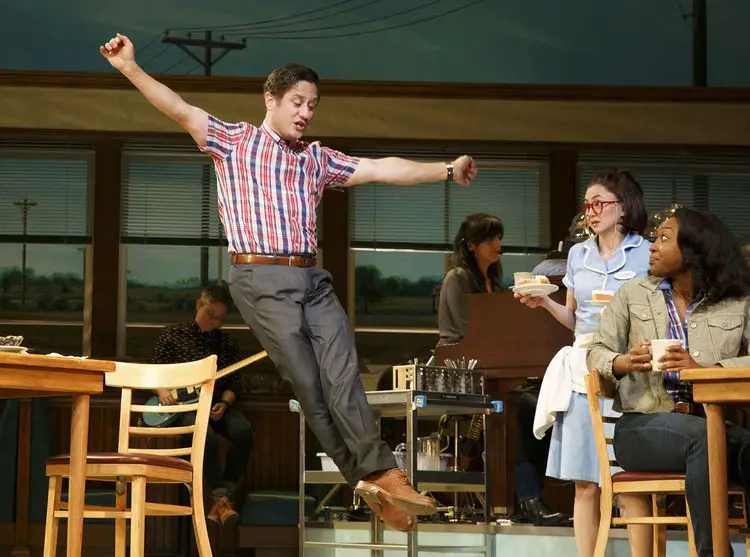 Kidding, they do more than that. Each of them is a building block for Jenna to find her independence and are important parts of the story in their own way. But given that it's Jenna's story, her arc is much more compelling than theirs.
The music was written by Sara Bareilles, who poured her heart and soul into lyrics and a score that reflects the powerful storyline and the growing independence of Jenna. Full of heartbreaking power ballads and hilariously honest numbers, "Waitress" is an unforgettable musical story. Bareilles has crafted a masterpiece full of songs as sweet as pie ("You Matter To Me" by itself is worth of being on repeat) to match a story full of independent ingredients and a cast that bakes it into a wonderful Broadway pie. Holy shit, this musical has garnered a fuck ton of baking metaphors.
Anyways, not only did Bareilles write the music, but she recorded it and released her own version. And the music is Very Bareilles. Her separate album has proved popular in its own right. Her version of "Opening Up" even played at my work the other day, which was both exciting and distracting.
I can't even convey how wonderful this musical is. Seriously, just go listen to it.