Martin Scorsese's Best Soundtracks
From "Mean Streets" to "Goodfellas," the acclaimed director is famous for enhancing the verisimilitude of his films by lacing them with iconic, period-appropriate songs.
By Josh Lefkowitz, Temple University
---
Virtuoso Italian-American filmmaker Martin Scorsese, known for his provocative subject matter, groundbreaking character development and stylistic cinematography, has created timeless masterpieces such as "Taxi Driver" (1976), "Raging Bull" (1980), "Gangs of New York" (2002) and "The Aviator" (2004), and continues to prove his skill set has yet to decline.
He also has the ability to capture the essence of the history, culture and characters of a specific era by using carefully crafted soundtracks to guide his films.
Throughout his career, Scorsese has had a very close connection with the music world and industry, directing and producing pieces such as: The Band's 1978 documentary "The Last Waltz," Rolling Stones documentary "Shine a Light" (2008), a George Harrison documentary titled "George Harrison: Living in the Material World" (2011), Michael Jackson's 1987 "Bad" music video, and the documentary series "The Blues" (2003). In particular, he has a close relationship with Rolling Stones front man Mick Jagger, whom both Co-Executive-Produced an upcoming music drama on HBO, "Vinyl."
After much examination and hours ass-to-couch, here are the five best soundtracks of Martin Scorsese's filmography. No need to concern myself for potential outrage because of spoilers: if you haven't seen these movies yet it's your own damn fault.
5. Mean Streets (1973)
Martin Scorsese's first big hit was his small-time gangster narrative that is centered in New York's Little Italy. The film consists of praise-worthy performances from young, budding actors, a well-developed, thrilling plot and a riveting ending.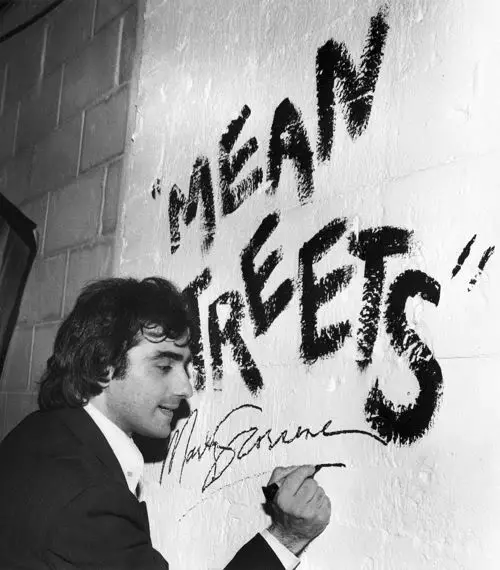 The film's excellent soundtrack uses songs that would be popular during the time of the film, and music the characters in the film would have listened to themselves during their lives. The piece is full of memorable scenes that are helped by the soundtrack to elevate the thematic elements to the next level.
First, the Rolling Stones' "Jumpin' Jack Flash" is scored to a slow-motion tracking shot of Johnny Boy (Robert DeNiro) with two girl wrapped around his arms as they walk into the bar. We see the scene from Charlie's (Harvey Keitel) perspective, illustrating his growing concerns for Jonny Boy's behavior. This stylistic shot has become one of Scorsese's signature stylistic techniques throughout his career.
The first song of the movie, The Ronettes' "Be My Baby" is scored with Charlie lying in bed, as well as the opening credit sequence. Eric Clapton's "I Looked Away" plays during a bar scene, and Cream's "Steppin' Out" plays shortly during the final car sequence when Charlie and Johnny Boy are trying to flee the city before they ultimately get shot up by the mobsters they are attempting to abscond.
4. Casino (1995)
The filmmaker's mid-90s desert epic focuses on mobster Nicky Santoro (Joe Pesci) and aspiring casino kingpin Sam "Ace" Rothstein (Robert DeNiro) as they navigate through the corrupt, grueling, money-driven underbelly of 1970s and 80s Las Vegas.
The almost three-hour picture is full of powerful characters, gripping scenes of violence and murder, and a great song selection. The Animals' "House of the Rising Sun" plays during the climatic courthouse scene and the meeting of the head gangsters that follows, resulting in whackings throughout Las Vegas. The song continues, accompanying the overdose sequence of Sam's wife Ginger McKenna (Sharon Stone).
The most memorable moment of soundtrack perfection in "Casino" is the filmmaker's placement of the Rolling Stones' "Can't You Hear Me Knocking?" During Nicky's voice-over monologue, the description of the arrival of his brother and his new crew in Las Vegas, along with clips of various acts of crime, is perfected by the Rock n' Roll classic.
The Moody Blues' "Nights in White Satin" underscores a critical scene when Ginger confides in Nicky about her troublesome relationship with Sam, eventually leading to the two becoming intimate. Keeping up with the growing popular disco style of the time period of the film, Devo's "Whip It" scores a club scene in which Sam and his associates walk into a Vegas nightclub, ignoring Nicky and his goons sitting at another table across the room after their friendship has grown into a tensioned, greedy, bitter rivalry.
3. The Departed (2006)
Scorsese's modern era Boston-gangster picture from 2006 is the highest grossing and most award-winning film in his historic career.
Methodically positioned songs throughout the film score the fascinating, intertwining storylines and enthralling well-acted cinematic scenes.
The Allman Brothers' "One Way Out" resounds while Mr. French (Ray Winstone) pins Billy (Leonardo DiCaprio) against the wall following an altercation in the bar where Billy fucks up another patron that asked if Billy "was on his period" after he ordered a cranberry juice.
Following this incident is another great example of perfected soundtrack. The Rolling Stones' "Let it Loose" plays as Frank Costello (Jack Nicholson) approaches Billy at the bar shortly after Billy's encounter with Mr. French.
Frank eventually convinces Billy to follow him to the back, where Frank beats Billy's broken hand with his own boot, while Frank asks him if he is a cop and tells him to stop doing drug deals with Billy's scumbag cousin. The rise and fall of the song enriches the building tension of this tremendous scene.
2. The Wolf of Wall Street (2013)
The raunchy, white-collar-crime drug escapade stands out among the many gangster-biographical dramas that brought Martin Scorsese success and fame. "The Wolf of Wall Street" is a powerhouse picture that has an exceptional soundtrack that properly accompanies this compelling film.
Elmore James' "Dust My Broom" opens the film with a ferocious hook as Jordan Belfort (Leonardo DiCaprio) narrates the engaging tales of his extravagant lifestyle while driving his white sports car. Howlin Wolf 's "Spoonful" accordingly accompanies Jordan's speech as he explains his daily drug usage, and "Smokestack Lightning" plays along with a slow-motion sequence of Stratton Oakmont employees celebrating after a week of successful profits.
Another notable example that Scorsese embraces the time period the film portrays is Billy Joel's "Movin' Out (Anthony's Song)." The scene shows Jordan's friend and business partner Brad (Jon Bernthal) lifting weights outside his house, selling drugs to underage kids, and Cypress Hill's "Insane in the Membrane" plays at Jordan's party while Jordan, Donnie Azoff (Jonah Hill) and his other goons drink, snort coke and pop Quaaludes in excess. Accurate historical references to popular society demonstrations the filmmakers' ability to replicate the feelings and sounds of the culture through music.
1. Goodfellas (1990)
"Goodfellas" is the quintessential Martin Scorsese film. Crime, murder, deception, avarice and drugs fuel the dynamic, true-life gangster epic that stands as a bible to aspiring filmmakers and screenwriters.
Linked with this great piece of film is another phenomenal soundtrack, each song perfectly fitting the scene it scores.
A notorious illustration of such is Cream's "Sunshine of Your Love" playing while Jimmy Conway (Robert DeNiro) sits at a bar smoking a cigarette watching Morrie (Chuck Low) walk into the room, another signature slow forward tracking shot. The 1967 psychedelic-rock hit seamlessly captures the growing paranoia Jimmy has for the men that surround him.
Another great example of impeccably song placement is the use of the Rolling Stones' "Gimme Shelter" as the background for Paulie Cicero (Paul Sorvino) warning Henry Hill (Ray Liotta) about the dangers of cocaine.
The song continues and increases in volume with the jump cut to Henry and his girlfriend cutting up, packaging and snorting coke, and Henry frantically driving around, his paranoia growing in progression with his drug addiction. Derek and the Dominoes' profoundly euphoric "Layla" piano outro blankets the sequence of dead bodies being revealed across town.
Lastly, The Crystals' "Then He Kissed Me" plays during the infamous three-minute single tracking shot that follows Henry and Karen Hill (Lorraine Bracco) through the Copacabana nightclub. Along with the five films mentioned above, this classic scene showcases the filmmakers' ability to create and encapsulate a timeless cinematic moment through proficient directing and execution of an admirable score, further fortifying Scorsese's throne among the all-time greats in film history.