NBA Penny Shopping 
Though not ready quite yet, the Timberwolves, Magic and Nuggets all have promising futures in the seasons to come.
By Danny Enjamio, Santa Fe College
---
In 2011-2012, the Golden State Warriors finished with the third worst record in the Western Conference. Three seasons later, they were NBA Champions.
It can take time to build a contender in the NBA, but the signs are usually there a few years in advance. There are multiple ways to turn around an NBA franchise, but they all start by making good personnel decisions.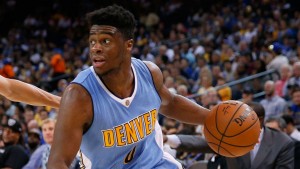 Of course, winning a championship usually requires a Tim Duncan or Stephen Curry-level superstar, and there just aren't enough of those to go around. But there are still a few teams hidden underneath the elite that you should consider buying stock in.
Here are three NBA teams with bad to mediocre records this past season that may not be at the bottom of the barrel much longer:
Minnesota Timberwolves
(29-53, 13th in Western Conference)
The NBA is a star's league. The Timberwolves have two of them, one of whom appears to be a true once-in-a-generation talent. It may not be long before Karl-Anthony Towns, this season's Rookie of the Year, becomes the league's best big man. Towns averaged 18.0 points and 10.5 rebounds per game, and he did so efficiently. He also presents a skill-set and athleticism few people his size have. Most notably, he hasn't yet reached his full potential, as he put those numbers up while not old enough to drink alcohol legally in the United States.
As long as Minnesota hangs onto Towns, they'll develop as he does and win plenty of games as he blossoms. It doesn't hurt that their next best player, 21-year old Andrew Wiggins, has shown flashes of stardom as well.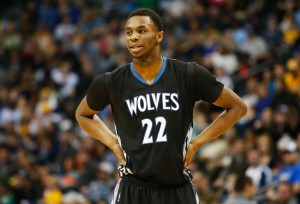 He led the Timberwolves in scoring, averaging over 20 points per game, and also exhibited the potential to be an elite lockdown defender. Like Wiggins and Towns, young supporters Zach LaVine, Shabazz Muhammad and Gorgui Deng all improved as their roles increased over the season, and are still far from finished products.
But what makes the Timberwolves so intriguing, and why you should certainly expect them to improve drastically, is the hire of former Chicago Bulls head coach Tom Thibodeau. Thibodeau oversaw the most successful era of Bulls basketball since Michael Jordan left Chicago, reaching the playoffs in each of his five seasons and making the Eastern Conference Finals in 2011.
The Timberwolves have the 5th pick in the 2016 draft, giving them the ability to add yet another young piece to a team already filled with young talent. Here, I'm mostly betting on team with an elite head coach, a very solid second-best player and a superstar big man. Expect the T-Wolves to improve their record next season, and begin making serious noise not long after, even in the ultra-competitive Western Conference.
Orlando Magic
(35-47, 11th in Eastern Conference)
Because of the instability and distrust within the Magic organization over the past four seasons, some were surprised to see former Indiana Pacers head coach Frank Vogel accept the team's head coaching offer. The optimism with the Magic stems from the hiring of Vogel, who mostly overachieved in his six seasons in Indiana, reaching the Eastern Conference Finals twice.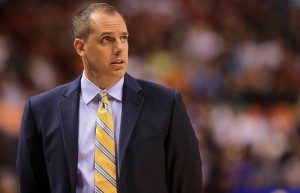 Although he's mostly known as a defensive coach, his crowning achievement in Indiana was his ability to maximize the talent of his players. Lance Stevenson and Roy Hibbert have not been able to replicate their production since leaving Indiana, and Paul George turned raw potential into stardom under Vogel's watch.
Vogel inherits a young but intriguing roster. Victor Oladipo, just 24-years old, averaged at least 16.0 points per game for the third straight season and Nikola Vucevic, 25, managed a double-double in 29 of his 60 starts. The pleasant surprise of the team came from the development of 23-year old Evan Fournier. Fournier shot 40 percent from three-point range on the season and averaged over 20 points over his final five games.
Elfrid Payton, Mario Herzonja and Aaron Gordon, none of whom are older than 21, are all former lottery picks that the Magic expect to develop.
The Magic posses the 11th pick in the 2016 draft and, although Disney World probably won't be enough to lure most big time free agents, they do have the cap space to add pieces. The rebuild in Orlando will likely be a slower one, so don't expect the Magic to be contenders anytime soon. But, if they exhibit patience, their promising young roster, the addition of a truly elite head coach and the weak Eastern Conference could provide a recipe for success in the future.
Denver Nuggets
(33-49, 11th in Western Conference)
Once a regular in the NBA playoffs, the Nuggets have now missed out on the postseason three straight years. The Nuggets may have the lowest ceiling of these three teams, as they don't really feature a potential star. But they do have the personnel to potentially compete for a playoff spot next season and improve beyond that.
In rookie center Nikola Jokic, Denver might have the best player you've never seen play. The 6'10" Jokic ultimately finished 3rd in Rookie of the Year voting to Kristaps Porzingus, despite out-producing him in the second half of the season and dominating their head-to-head matchup.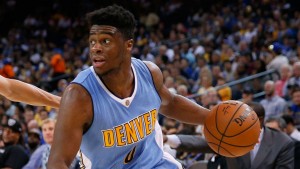 19-year old Emmanuel Mudiay also had a promising rookie campaign, earning a second team spot on the NBA's All-Rookie squad.
He finished the season well, averaging 18.8 points and 5.2 assists over his final five games. Expect 21-year olds Gary Harris and Jusuf Nurkic to continue to develop into solid NBA players, as the two have showed plenty of progress as well.
These young Nuggets joined a cast of proven contributors in Denver. Danilo Gallinari and Wilson Chandler, who missed the 2015-2016 due to injury, are each solid NBA veterans with a track record of production. Kenneth Faried has been extremely consistent in his five seasons in Denver, averaging at least 10.0 points and 7.0 rebounds in each of them and, at 26-years old, still has room to grow. And then finally there's 25-year old Will Barton, the league's Sixth-Man of the Year, who has become one of the elite dunkers in the NBA.
The Nuggets have the 7th, 15th and 19th picks in the 2016 draft, giving them an opportunity to add to an already solid roster. However, due to poor fan support and no real history of adding big name free agents, Denver's unlikely to add a superstar on their roster anytime soon. That may keep the team from becoming a championship contender, but smart draft picks, proven veterans and the continued development of young assets could make them interesting going forward.