30 Seconds to Shoot
Taking five seconds off the shot clock has made this the most entertaining season of college basketball in recent memory.
By Will Strecker, University of Texas at Austin
---
Over the past several years, men's college basketball has been Boring. Yes, boring with a capital B.
Two years ago, Andrew Wiggins and Jabari Parker were so hyped up going into the season that I rode that hype, hyping myself up for what would assuredly be a hype basketball season.
I tried to get into it, watching a few games at the beginning of the season, until I stopped. Nothing really happened to prompt this. NCAA basketball was just, well, boring af.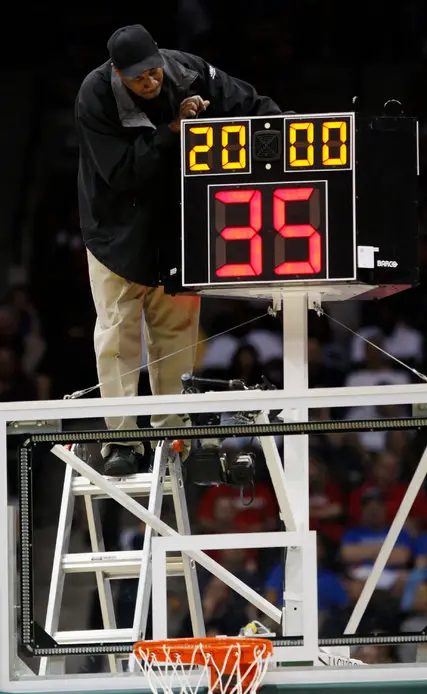 And I can guarantee you that, if you're a student at a college with a decent/good basketball team, and you went up to fellow students and asked them what they thought about college basketball, you would hear an assortment of different responses that all more-or-less say that it's boring af, too.
College basketball is a separate league underneath the NBA, whose players may one day make it professional. For these athletes, college is essentially a developmental league. Worse, actually, because the NBA D-League already exists to hone players skills that aren't yet ready to be promoted.
The best players on a college team are often the freshmen (who could have gone straight to the NBA from high school a decade ago) and leave after a year. So, when you really think about it, what is college basketba
Let's fast-forward to the current '15-'16 college basketball season. From the jump, there seemed something different about this year. And once close game after close game started capturing my attention, like Ash catching a wild Oddish, I knew that something incredible was happening this year. But still, it's college basketball, and we're still a good while away from March, ya know?
Then on January 4th, #1 Kansas and #2 Oklahoma played in perhaps the best basketball game ever. Lead change after lead change. Buddy Hield had a coming out party that night, scoring 46 points while shooting over 56 percent from the floor, 53 percent from three, and had 8 rebounds and 7 assists. This game left me reeling for the rest of the night.
But, the game also got me thinking: Basketball seems pretty wild this year.
Soon after that, at about the halfway mark in the season, ESPN reported that 19 different teams have been ranked in the AP Poll's top 10 this year, the most of all time.
Even more astounding, of those top ranked teams, 12 of them lost to unranked teams, which is also the most of all time by a pretty wide margin. That statistic alone sparked an interest in college basketball that was absent for the previous 23 years of my life.
Looking further, there have been five teams in that coveted AP #1 spot. Four of those teams—Kentucky, Duke, Michigan State, and North Carolina—lost and were sequentially knocked off the top. #1 Oklahoma lost again last week and many people expected them to fall from grace as a result; the AP, however, has kept them there for the time being, but the USA Today poll has OU at #2 and North Carolina at #1 (#2 in AP).
No AP poll this season looks anything like the one from a previous week, and this is good. All of this is good. For what feels like the first time in a long time (I know I … I'm waaaaay up I feel blessed), college basketball is wide open. It's anybody's game. And this is what we've wanted FOREVER. We don't always get this for March Madness, yet somehow, all of a sudden, the entire season is madness. Why? WHY?
I know what it is. It's something so simple and obvious I don't know why it took so long to happen. It's the shot clock. Last year, and for years before that, the shot clock in college was 35 seconds.
I've been saying for years that a team of sloths could still dribble up the court, find a shot, and will probably get the shot up before the 35 second shot clock winds down. Now, the shot clock dropped five seconds, and the game has totally changed.
Not convinced? Team scoring is up 8 percent through January 24, and team possessions are up 6 percent; at this time a year ago, 37 teams were averaging 75 points a game, whereas 147 teams average that this year.
Those stats, especially the latter two, are literally eye-popping.
Before the rule was implemented over the summer, many coaches and other Boss Tweeds opposed the shot clock change. They argued it would rush the players and force them into bad shots, more fouls, and the NCAA's attempt to speed up the game would be nullified by an increase in penalties and foul shots.
And while that kind of makes sense, the results show just how much better the game is with the clock change.
Actually, the inverse happened. More shots are going up this season, and the overall shooting percentage has risen by .62 percent, up to 44.1 percent. All those negative Nancy's have kept quiet since summer, for good reason. College basketball is not just better, it's so much better. It's like 13 year old Lebron went to bed and woke up as his 31 year old self, where last NCAA season was young Lebron, and this season is, well, you get it.
What the shot clock has done for college basketball is amazing. Why not trim it down a few more seconds? Then these college kids will be getting even more prepared for the NBA, and college basketball could gain a relevance it's lacked in…always.