For someone who isn't a basketball player, Emily Brickner-Hughes spends a lot of time at the Dean Smith Center, the University of North Carolina's famed basketball stadium. Whether it's 6:45 a.m. on a freezing winter-break morning or 11:00 p.m. on a school night, there's a solid chance that you'll find UNC senior Brickner-Hughes close to the hardwood.
She's not an athlete, but one of the dedicated people responsible for making Carolina's esteemed basketball team run smoothly. If you're a fan of college basketball, it's likely while watching ESPN you've seen her behind the player's bench, though without actually noticing she's actually there. Why? Brickner-Hughes is a manager for the men's basketball team, a job that, while critical, largely goes unseen.
Brickner-Hughes, a childhood friend of mine, didn't play basketball competitively growing up, but she's always been a UNC fan. Photos from 15 years ago show her decked out in Carolina gear with a pair of blue-and-white pom-poms and face tattoos.
Her dad, Thomas Brickner, works as a sports medicine physician for UNC, and she largely credits him for how she became involved with sports management. "I think what drew me to it is that Carolina basketball is like a huge family," she says. "My dad is the sports medicine doctor for the team, so I grew up around the players and the coaches and their families. I grew up seeing how everything worked, and what it looked like behind the scenes."
The majority of college teams have managers, a position that entails the general running of a team and its logistics, leaving the coach and other staff free to focus on coaching and training. As Bricker-Hughes describes, "Essentially, we, as managers, are here to meet any and every need of the players. It's on us to make sure that everything is always set up, that the players are always happy."
She and her fellow managers set up equipment, rebound for the players, make sure the locker room is always clean and the gear is ready. For away games, they pack the bags for player and coaches, handle all the equipment they travel with and coordinate with restaurants they visit.
Being a manager is about anticipating the team's needs and ensuring every game, practice and team event happens without a hitch. It's her job to be attuned to players' and coaches' preferences — their likes, dislikes and must-haves.
She always has an ice cold Sprite Zero at the ready for Coach Williams and keeps a detailed spreadsheet of meal orders to send to restaurants while traveling. The last time I saw Emily, her purse was stuffed with jumbo bags of Skittles and Starbursts. "Oh these? They're for the players. I always have them on me," she said nonchalantly, as if everyone always carries around several pounds of candy.
A double major in sports management and interpersonal communications, Brickner-Hughes works hard to balance school with what is essentially a full time job, often clocking in at 60 hours per week. A typical day for her consists of class in the morning and practice at 3:30.
"I set up equipment behind the goals and put out gum for the players, hand sanitizer and tissues for the coaches, and then I'll rebound. During practice we'll either take stats, run the clock or be at the basket ready to rebound. After practice, many of the players will shoot and we'll rebound for them again. Then we'll all have a meal as a team, and afterward we clean up. On a usual practice day, I'm there from about 2:30 to 7:30."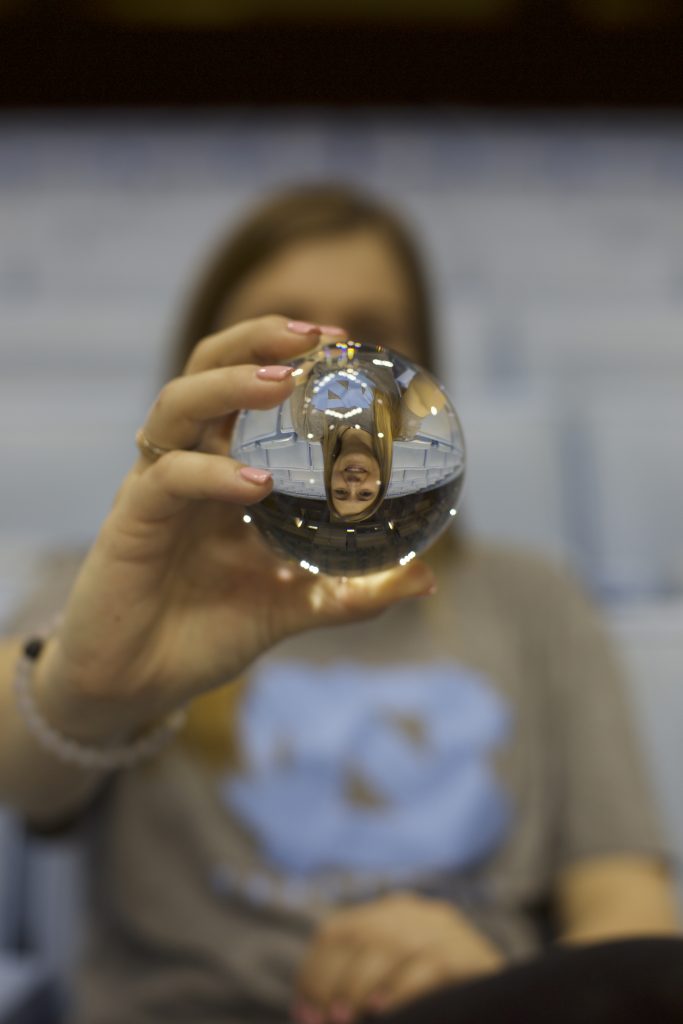 On game days, Brickner-Hughes says the team's schedule is completely grounded by their rituals. "Coach Williams is really superstitious. We do everything the same every single game. We always have a meal at exactly the same time. After shooting around and warming up, all the players need to be dressed and seated in the locker room at the same time before every game starts. We have to be right outside the locker room waiting for Coach Williams when he comes in. Everything has to be done on a second-by-second basis, so we always have to be conscious of the time. It's on us to be on time, always."
When you're a sports manager, if you're doing your job completely right, no one should notice. It is only if you make a mistake that your work will be recognized. Brickner-Hughes notes that managing is certainly not a job for those who need constant praise. "It's very much so work that is going to go unnoticed. I think part of our job is having to accept that we're going to do all of this and probably not get a thank you," she says. "It's pretty thankless work. And you know, that's okay. Don't get me wrong — our players are very grateful for everything, they're some of our best friends — but at the end of the day, people don't care what we're doing, they care what the players are doing."
"I think what drew me to it is that Carolina basketball is like a huge family," she says.
Brickner-Hughes job as one of six basketball managers is already remarkable — the process to become a sports manager is competitive, especially making the leap from the junior varsity to varsity team. But her status is particularly notable given she's a woman.
To few people's surprise, the sports industry is largely male. There has never been a female general manager in any of the four major sports. Key management positions within the NFL, NBA, NHL and MLB are only 2 percent female held. When it comes to broadcasting, out of the 183 sports talk shows, there are only two female hosts.
In terms of coaches, between all 122 teams within the NFL, NBA, NHL and MLB, there have been no female head coaches and 5 assistant coaches: Katie Smith and Kathryn Sowers for the NFL, Jenny Boucek, Becky Hammon and Nancy Lieberman for the NBA, Dawn Braid for the NHL and Justine Siegel for the MLB. On the college level, statistics are a little better, with women accounting for around 3 percent of coaches for men's teams. (Interestingly, men coach about 57 percent of women's college teams.)
Duke University recently published an article investigating why their basketball program doesn't have female managers. A senior associate director of athletics and external affairs at the university said that there had been a lack of qualified applicants.
Other sources reported a female candidate being told they were not hiring women due to the hassle of special accommodations and a message showing that female candidates were being held to a higher standard than male candidates. In response to the article, Bricker-Hughes says, "Even if it costs a little extra for another hotel room, that should never be a deterrent. I think everyone deserves the opportunity to work in sports if they want to."
Given an industry loaded with these kinds of statistics and incidences, it is remarkable indeed that Brickner-Hughes and fellow senior Maria Rose Vanderford both work as varsity managers for one of the nation's top college basketball teams. Bricker-Hughes notes that being a women in this position means no discrepancy in competence or capability, just an extra room needed and the players occasionally joking that she shouldn't listen to their conversations about girls.
She feels that her experience has made her much more aware of this issue around the nation. "Being a manager has made me so much more aware of other women within the sports industry. Whenever we go to other schools, I'll always look to see if a team has any girl managers. I always have more respect for a team that does, because I don't know why you wouldn't want to have female managers if they're qualified."
"Even if it costs a little extra for another hotel room, that should never be a deterrent. I think everyone deserves the opportunity to work in sports if they want to."
Brickner-Hughes says at games that people often aren't used to seeing female managers. "A lot of the time, teams will have women who are trainers or work for the event center, but aren't actually part of the team. So I think maybe people assume, 'Oh there's a good chance these girls aren't actually associated with the team.' People do seem surprised sometimes when they find out that Maria and I are managers."
When asked about why she thinks there are so few women seen in sports management, Brickner-Hughes speculates dated stereotypes about women not liking/understanding sports and therefore, girls being implicitly told they're not as capable play a major part.
"I think a lot of the time there's an underlying assumption that there wouldn't be interest from women. Some people might wonder, 'Well why would a girl want to work for a men's team?' But I'm doing the same duties a lot of the time that any manager for any women's team would do. I think it's also that a lot of girls don't feel they would have a chance. They think, 'Why would I get picked over any guy?' There's a belief that there's less legitimacy with women in sports, which obviously isn't true. There have just been so many stereotypes that have been ground into people's minds for some many generations that it has become harder for women to get these opportunities."
However, the situation isn't without hope, and Brickner-Hughes believes that spreading awareness and girls seeing representation can help change the tide. She recalls that she would not have even known about the chance to be a manager had it not been for her dad in the athletics department.
"I think just getting the word out is a huge first step, doing stuff like this interview so more girls can know that this exists. If I were a girl in high school and read an article like this, talking about a woman's experience as a sport's manager, and I had any interest, I would be like, 'Oh my gosh, this is actually possible — you can totally do this.' If women can see that the opportunities are there, then we're more likely to fight for them or become qualified enough to pursue them."
Brickner-Hughes hopes that her presence as a manager will encourage other young people to pursue the extraordinary experience that is Carolina basketball. She recalls how much she's learned from Coach Williams, a future Hall of Famer and the kind of man who makes excellence look ordinary.
"He's taught me so much about good leadership skills. He never gives up. There are a lot of times, if it's a bad loss, where I wouldn't have anything to say if I was in his place. But Coach always continues moving forward. He'll say, 'This is what we need to do differently and what we need to learn from.' Or if he feels that he did something wrong he'll say, 'This is my fault, I'm sorry I let you guys down.' He's incredibly humble and down to earth, which makes it even more enjoyable to work with him."
I asked her what she thought about one of Coach Roy's oft-repeated motivational lines, detailed in a recent article: "We didn't come this far, just to come this far." Brickner-Hughes responded, "It's so true. We put in however many thousands of hours of work, and we didn't do that just to lose and go home. I think that's the way he looked at it — instead of worrying about this or that or saying 'This team is better,' he trusts in us and what we can do."
Brickner-Hughes counts her time spent working with the team, now seen as a second family, to be one of her favorite things she's ever done. She says, "I love knowing that every day I feel like I'm at home when I walk into the Smith Center." She hopes other girls will have the same opportunity.
After being featured in photos on the team's Instagram account last year, she remembers some young girls reaching out saying how cool her job was, and asking how to get involved. Brickner-Hughes was proud to have set an example, and hopes she'll continue to do so in her future career. One thing, however, is certain: She didn't come this far, just to come this far.