For those of you who don't know, "WEBTOON" is a Line app launched by the Naver Corporation in Korea in 2005. For budding comic artists and bored people with an appetite for drawn entertainment, Line's WEBTOON provides a platform for publishing and reading a rainbow of genres in different languages.
Whether you are in for a quick summer read or a long journey full of cliffhangers and hilarious comments, the vibrant WEBTOON community welcomes you with open arms (and really good fan theories).
Completed WEBTOONs:
WEBTOONs tend to be uploaded by authors on a weekly basis. Although some authors bless the readers with more frequent updates, you won't have to wait for the updates for these two thrilling reads.
1. "Dr. Frost" (Lee JongBeom)
Using a more minimalistic manga approach, Lee JongBeom's sets his WEBTOON, "Dr. Frost," in the context of modern day South Korea. The plot follows the practice of Dr. Frost, a brilliant but emotionless psychologist and Seong Ahyoon, an aspiring clinical psychology student, as they diagnose and attempt to treat their ailing patients.
The art itself seems simplistic and cartoonish, but the attention that the author puts into shading the backgrounds and the precision with which each facial expression is drawn helps set the mood perfectly for the WEBTOON.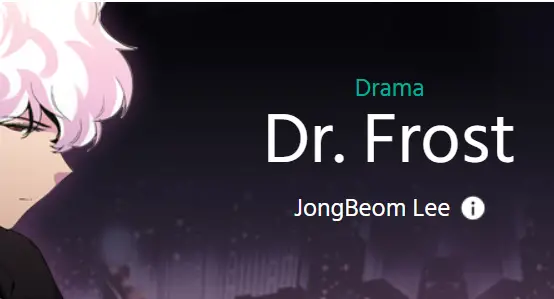 In addition, Lee has an uncanny way of making the reader think about their own actions and how they portray themselves to the public. As Lee uses Dr. Frost's character to unravel the many psychological reflexes of his ailing patients, he also compels his readers to re-evaluate themselves.
Aside from the art and the plot, Lee is bringing matters of psychological instability to the attention of his readership — many of whom live in South Korea. Although cultural stigma around mental health issues and the study of psychology in Asian countries is just beginning to loosen, Lee's choice in subject matter and plot resolution goes well beyond the simple enjoyment of aesthetically pleasing art.
2. "Bastard" (Carnby Kim and Hwang Youngchan)
Noted in the WEBTOON categories as one of the most popular thrillers/dramas, "Bastard" lives up to the hype in both art and plot. As a story about a young man forced to be his psychotic father's alibi and accomplice, this WEBTOON deals with the darker aspects of humanity.
Also set in modern day South Korea, the plot follows an introverted and disabled young man, Jin, and his struggle to expose his socially adept serial killer of a father.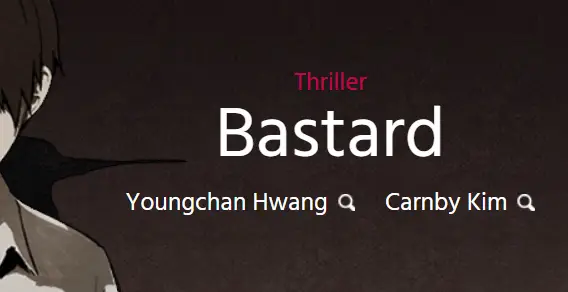 The use of muted colors in the art matches perfectly with the distorted lens through which the protagonist, Jin, sees his life. Just as life and morality present many gray areas, the art and the shading of the comic also relies heavily upon a grayscale with somber and muted colors to suit the ominous tone of the story.
The facial expressions given to each character are also carefully crafted and help hint at their moral nature. For instance, following the example of manga, those who are portrayed to be morally upstanding or concerned for humanity are often drawn with larger eyes, while those with villainous traits tend to have narrower eyes.
One of the most impressive things about the art in the comic is how Jin's father is drawn when he commits an unspeakable act of mutilation and murder. It's honestly enough to send shivers down the spine to realize that his father's perfectly normal and even friendly facade could melt into something to carnal and terrifying.
This WEBTOON, much like "Dr. Frost," makes the reader acutely aware and perhaps even wary about how they present themselves. This WEBTOON demonstrates how appearances are always constructed — it just depends on how you judge it.
Comedy
Oh my God. Where to begin with this one? This is a comedy about the Christian God's antics in heaven and how the biblically perfect deity might not be as perfect as some might want to believe.
Co-written by Teo and Corey, who both channeled their Sunday school lessons to write these comics, "Adventures of God" alludes to biblical stories in the funniest ways. From God wanting to set the devil, Lucifer (who is affectionately called Lucy), on various dates with dead gay men, to Him getting tipsy off of beer and accidentally creating the dinosaurs, the creators never publish a dull episode. Teo and Corey prove that biblical stories aren't necessarily boring, and that they make for great comedic content.

The art in this series might also remind you of the art in "Family Guy." The artists make use of bright colors and over-exaggerated facial features to demonstrate that conversations about Christianity do not always have to be serious; they can be colorful and lighthearted.
Although it might not have as much shading detail as some other WEBTOONs do, the solid-colored characters and backgrounds work well with this comedic take on Christianity.
Drama
Writing under the pseudonym "Lifelight," the creator of "My Dear Cold-Blooded King" is well known in the WEBTOON community for having some of the best art and one of the most exciting and complicated plots. This tantalizing mix of romance and drama lands this WEBTOON on the Daily Featured section after almost every update.
Set in a vaguely feudal Japanese era, this story follows the life of Kihara Mei, whose link to the infamous Blood King results in a heart racing and mentally taxing life in the royal palace. With every new revelation (and drawing of a shirtless and muscular physique), Lifelight ensnares another reader into Mei's endeavor to uncover the secrets protecting the Blood King's throne.

While the plot is amazing, the art may well be the shining star of the WEBTOON. The attention paid to the coloring of each scene is enough to make you wonder how possible it is for one author to publish these episodes weekly.
The endless abs and arms are enough to seduce most readers, but the drawings of the scenery could belong at an art museum. The breathtaking way that Lifelight draws the looming moon against the starry or brooding night sky, and the way that the sunlight sparkles and streams through a blanket of lush grass deserves more than just a moment of appreciation.
Some of the best tidbits come from the moments of comedy when Lifelight steps back from drawing intricately shining anime eyes to a more comical and simplistic (and often annoyed) eye roll for her characters. For some WEBTOONs, people continue reading for the story or for the art; in this case, readers are blessed with both.
2. "Lookism" (Park Taejoon)
If it is drama that you desire, look no further than to Park Taejoon's "Lookism." Although it might seem to be an arbitrarily made up word, "lookism" actually refers to a phenomenon in the modern world in which people judge the character of others based on how attractive or unattractive they are.
Once again set in South Korea, the WEBTOON addresses how lookism helps shape people's lives. This story follows Daniel Park, a horribly bullied and self-pitying high schooler who wakes up one day in the body of an attractive young man. Taking note of how differently he is treated in the body of the attractive man, Daniel decides to utilize the body for his daily life.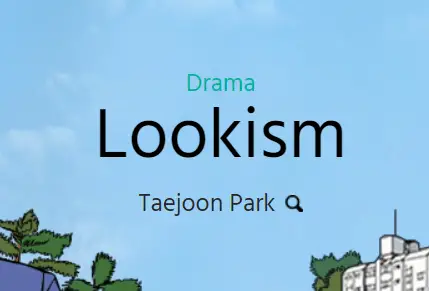 One of the great things about this WEBTOON is how aware the author is of how society works for both attractive and unattractive people, specifically in South Korea where one's appearance could qualify (or disqualify) you for a job position or compel others to bully or worship you.
Park Taejoon himself is actually known in Korea as an Ulzzang (which directly translates to great face), a non-official title given to those in Korea who are deemed as particularly attractive, and he does a great job in demonstrating through "Lookism" that a good heart does not always accompany good looks.
Park also grounds his artwork in the likenesses of popular Korean singers and actors for his characters. Many suspect that his main character, Daniel Park, is modeled after Park Bo Gum, and that another character, Crystal Choi, is modeled after Krystal Jung, a popular idol from the K-pop group F(x).
With all this focus on facial and physical appearances, Park draws his "attractive" characters using the checklist of a conventionally beautiful Korean individuals with special attention paid to larger eyes, hairstyles, face shapes and physique.
Although Park did not originally intend for this WEBTOON to gain the following that it did, the time he spent on developing the story and his style as a cartoonist draws new and old readers alike to his work.
Not all romance stories are the same, and these WEBTOONs prove it. Be prepared to laugh, cry and resonate with the women of the the WEBTOON community.
1. Miss Abbott and the Doctor (Maripaz Villar): Dive into the unconventional romance between an eccentric but lovable Miss Abbott and the prim and proper Doctor Andreas. Their interactions and Villar's artistic approach are sure to get you rooting for their relationship.
2.Let's Play (Mongie): If you are looking for a story about shy but admirable gamer woman with a reverse harem of three attractive men, then look no further! How are you supposed to want the main character to be with just ONE of the suitors? They're all suitable.
3. Age Matters (Enjelicious): Age doesn't matter when your newly hired assistant is a live-in cook with a kind heart and a bright personality. It also doesn't hurt to be a multi-millionaire with his own company at 25.
4. Yumi's Cells (Lee Donggeon): I don't know about your cells, but Yumi's cells definitely have her back through her worst munchies, hangovers and heartbreaks. Yumi is just as lovable as her cells — and you'd be rooting for her like you are her Love Cell.
5. I Love Yoo (Quimchee): The more you read this WEBTOON, the more you will come to love how Yoo manages to finesse free food from anyone at any event. That's talent.