It's September, which means it is basically Halloween — at least, it is for me (and seemingly everyone on social media). For the people who love the macabre month, the onset of autumn means it's time to prepare for Halloween, which includes picking a costume, hanging some grim décor, and loading up on any entertainment that features the creatures who go bump in the night.
If you're jonesing for some literature to put you in the spooky spirit, the following five books should do the trick because they sure are a treat.
1. Undead Girl Gang
Mila Flores refuses to accept the authorities' explanation that her best friend Riley's death was a result of suicide. She suspects foul play, but nobody will listen to her. Grief-stricken and determined to uncover the murderer hiding in her town, Flores turns to Wicca (who Riley introduced to her).
She finds a spell in a mysterious grimoire that allows her to bring her friend back from the dead for seven days. However, things do not go according to plan, as Flores also accidentally brings back the mean girls from her high school who had, allegedly, recently died from suicide as well. The unlikely team is forced to work together and figure out who is doing the killing and who could be next.
On top of the murder, witchcraft and zombie-esque group of girls, Lily Anderson's "Undead Girl Gang" is full of dark humor and mystery, too. It contains the perfect level of morbid for anyone anticipating the season of spooks.
2. There's Someone Inside Your House
Nothing says "Happy Halloween" like traditional slasher flicks. In her latest novel, Stephanie Perkins emulates the feeling of classic scary movies such as "Scream" or "I Know What You Did Last Summer."
Makani Young moved to Nebraska with her strict-but-loving grandmother to escape a dark secret in her past. Now, with a new group of friends and persistent crush on the school's outcast, Young is beginning to feel content at her new school. That is, until her classmates start to get murdered. Nobody can figure out the pattern among the victims, but Young suspects her scandalous history may put her at risk. As the town's panic intensifies, it becomes impossible for Young to hide — from the killer, her feelings or her secrets.
"There's Someone Inside Your House" is a cinematic reading experience. With cut-scenes and the shadowed killer the novel catches the essence of slasher films, and leaves readers flipping the pages at rapid speed, hungry to know who is responsible for all the dead bodies.
3. Miss Peregrine's Home for Peculiar Children
Jacob Portman spent years believing the fantastical tales his grandfather would tell him about peculiar children with special abilities, such as floating or being invisible. As he grew up, Portman realized they were just stories. When his grandfather spouts claims that monsters are coming for him, Portman chalks it up to dementia.
Unfortunately, one day Portman leaves work and finds his grandfather dead in the forest, coming face-to-face with the gnarled creature who killed him. Jacob can no longer deny the truth in his grandfather's old stories. He then embarks on an adventure to the island where his grandfather was raised and discovers a world of time travel, soul-sucking monsters and, of course, peculiar children.
Between the decaying setting and the monsters with nefarious plans for immortality, Ransom Riggs' novel is shrouded in a certain darkness that makes it an ideal Halloween read. Not to mention, there are creepy photographs throughout the book that enhance the spooky experience.
If you're eager for more, there is a Tim Burton film adaptation and several more books in the series.
Miss Peregrine's Home for Peculiar Children | Official Trailer [HD] | 20th Century FOX
4. Hex Hall
Three years ago, Sophie Mercer learned that she is a witch, but learning how to control her powers has not gone particularly well for her. Thanks to a disastrous spell at prom, Mercer's magic has started to attract too much human attention. So, her warlock father sends her to a supernatural boarding school, where she meets vampires, ghosts, demons and shapeshifters. When other students at the school start getting attacked, nearly drained of blood, Mercer realizes she has much more to worry about than unruly magic or a couple of mean-girl witches.
While "Hex Hall" has a more buoyant tone than the other books on this list, it also contains a smorgasbord of paranormal creatures just begging to be read this fall. Rachel Hawkins balances the humorous with the ominous to create a fun, engaging reading experience.
5. The Merciless
Described as "'Mean Girls' with an occult twist," Danielle Vega's debut novel follows Sofia Flores, who has just moved to a small town in Mississippi. She's excited that the popular girls at school have taken her under their wing, but that quickly changes when they ask her to befriend Brooklyn, a classmate who seems friendly enough, but they think is possessed.
The girls take Brooklyn to an abandoned building and perform an exorcism on her, except their way of banishing the demon resembles torture more than anything.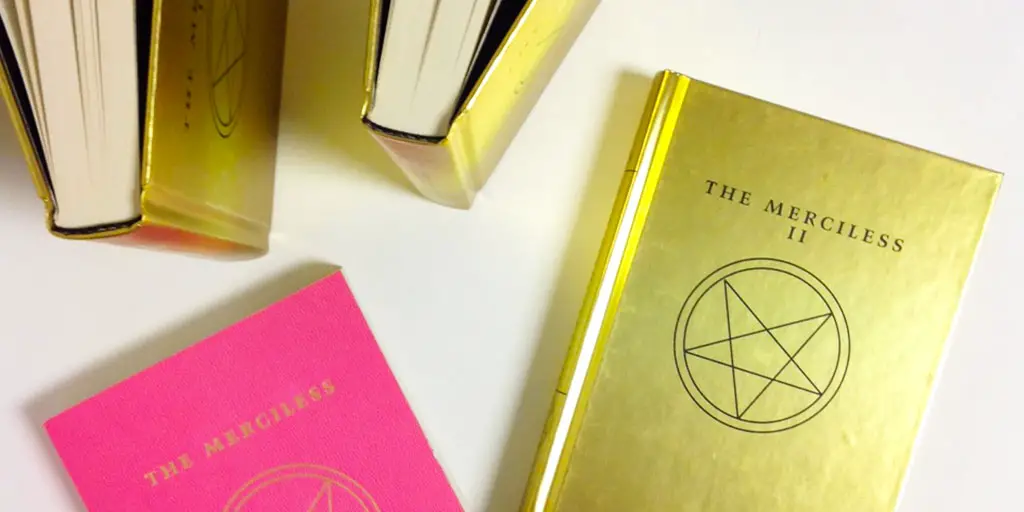 "The Merciless" is a fitting title, as the book is dark, violent and graphic. If you're looking for a YA book with a Stephen King vibe, this will probably be the closest you'll get.