In October 2014, a podcast titled "Serial" was released by the company This American Life. "Serial," which was researched and narrated by investigative journalist Sarah Koenig, followed the true crime story of Adnan Syed and his eventual conviction for the murder of his girlfriend, Hae Min Lee. The podcast exploded across the digital space and the extensive research done by Koenig won Syed a new trial, which was alluded to in the podcast's second season. "Serial" was the first podcast I had ever tuned into, and since then, I have noticed that they have grown in popularity to the point of being ubiquitous.
By definition, a podcast is a digital audio-file typically installed as a series. Podcasts are not new by any means, but there has been a clear surge in their popularity recently, especially among young adults. "Business Insider" reported that in June 2016, 20 percent of U.S. adults ages eighteen to forty-nine listen to podcasts at least once a month; since then, that number has risen to 23 percent. The article also included a snippet on the wild success of "Serial," noting that the podcast had been downloaded seventy-five million times by the conclusion of its first season. Another more recent article, written for "Ad Age" in December 2016, found that fifty-seven million Americans listen to podcasts monthly.
Part of the programs' burgeoning popularity comes from their newfound accessibility. Anyone who owns an iPhone already has the Podcasts app downloaded as a part of the beginner software, which allows the user to search, download and subscribe to their favorite podcasts. The wildly popular music app Spotify also has a dedicated section for podcasts that includes some content not even available in the Apple library. Along with these applications, podcasts are oftentimes also available online via their personal webpage or as an audio site on SoundCloud.
Plus, the media production company Full Screen has recently adapted some major podcasts hosted by popular YouTubers and internet stars into full video productions, although the podcasts are still available in their true audio form.
While some may think that all podcasts only resemble series like "Serial," or broadcasts like National Public Radio, there is actually a slew of different genres and sub-genres in the medium. Topics of podcasts can range from sports, psychology, true crime, storytelling, history and interviews. One of the most popular podcasts that has been articled in "Rolling Stone" and "Entertainment Weekly" is titled "My Favorite Murder."
This podcast, hosted by comediennes Karen Kilgariff and Georgia Hardstark, is about exactly what the title states. Every week the two women sit down together and discuss their favorite murder of the week. These have ranged from big hitters, such as Jeffrey Dahmer's many killings and JonBenét Ramsey's mystery, to more obscure horrors hidden in tiny towns and seemingly idyllic areas.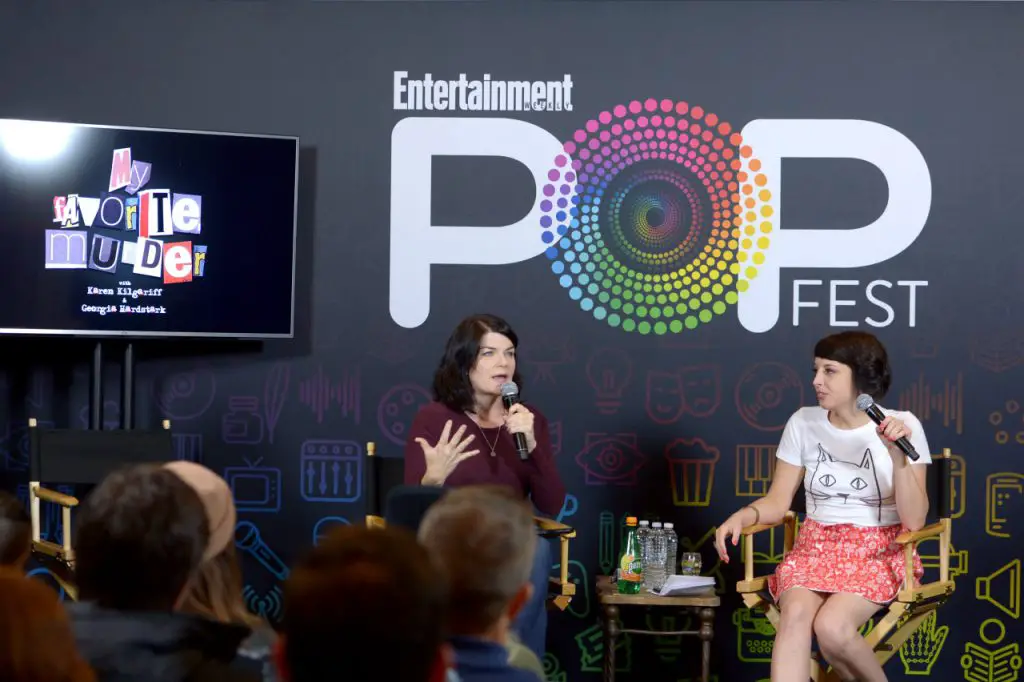 The popularity of the podcast has grown so much in the past year that they have taken their show on the road with a countrywide tour where the women read aloud their favorite murders. The crimes they focus on typically tie into the state or city they're in, and usually include a hometown murder from a member of the audience. This podcast has taken what is normally a taboo fascination and made it into a more widely accepted interest that has fans screaming their motto, "Stay Sexy and Don't Get Murdered!"
On the other end of the spectrum is the podcast aptly titled "Sleep with Me." The purpose of this podcast is to help the listener fall asleep to the hosts dull, droning tone and boring stories. It may seem silly or useless, but many people find comfort in the sound of another person's voice lulling them to sleep, almost like a parent reading a bedtime story to their child. This particular podcast does not follow any specific storyline or series chronologically, but instead sporadically tells stories in bits and pieces, although some topics have come up on more than one occasion.
The difference between these two podcasts is staggering, but what is even more surprising is that they are both mutually supportive and have mentioned one another on their respective programs. Although the two shows are very small in the audience they reach, podcasts such as "Stuff You Should Know" and "Hidden Brain" can give listeners insight into things they otherwise would not know, such as head transplants or how champagne works. History buffs will eat up "Stuff You Missed in History Class," while sports fans will inhale "30 For 30 Podcasts."
Not only do podcasts span a wide range of topics, but the hosts themselves can be exciting to listen to. From comedians like Karen and Georgia to actual television personalities, there is no shortage of topics or interest left out for the average listener. For example, Joe Rogan of "Fear Factor" has his own podcast entitled "The Joe Rogan Experience." Joe interviews guests spanning from musical artists to authors and everything in between.
For those who are fans of YouTube, longtime star Jenna Mourey Marbles and her vlogger boyfriend Julien Solomita host a podcast every Monday creatively named "The Jenna & Julien Podcast." While Jenna and Julien occasionally host and interview guests, they have also covered topics that they find interesting for the week, such as conspiracy theories or pop culture news. They test each other's knowledge of celebrities and TV shows and their most recent podcast was a pizza party in which they played games and just chatted about whatever came to mind. Other celebrities that host podcasts are Anna Faris, Shane Dawson, Ricky Gervais, Shaq and Snoop Dogg, to name a few.
Overall, podcasts are one of the most overlooked and under-appreciated forms of media consumption. They are perfect for long car rides, cleaning the house, walking to class or even just getting ready in the morning if you are like me. Once you find your perfect match it will seem as if something has been missing your whole life. For those worried that their interest is too "out there" or strange, just know that if one looks deep enough, there is a myriad of topics just waiting to be heard.