The beloved country music drama "Nashville" has been settling into a new network quite nicely. The ABC show was originally scheduled for cancellation after Season 4, but was picked up and saved by CMT. The new home feels more than fitting, as the show's country-music focus fits right into the network's core content and demographic. Nashville star Charles Esten, who plays Deacon Claybourne, even recently hosted the CMT Awards.
However, a new network also indicated to fans that some changes would be inevitable. Rumors floated about which one of the show's big-name stars might not survive the move from a major network to a cable channel. Unfortunately, these rumors were confirmed when Connie Britton made her exit.
Britton, previously known for her role on "Friday Night Lights," starred as Rayna James, a legendary country artist. James made her exit two episodes prior to the Season 5 midseason break.  Although she was initially intended to leave in the midseason finale, the writers wanted to give viewers more time to process her death before breaking. After being confronted by her stalker and living to tell the tale, Rayna was put in the back of a police car to be taken to the hospital. She exchanged I love you's via cell phone with her husband Deacon Claybourne before being struck by oncoming traffic.
But, this was not the end of Rayna James. James was recovering in the hospital and lived long enough to say her goodbyes to all other main characters before succumbing to kidney failure resulting from the accident. She opened her eyes for one last time, then died while her husband and children sang "A Life That's Good," the song that had become a hallmark of her relationship with Claybourne and their family. This led to two emotional episodes regarding the fallout of her death and left viewers wondering over break just how the show would go on without Rayna James.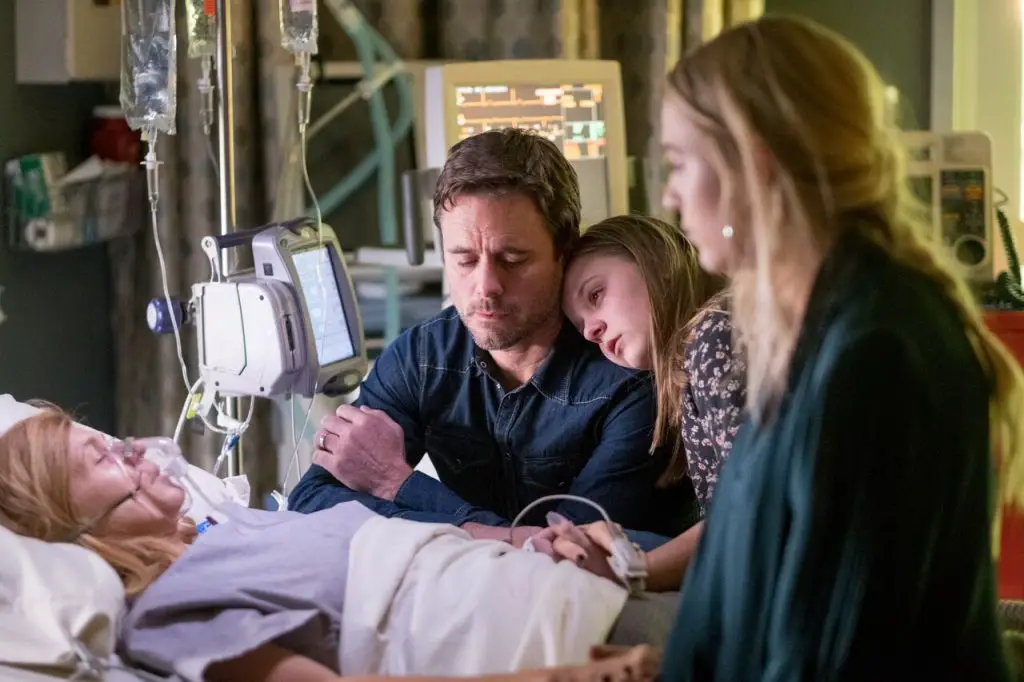 The midseason premiere strove to answer just that question. Looking back, it appears the first half of Season 5 showcased Rayna getting her affairs in order prior to her departure. Rayna and Deacon's tumultuous romance found its way into normal family life, only to have Rayna James ripped away from her beloved. One of the key plot points prior to Rayna's death was a duet album of songs the two were attempting to write about their own love story. Finally, they were able to reconcile the years of heartache with their passion and devotion for each other via song.
However, the album was left incomplete after Rayna's death. The midseason premiere focused in part on Deacon grappling with his wife's death and struggling to find his way back to music without her. He is given closure when the cast of friends and family help him complete the album in tribute to Rayna.
The show introduced a key new character prior to Rayna's departure. Zach Welles (Cameron Scoggins), a wealthy Silicon Valley mogul, entered to relieve some of the financial debt of Highway 65. In Rayna's absence, Welles tries to take charge of much of her record label. At one point, he even orders Claybourne to turn over Rayna's masters to the duet album. He preaches about bringing something new to Highway 65, clearly setting into motion the tension for the season, and pushes to fire Bucky (David Alford), Rayna's former manager and family friend turned Highway 65 executive. The character leaves fans feeling uncertain, as his actions at Highway 65 appear quite brutal, but he also serves as a new love interest for fan-favorite gay cowboy Will Lexington (Chris Carmack).
Over the past few seasons, the friend group composed of Will Lexington, Avery Barkley (Jonathan Jackson), Scarlett O'Connor (Clare Bowen) and Gunnar Scott (Sam Palladio) has been given even more screen time. Through their time in the band "The Exes" and their complicated love lives, they have developed far from their humble early days singing in the Bluebird. Will has finally accepted his sexuality and made real strides for the gay community in country music. Avery found his way through the early stages of parenthood on his own, and he appears tougher because of it. His (ex-)wife Juliette Barnes (Hayden Panettiere) has overcome postpartum depression and seems to finally be growing up. Scarlett will soon face her own voyage into parenthood with her unexpected pregnancy.
Scarlett and Gunnar's star-crossed romance has often been played as a younger parallel to that of Deacon and Rayana. Her pregnancy could have easily been a repeat of the Rayna/Deacon situation. However, the writers have chosen to play this story in a slightly different way. Gunnar is not the father and instead is choosing to stand by Scarlett regardless of the results of the paternity test. Gunnar hence becomes the Teddy Conrad to Scarlett's Rayna James by taking responsibility and stepping up to raise someone else's child. It's a brave move, especially considering this is the second time he's been an almost father; it's hard to forget about his supposed son who turned out to be his nephew. This situation will play out throughout this season.
The center of the action lies in Claybourne's struggle to raise two fiery girls on his own. Prior to Rayna's departure, Daphne Conrad (Maisy Stella) had just begun to welcome her stepfather into the family, referring to him as "Dad" for the first time while standing beside Rayna's hospital bed. Maddie (Lennon Stella) had just returned home after a bought of rebellion, which included an emancipation trial. As the camera cuts to Maddie in the studio with Juliette Barnes, it's clear Rayna's oldest daughter has grown into a musician in her own right. Maddie faces the realities of building the career she always dreamed about while also trying to come to terms with her mother's death.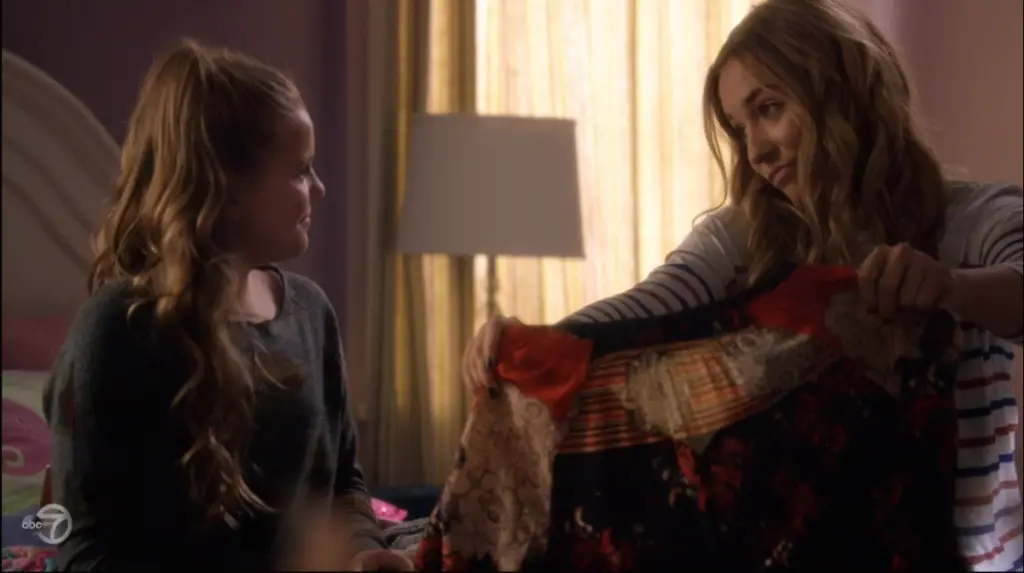 Daphne, on the other hand, now faces a family that she has little blood relation to. In addition, she has the problems of most tweens, like struggling with history class and fitting in at school. She cuts class and makes friends with a young street performer. She gains more airtime than almost ever before, likely as part of the show's attempt to refocus on its younger characters. The children certainly do not seem to be secondary characters any longer.
One thing is for certain: Though Rayna James may have passed on, her presence is still felt everywhere in Nashville, from the posters of her around the Highway 65 offices to the memories the characters continue to dwell on. Though she may be gone, this season might have more to do with Rayna than ever before. Fans will watch as each character finds their own way to cope and move on from her dramatic death.