Kevin Durant is cool, calm and collected.
He's probably on a beach somewhere sipping on a margarita with no immediate concerns other than what kind of grilled panini to have for lunch. Meanwhile, back at home the scene looks more like a busy investment bank on Wall Street, with just about every team in the NBA frantically making calls trying to piece together viable trade packages to buy Kevin Durant's services next season.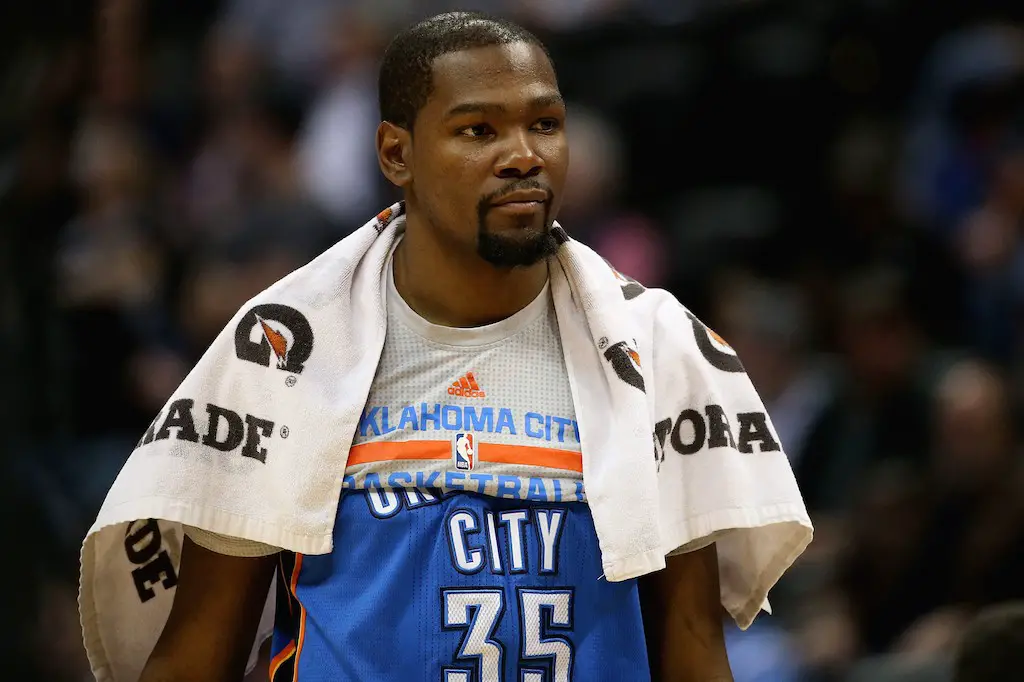 Everyone seems to be obsessing about this issue except the man himself, who just suffered yet another heartbreaking series loss in the NBA playoffs. Sports writers all over the country are trying to determine the best destination for Durant, meticulously analyzing each player and trade option to find the best fit for the superstar who was the 2014 MVP and is a four-time scoring champion.
With the salary cap set to increase to over $90 million for each team next season, many teams feel that with the right planning, they can make a move for Durant this summer, and most teams will try. Given Durant's reputation and talent, players all over the league will be trying to sell him on their teams. Isaiah Thomas of the Boston Celtics and Joel Embiid of the Philadelphia 76ers having already declared their intent to help sign Durant over Twitter.
As soon as the final buzzer sounded to end the Oklahoma City Thunder's title hopes, the Lebron-esque free agency madness began. Though Kevin Durant admits he hasn't given his free agency situation much thought yet and he doesn't want his summer to turn into a glamorized debacle, the world is watching and waiting. He may not want to do the deep-thinking and answer the tough questions just yet, but that's why we're here: to overanalyze and decide the best option for him.
On paper, the Washington Wizards seem like a great place for Durant to go. It's his hometown team, they just hired his beloved former coach Scott Brooks and he would have a much easier path to the NBA finals breezing through a much-weaker Eastern Conference.
The Wizards have formidable pieces to build a great team with John Wall and Bradley Beal, Wall being a proven playmaker at point guard with Beal alongside him in the backcourt to score and space the floor.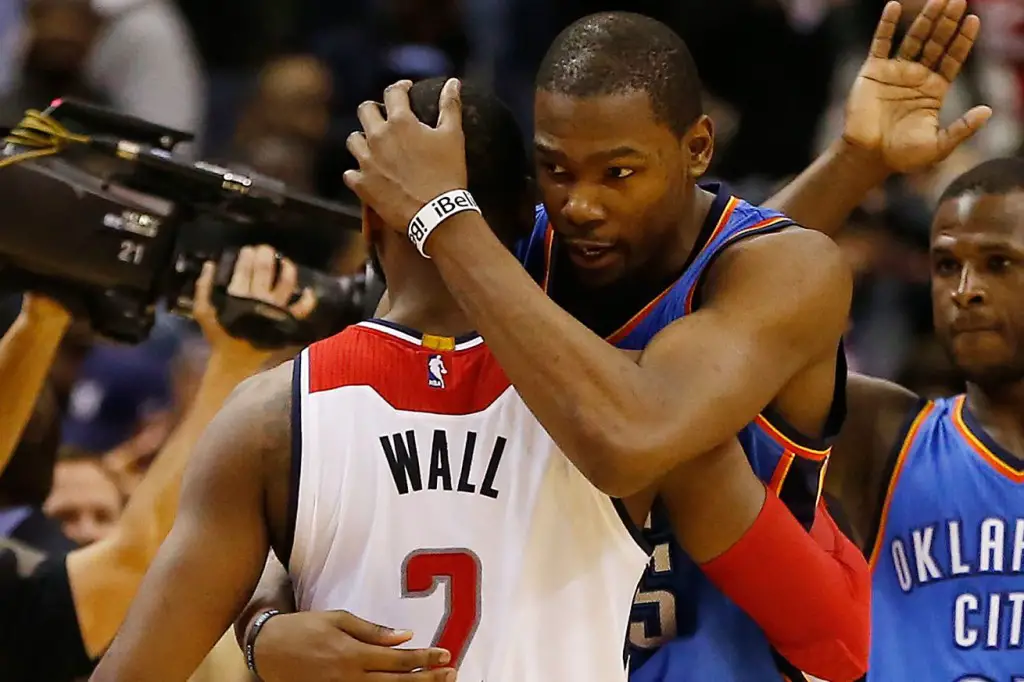 However, even with the talents they have, the Wizards haven't quite lived up to their potential. Otto Porter Jr. has failed to provide them with a consistent third scoring option, but the pieces are there, and if the hometown kid comes home, they could easily be a contender in the East.
A few years ago there were rumors that Kevin Durant would join the Lakers, a move that would put him at one of the most iconic franchises in sports history with one of the most iconic players in all of sports in Kobe Bryant.
Unfortunately for Kobe, Durant didn't make that move, leaving him with a soft shell of a team that wouldn't be good for years. Well, years have passed and the Los Angeles Lakers still suck. The franchise with 16 championships won just 17 games this year, going 17-65 for the season. Kobe Bryant's gone, LA now belongs to the Clippers and the Lakers are left to rebuild.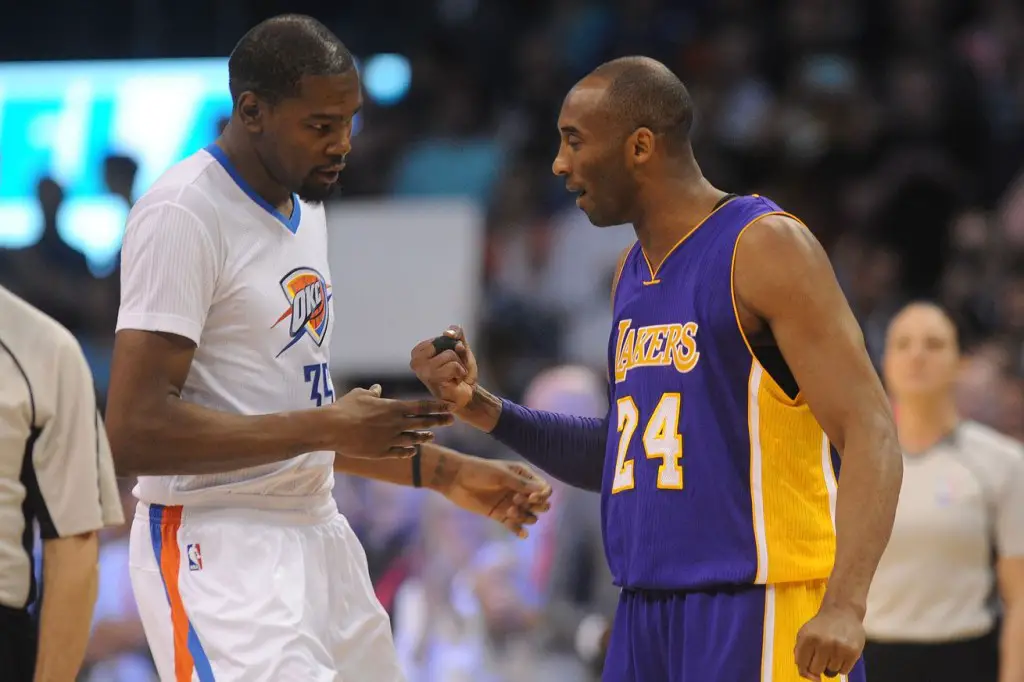 Now Durant, 27, is still young enough to help rebuild this struggling Laker team, the question is will he want to? Money is no issue for the Lakers, and if Durant does come, he'll get whatever he wants to help make it happen, but is it worth it? He'd be leaving a team in the Thunder who he's led to the Western Conference finals four of the last six years, for a team who hasn't even been considered a contender for several years.
The Lakers are also thought to be heavily pursuing Compton-born shooting guard Demar Derozan from the Toronto Raptors, which seems like a better option for them anyway. Derozan would cost less, allowing the Lakers more salary cap room to build a team around him. However, you can never rule out the appeal of the Lakers, and though a massive overhaul would be needed to compliment Durant, it is the Lakers and it is LA, the city for only the biggest of stars.
The Boston Celtics are by far the most intriguing destination for Kevin Durant to consider this summer. They have a core in Isaiah Thomas, Avery Bradley and Jared Sullinger that has proven they can compete with anyone and play tough defense. Boston boasts promising young talents like Marcus Smart and a highly-regarded young coach in Brad Stevens, who has brought the Celtics back to playing attractive and compelling offensive basketball led by the shortest player in the NBA: Isaiah Thomas.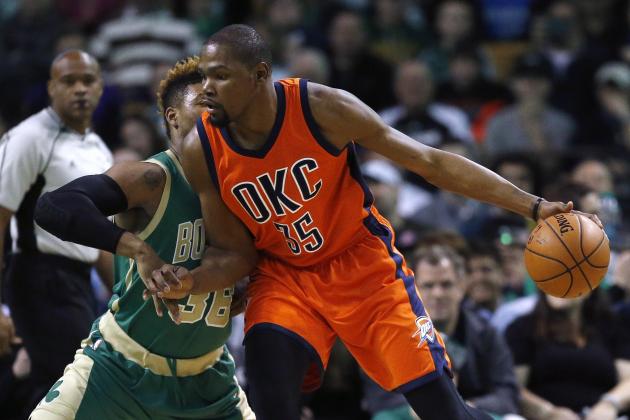 The Celtics are another historic franchise in the NBA and have a cult following in Boston that is as loud and supportive as it is hostile. Durant would fit well in the system Boston employs, coming off pick-and-rolls and freeing up Isaiah Thomas and Avery Bradley to make shots. If the Durantula can survive the cold, my money is on Boston.
The Spurs are an interesting destination for Kevin Durant, considering the current state of the franchise. With an aging core squad and a new core being built, the San Antonio Spurs are in a transitional period. Tim Duncan is on his way out the door, Manu Ginobli, Tony Parker and Boris Diaw are only getting older, but the San Antonio Spurs aren't going anywhere.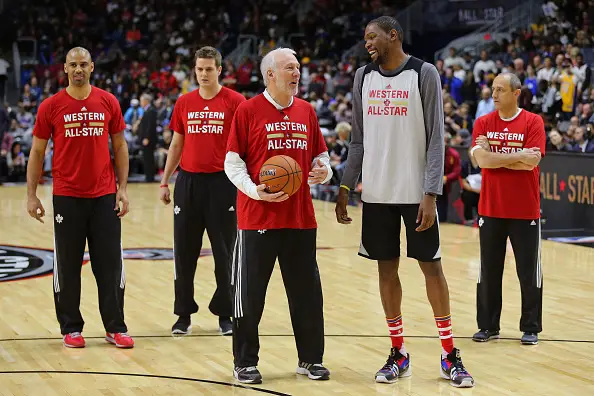 Their system and brilliant coaching staff are already building a new squad to contend with the changing nature of the NBA, all on the backs of unsung superstars Kawhi Leonard and Lamarcus Aldridge.
Where does Kevin Durant fit into this new team? He doesn't. At least not at first glance. The Popovich way of basketball has always been about moving the ball, being selfless and creating for the benefit of the team. It is yet to be seen if Kevin Durant can take on that kind of a system, abandoning one-on-one situations for continuous passing and off-the-ball movement.
Fitting Durant into the starting lineup would be a challenge as well; though his superstar-status warrants him a starting spot on any team, the cohesiveness of this current spurs team makes it difficult to remove any of the starting five, let alone trade away several players to obtain him. Durant's move to the Spurs would be determined more by his own mindset than any other factors, and there are just too many questions without answers.
The best team in the league. One of the greatest scorers basketball has ever seen. It almost seems to good to be true. This summer Kevin Durant could come to a team who might be back-to-back champions, and with him, clear favorites to threepeat.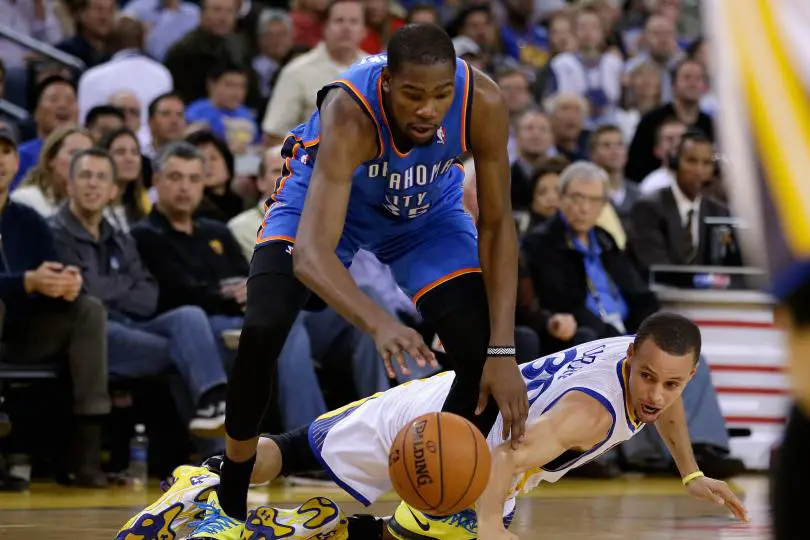 Having three of the most explosive offensive talents in the sport would be an embarrassment of riches, and his length would give the Warriors another stifling defender. Durant would be a lethal addition to Golden State's small ball lineup, with him at the power forward position and Draymond at center, there would be 3-point shooters at every position on the floor, causing havoc for even the best of defenses. But what do the Warriors give up to get Durant?
It would cost them some of the numbers in which they've found their strength this season. Their depth would take a large hit, as Harrison Barnes, Andrew Bogut and Andre Igoudala would be on the chopping block for Durant. All three of those players play pivotal roles in the squad, and although Bogut and Igoudala are on the cusp of decline, their experience and leadership have helped this team become the powerhouse it is now. So Steve Kerr and the Warriors have a decision to make: Team chemistry or a 6'11" freak-of-nature that can shoot 3-pointers and is quick enough to play point guard?
The easiest, most practical move for Durant would be to stay at home. In Oklahoma City, Durant is home. This is the franchise that drafted him, the city loves him and this team will spend it all to keep him.
Durant could always opt to sign a one-year deal for a large sum of money and then test the market again next year for a higher salary. But it all depends. Russell Westbrook is entering the final year of his deal this year, and though the Thunder seem to be stronger than they ever were, they just lost a 3-1 series lead against the Warriors. Russell Westbrook could easily opt to leave next year, which would put Durant in a sticky situation: stay and try to win a title without Westbrook or leave now and avoid the chaos that would ensue if they were to both abandon Oklahoma City next year?
Based on evidence, it's clear Kevin Durant has a big heart, one that's loyal to Oklahoma City. But he also has a brain, which I'm guessing is telling him to ignore his heart.
This is Kevin Durant's first time being a free agent and the timing is impeccable. He is at the peak of his career, coming off a heartbreaking loss to a historic team that is just one of the many vying for his services. Only Kevin Durant knows what he's thinking right now, and hopefully by now he's decided on his lunch choices, moved on to a second margarita and is weighing his options for free agency.