As the 2016-17 NBA regular season draws to a close and the much-anticipated playoffs begin, the ashes are beginning to settle on a highly competitive season of basketball.
In some ways, 2017 was a changing of the guard in the NBA. Not only did the season start without legends Kobe Bryant and Tim Duncan, but for the first season in their history, the Oklahoma City Thunder suited up without "The Durantula" Kevin Durant (KD). NBA fans were chomping at the bit to see how teams on each side of the table fared in the new look NBA. Would Russell Westbrook be able to carry the team without his "Batman"? Would Golden State become truly unstoppable after adding the top-five player Kevin Durant?
The NBA also saw its future superstars emerge in spectacular fashion.
Finally, NBA fans wondered if Mike D'Antoni could replicate the success he had with the Suns, and bring the James Harden-led Rockets back to prominence.
In many ways, however, the NBA stayed pretty much the same. The rich got richer with 73-win Golden State scoring the free agent of the century in KD; the Duncan-less Spurs resumed their expected run of dominance with Kawhi Leonard leading a new potential dynasty; and though the Cavs have had their fair share of hiccups throughout the season, courtesy of injuries and some god-awful defense, they still own the East until someone kicks them off their throne.
In that struggle, a few players have emerged with historic years, leading to one of the closest MVP races in history. Here, starting with a few honorable mentions and then counting down to the strongest case, are the candidates for this year's MVP award.
Honorable Mention #1: Isaiah Thomas, PG Boston Celtics
Isaiah Thomas has officially shut down any of the detractors who dismissed the 5'9″ Washington prospect for his size. Last season, the nifty point guard showed that Beantown was an ideal fit, after the point guard-heavy Phoenix Suns fire-sale landed him in Boston.
This year, Thomas has capitalized on the profusion of young talent, courtesy of the gutting of the Brooklyn Nets franchise, to the tune of the #1 seed in the Eastern Conference. With 29.1 PPG, Thomas is quickly becoming an offensive juggernaut. On his own, he created waves with an extremely talented Celtics team.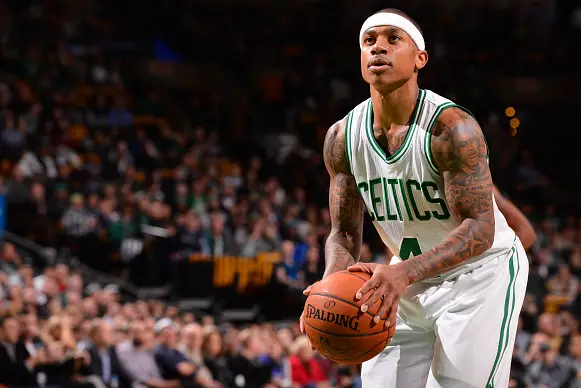 That being said, he is first and foremost a shooting point-guard. He only averages a paltry 5.2 APG.  In addition, on the defensive side, his size gets majorly exposed. Thomas stands dead last of the qualifying 91 point guards in Defensive Real Plus Minus (DRPM), a statistic designed to analyze a player's true value on the defensive end. Until he can avoid being such a liability on D, Thomas won't be able to scratch the surface of the NBA's greatest.
Honorable Mention #2: John Wall, PG Washington Wizards
Ever since he was running the show with Calipari's Wildcats, it's been clear that John Wall is one the most talented, pure point guards basketball has seen in a while. While his excellence wasn't quite enough to bring another championship to the Wildcats of Kentucky, Wall came into the league as a shooting star, drafted #1 overall to the lowly Wizards.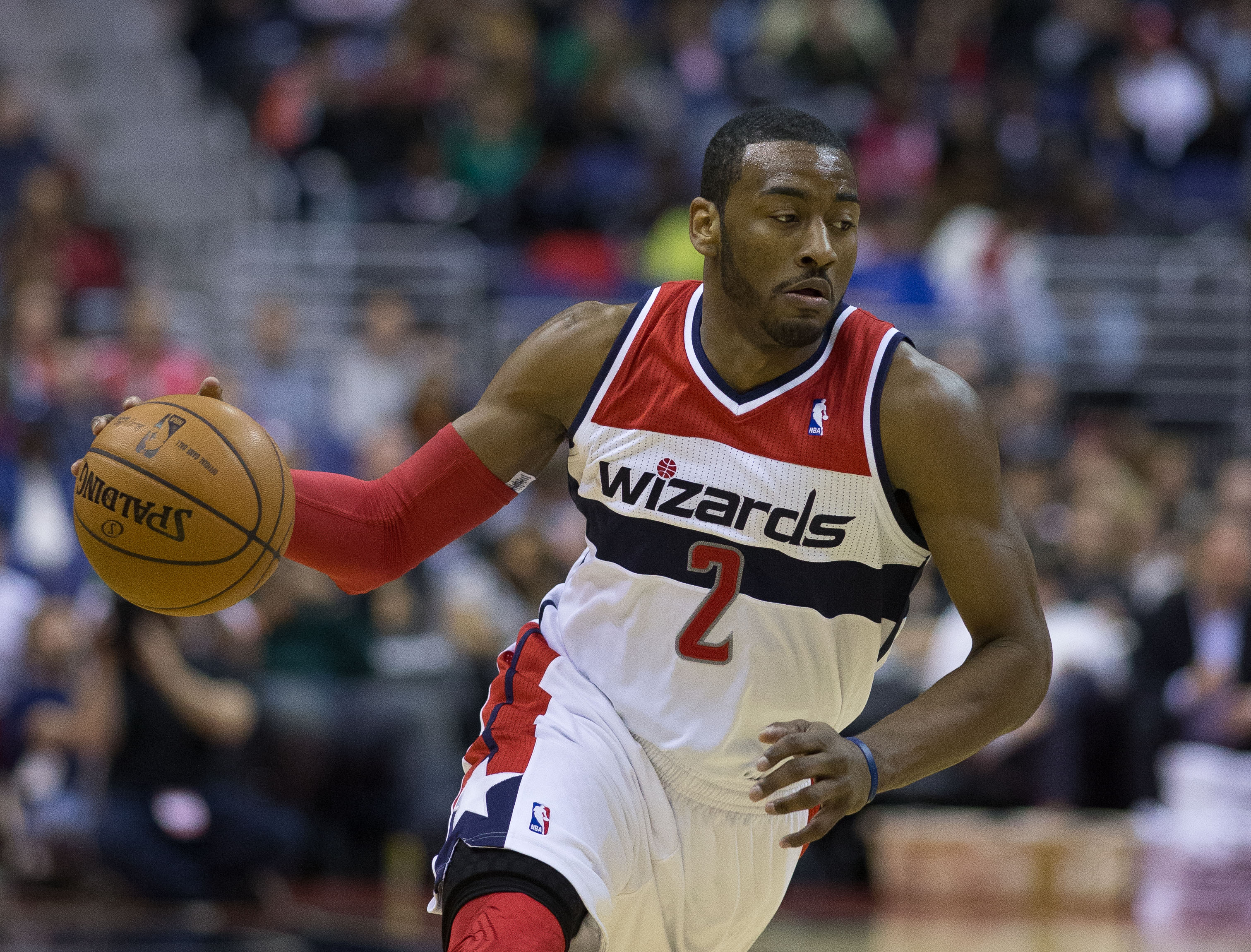 In his first couple of seasons, Wall began to show an inkling of his true potential, but was more known for his off-court shenanigans and a team struggling to remain afloat. In the last couple of seasons, however, Wall has emerged as one the league's premier talents and one of its best passers. He's averaged 10+ assists in the last three seasons, and has never fallen below 7.6 APG in his career. The Wizards, in the meantime, have quietly become a dark horse in the NBA playoffs, sitting at the #4 seed in the East.
However, like Thomas, Wall is a fairly weak defender, sitting at #50 in DRPM amongst point guards. In addition, Wall has never been a great shooter, only shooting a mediocre 32 percent from beyond the arc. Without being well-rounded enough, Wall doesn't have enough to push into the MVP conversation yet, but expect his name up there in the foreseeable future.
Honorable Mention #3: Giannis Antetokounmpo, PG/SG/SF/PF/C Milwaukee Bucks
Having every single position up by his name isn't hyperbole. The "Greek Freak" known as Giannis is such an enigma that he can effectively play and defend every position on the floor. The 22-year-old unicorn is quickly becoming one of the most versatile players the NBA has ever seen.
He can be absolutely dominate at both ends of the court, leading his team in every major statistical category, something only achieved four other times, most recently by King James in 2009. His incredible escalation to stardom has carried a team plagued by injuries and a lack of depth to the #6 seed in the East.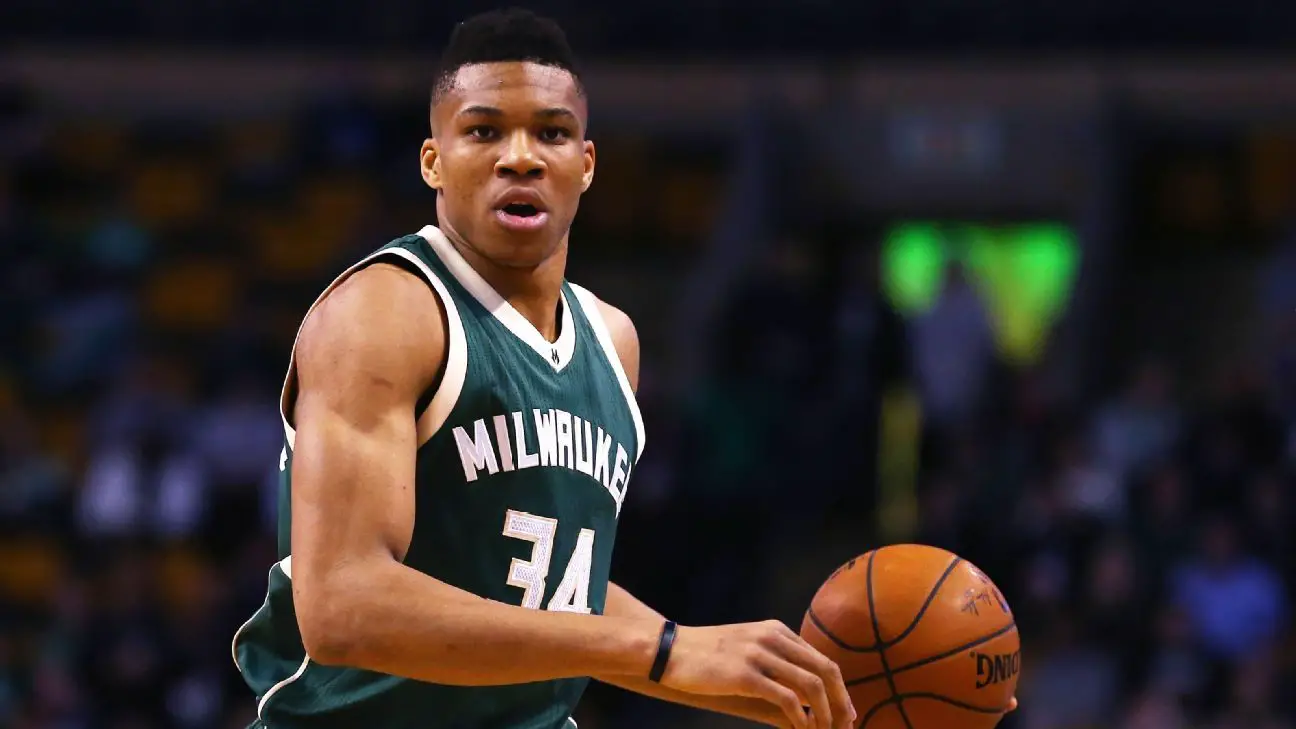 His offensive game is flashy yet efficient; however, the major flaw in his game has always been his shot. This year he's shooting a paltry 27 percent from 3, well below league average.  In this day and age, being a liability from deep range sets you significantly back. While Giannis certainly represents the exciting future of the NBA and has very few noticeable flaws other than lack of experience and no shot, he simply doesn't have enough yet to crack into the very top echelon.
And now, on to the top four contenders in the fight for MVP.
4. LeBron James, SF Cleveland Cavaliers
At this point, I'll make this very clear: LeBron James is still undoubtedly the King of the NBA and the best player in basketball. That will remain the case until anyone can snuff him in the East and halt his unprecedented 7th straight finals appearance. Surprisingly, during his illustrious career, LeBron has "only" brought in four MVPs.
A lot of that has to do with voter fatigue. LeBron arguably should have six or seven MVPs at this point in his career, but in the end, voters get tired of voting for the same player year in and year out, and are all too often attracted to the "flavor of the week." This clearly shows that the MVP isn't simply a vote on who the best player is. It's why MJ only won four MVPs in his era of dominance in the 90's and five total.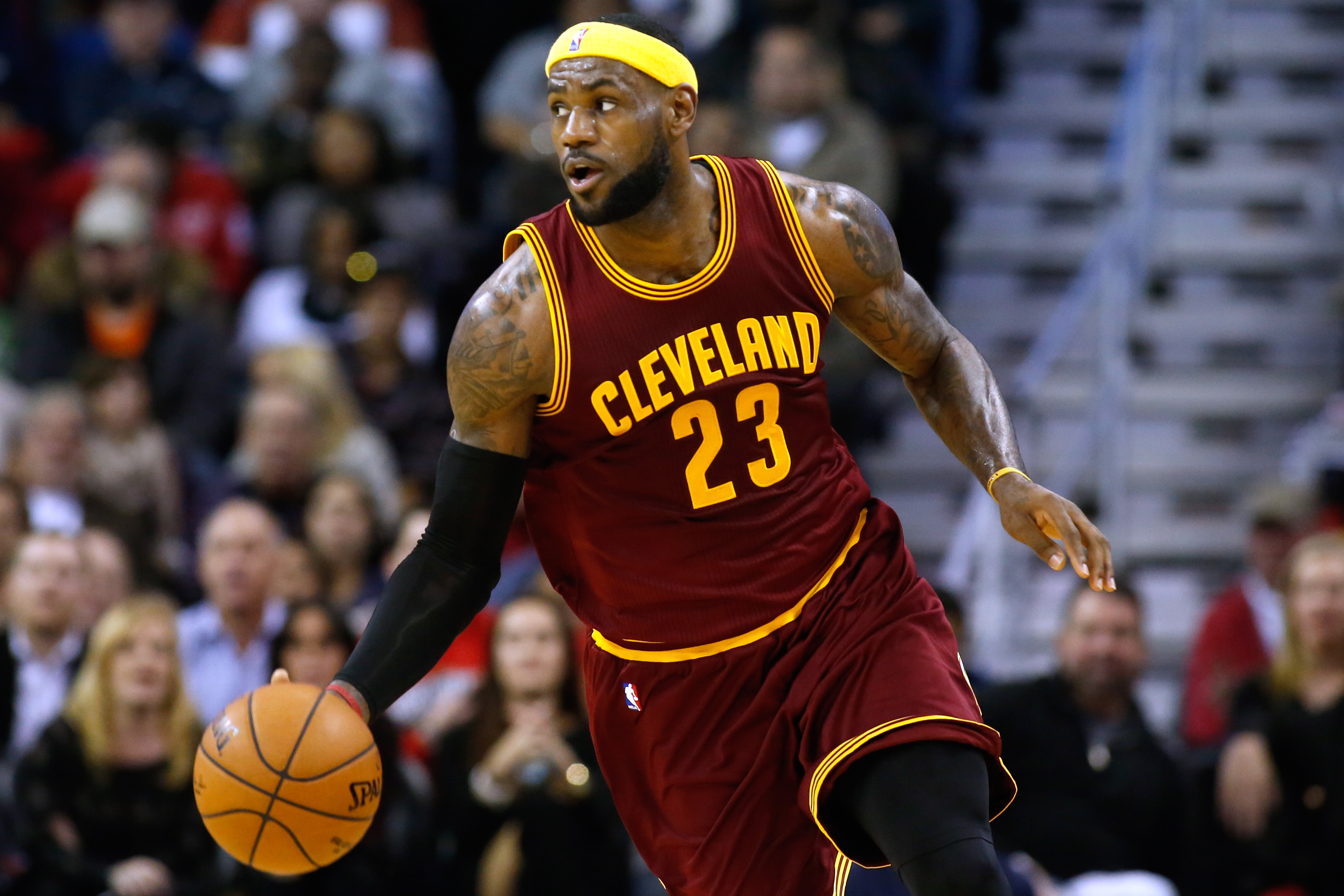 This year, LeBron is clearly making another solid MVP resume, with arguably his best season in his second trip to Cleveland. Probably the most complete player on this list, LeBron is putting up some gaudy stats with 26.4 PPG, 8.6 RPG and 8.7 APG.
The defending champion Cavs this season, however, took a significant step back from their championship run, despite retooling with players like Kyle Korver and Derrick Williams. The problem begins and ends with their defense, or the lack of anything remotely related to one. LeBron is certainly still a great defender, but with only the 20th best DRPM within small forwards, he certainly hasn't had a world class season.
That being said, this is still the Cavs' season to lose.
Unfortunately for LeBron, the MVP this year won't come down to voter fatigue; it comes down to his numbers not being legendary enough to match up to the competition. Expect a few votes honoring the king of basketball, but it's extremely unlikely he'll get more than that.
3. Kawhi Leonard, SF San Antonio Spurs
It's time that the NBA community start to recognize Leonard as simply one of the best.
He's developed into the spitting image of the pop superstar and has a close resemblance to recent retiree Tim Duncan. He's incredibly selfless, a textbook team player and has virtually no ego. Leonard is quickly becoming the type of player GMs salivate over: A team player with elite talent on both ends of the court.
Leonard has always been a dominant defender, and is far and away better defenders than the two in front of him on this list. Despite being a surprising 30th in DRPM amongst SF, he ranks in the 96th percentile in steals, 73rd in blocks and 62nd in defensive rebounds amongst all NBA players, showing he's above average in pretty much every defensive category across the board.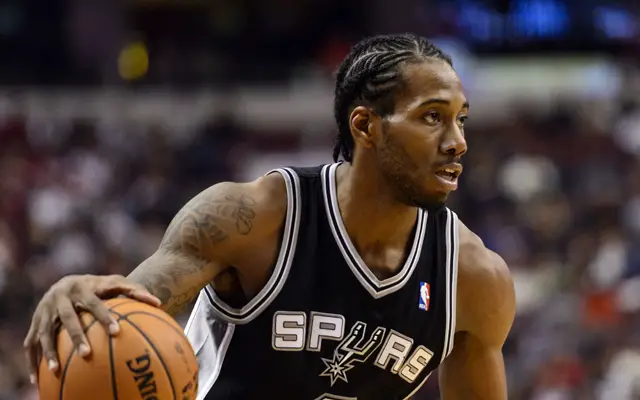 In addition, Leonard has begun to take his offensive game to the world-class level, with 25.5 PPG, and usage rate and true shooting percentage in the 90th percentile. Leonard, alongside another great Spurs team, has an opportunity to lead yet another Spurs dynasty, while serving as the one potential blockage to the Warriors running over the West.
In any other season, Leonard would have a MVP resume incredibly tough to beat, but with the historic seasons ahead of him, it would be unlikely if he gets more than a couple of first place votes.
2. James Harden, SG Houston Rockets
In the end, the only thing that stands between Westbrook and the MVP is a beard.
Mike D'Antoni and James Harden came into the 2016-17 season with stocks somewhat on the downturn. After two humiliating stints with two NBA blue-blood organizations (Knicks and Lakers), many looked at D'Antoni as a one-hit wonder with the Phoenix Suns.
Harden, on the other hand, was coming to the end of the rabbit-hole of the Howard-Harden saga, and it wasn't pretty. In the 2015-16 season, Harden did average an incredible 29 PPG, 7.5 APG, and 6.1 RPG, yet his incredible carelessness lead to a 38-year-old record to be tied with 366 total turnovers, while his role was essential in the dumpster fire of the 8th-seeded Rockets.
The season cost head coach Kevin McHale and interim head coach J.B. Bickerstaff their jobs, and signaled the end of Dwight Howard's run in Houston. At the end of the season, whispers were flying that maybe Harden could be toxic to a locker room after Howard and McHale's conspicuous exodus.
When D'Antoni was hired in June, it was truly a match made in heaven. Harden exemplifies everything that made those Suns teams so great, as he is an incredibly dynamic scorer and elite passer. The additions of venomous shooters Eric Gordon and Ryan Anderson, and clearing the paint of the cumbersome Howard, have made this team absolutely lethal. Behind Harden, the Rockets have become one of the most explosive offenses in NBA history, with a record-breaking season from beyond the arc.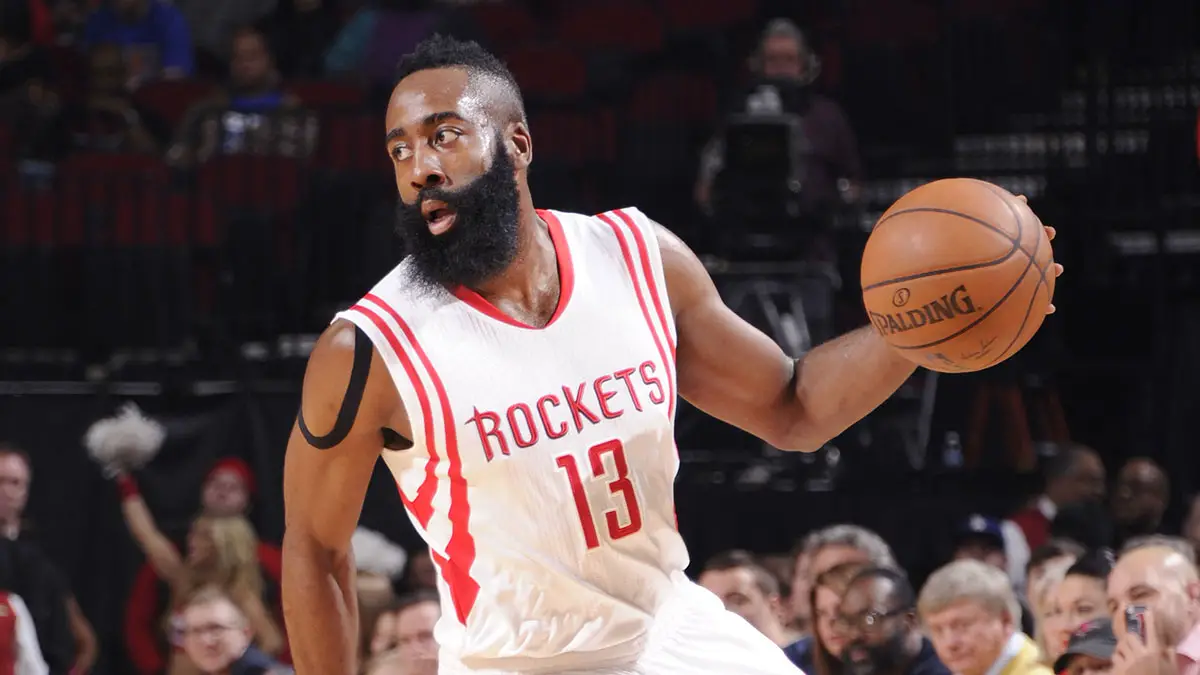 Harden joined Westbrook in having a historic season of his own. Not only was he the league leader for assists with 11.2 APG, matched with 29.1 PPG and 8.1 RPG, but he became the first NBA player in history with 2,000 points, 900 assists and 600 rebounds. If the Rockets could get the three going, the #3 seed in the West could make some serious noise.
Still, the thing that most likely will derail any hopes of beating Golden State in the West is the two greatest flaws of its champion: anemic defense and too many turnovers. Despite the gaudy assist numbers, Harden is averaging a startling 5.7 turnovers per game and broke the turnover record he tied the year previous, not exactly a recipe for success in the playoffs.
While he's always been a terrible defender, this year has been particularly awful, ranking 79th in DRPM among shooting guards. The problem is, the Rockets surrounded Harden with a bunch of other offensive studs who cannot defend, which puts them at 26th in the league with points against them per game.
Harden is truly having a season for the ages, but the question that might enter voters' minds is: Is Harden propping up the system, or is the system propping up him?
1. Russell Westbrook, PG Oklahoma City Thunder
At this point, Russell Westbrook may have already clinched a spot as the single greatest hero in Oklahoma City history. What Russ has done this season is simply mesmerizing.
Almost a year after Kevin Durant ripped the heart out of the OKC faithful, Russ has shocked the basketball city back to life in historic fashion. In a soap-opera league driven by its stars, Russ showed that fan loyalty still pays off in the end. His retribution tour has produced the single most exciting individual single season in NBA history, while pumping life to a small market doomed to fall into obscurity.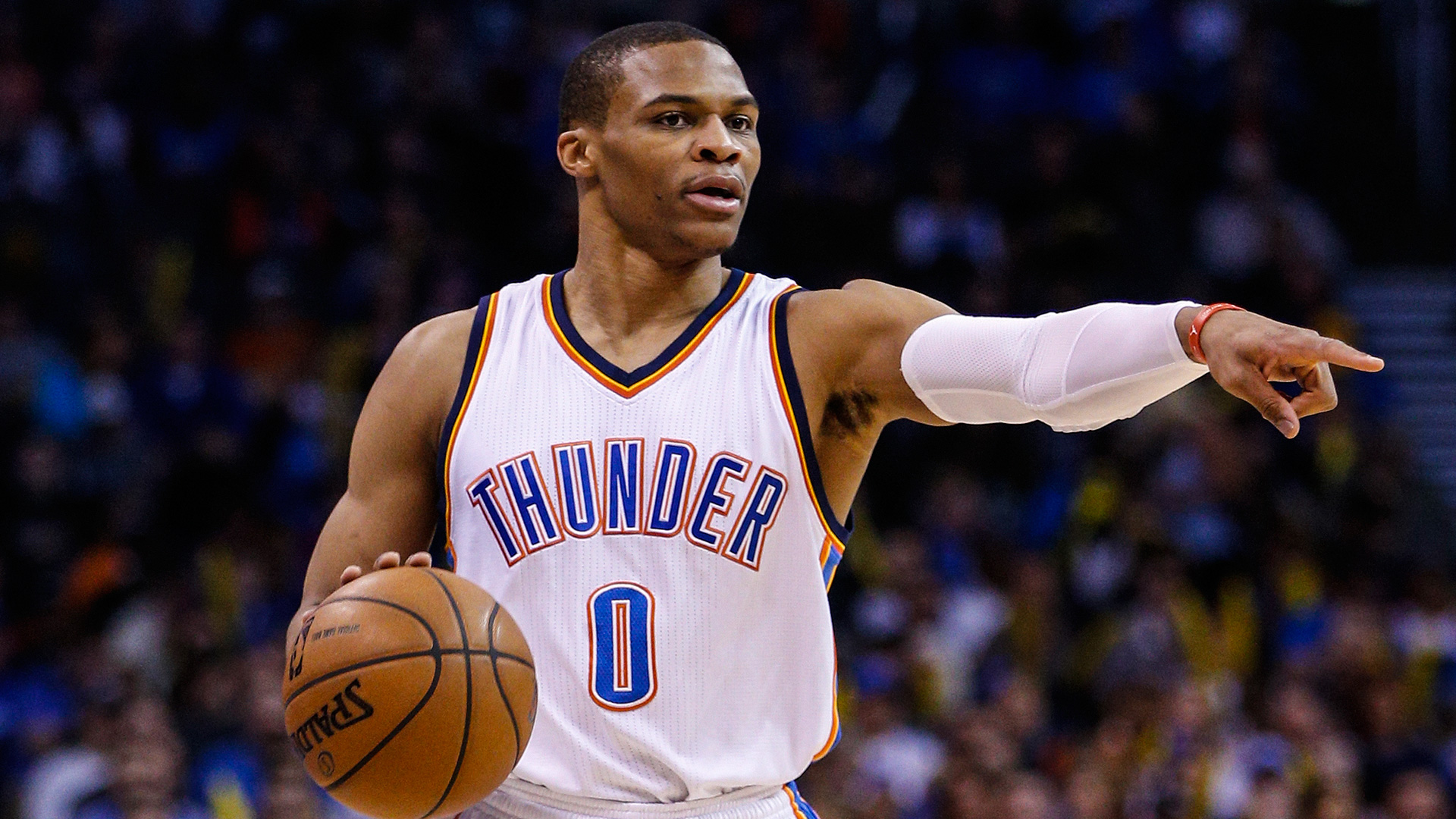 Westbrook's legacy this season will be more than the record breaking triple-double stats, it'll be more than him becoming only the second player ever to average a triple-double throughout an entire NBA season, it'll come down to the fact that he was able to prop up a team pivoting toward a rebuild into a playoff contender (somewhat).
The other candidates on this list have strong surrounding casts: LeBron has Kevin Love and Kyrie Irving; Kawhi has Lamarcus Aldridge; Harden has one of the deepest cast of sharpshooters in NBA history. Other than Steven Adams, the OKC roster is hauntingly mediocre. The fact that he led this team to a #6 seed in the historically rougher conference, is nothing short of a miracle.
Sure, the voters will probably give Russ the award because of his record-breaking season, but Westbrook earns my vote because, for better or worse, he put the entire town of OKC on his back when just about everyone had counted them out.