Taylor Swift is a natural born star. She has been in the spotlight for numerous years and will more than likely remain there for years to come. Swift is, arguably, America's sweetheart.
She has a natural ability to tell her listeners riveting stories through honest, relatable and cunning lyrics that makes one believe every word that leaves her lips. Swift's lyrics allow women all over the world to experience these overwhelming feelings that we never knew how to put into words.
Between 2006 and 2018, Swift went from a cowboy boot wearing, curly-haired country girl to a badass pop-star. She portrayed herself to be a girl who thrives on taking career risks. These changes are directly reflected in her multiple music videos that have been published throughout the years, which are a great archive of the stark evolution of Taylor Swift's musical style, appearance and identity.
2006
In 2006, Swift released her first single, "Tim McGraw," which would later land a spot on her self-titled album.
Swift, with her bleach-blonde tight ringlet curls, sings a song to a classmate, Drew, that she had undeniable feelings for. Her sense of confession in the song ultimately caused many teenage girls to despise men with the first name Drew.
The song is soft and tender, accompanied by an acoustic guitar and faint but harmonious backup vocals. The video reflected Swift's simple and unembellished style at this time, mostly taking place in a bedroom and a high school classroom which showed off her simple life of printed sundresses and cowboy boots.
Songs in this album reached the top spot on the Billboard country chart. This song, and others in this album, began to carve her path and solidified her spot in the realm of country music.
2010
Taylor Swift's "Mean" is in her "Speak Now" album, which seemed to have an abundance more folk songs than previous. The song is upbeat, catchy and captivating to the listener.
The music video has a chorus in the background who use a variety of instruments to pull off the tracks unique sounds. During this time, her videos still encompassed a sense of simplicity but were beginning to become more intricate, as Swift pulled off the same recognized style and appearance.
The album dives into adulthood and Swift tells stories that appear to be more mature. The album begins to stray away from the complete feel of country and captures more upbeat tempos.
2012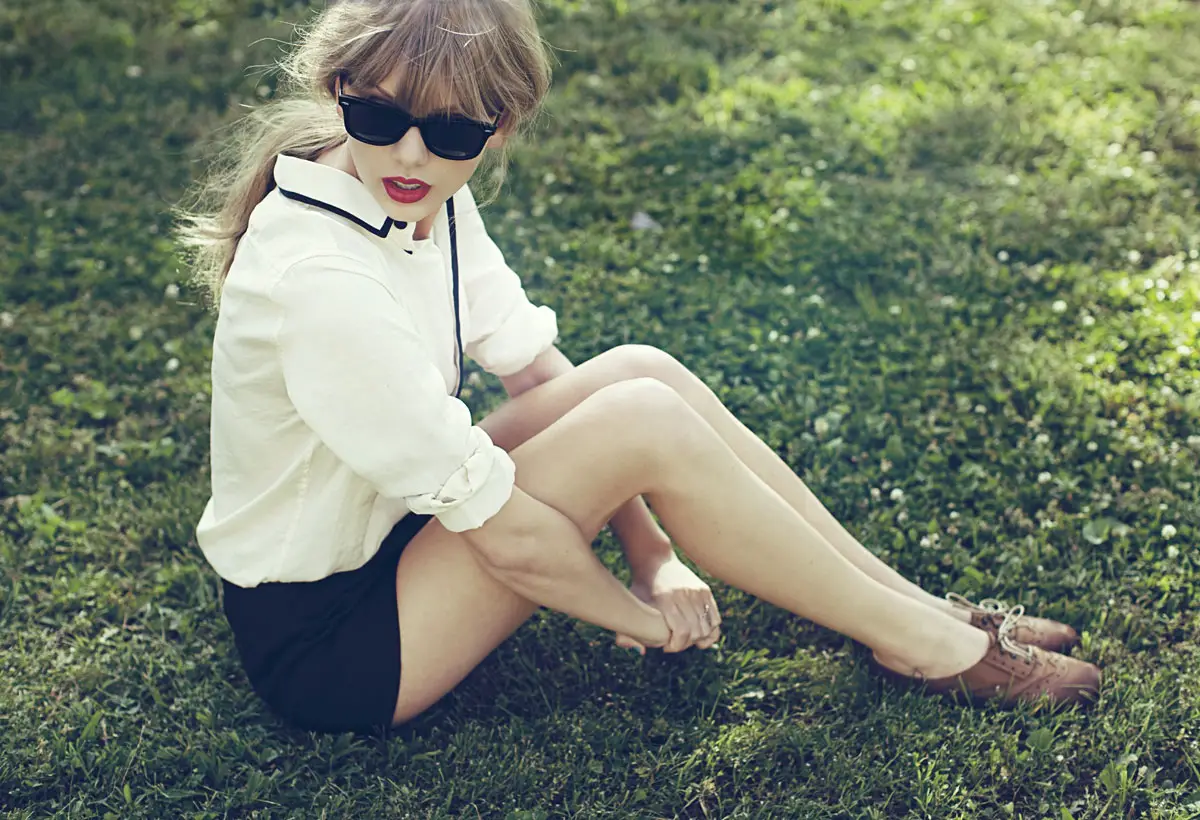 Swift ditches her cowboy boots in "We are Never Getting Back Together," a song in her album "Red." This album, both dramatic and exhilarating captured the transition Swift faced when she began to change her genre from country to pop music.
The music video portrays Swift's annoyance of an ex-lover who is attempting to crawl back in hopes to rekindle their relationship. It ultimately represents Swift's newly obtained care-free and confident attitude as she begins to make her mark on adulthood.
She emerges as a force to be reckoned with, a character trait that had previously been absent in her other albums. The song, with a booming drum beat and conversation like tone, was monumental; it became Swift's first number one hit on Billboard's Top 100.
"We are Never Getting Back Together," and other songs in the album "Red," completely began to change the way fans and critics perceived Swift.
2014
Taylor Swift's album "1989," which acclaims her birth year, is a full-blown pop album. Swift, one of the most prominent figures in the music industry during this time, had a spot secured in limelight, where ridicule and hate were inescapable.
She began to address the way she was portrayed in the media in this album, but most notably her three-time nominated Grammy hit, "Shake it Off."
The music video is upbeat, busy and energetic where Swift models her new short, edgy hairstyle and notorious shiny red lipstick. Her charismatic lyrics are accompanied by a delicate saxophone line and drums that give the underlying beat.
Swift's video serves as a message that she can handle the criticism that comes with being in the spotlight. More importantly, she serves as an advocate for the youth across the world who may be struggling with the very concepts that she addresses.
2018
Taylor Swift's most recent album "Reputation" is flooded with dramatic beat drops and a dub-step feel, which leaves behind the captivating love stories told in her first two albums. The release of her aggressive and dark song "Look What You Made Me Do" quickly jumped to number one on the Billboard charts and harnessed Swift as powerful and full of revenge.
The music video is dominated by symbolism as Swift emerges as a good girl gone bad. Swift's lyrics celebrate the loss of her old identity and reflect that "I got smarter, I got harder in the knick of time."
"Reputation" is an album that is savage and brutally honest. The album portrays her extreme evolution from her deeps roots in country music to a pop machine.
Swift's appearance, sound and overall image may have completely evolved but one thing that has continued to remain consistent is her inclusion of genuine lyrics. She ultimately pours herself into her songs expressing a strong sense of vulnerability and revealing her raw feelings to where she is completely exposed.
She incorporates her struggles, strides and confessions into her lyrics which allows her fans to relate to her experiences. Her fans are taken on an emotional roller coaster ride with her powerful and heartfelt lyrics where feelings of love, joy, guilt and regret are assured.
Taylor has continued to make girls and women feel better about themselves, offering a sense of comfort, and I have no doubt that she will continue that trend for years to come.
To this day, fans scream her lyrics at the top of their lungs with windows down and their hair flying in the wind. It is without a question that Swift has certainly evolved throughout the year and fans can't help but anticipate where she will go next.