Electric Forest takes place at the Double JJ Ranch in Rothbury, Michigan, from June 21 to June 24. Set with seven official stages, a forest filled with mystery and increasingly mellow campsite vibes, the music festival never ceases to entertain.
Every morning, the gates open to hundreds doing yoga with Hannah Muse, which is breath-taking (literally). By mid-day, music fills the air and can be heard in every corner of Electric Forest's grounds. There is so much to do, so much to see and so much to hear that it would be impossible to catch it all. Without further ado, here is my list of the most memorable sets (keeping in mind that I could not catch them all).
5. Justin Jay's Fantastic Voyage
At No. 5: A jam band from Los Angeles who still is not very well known and may never be completely in the mainstream (but should be!). Justin Jay's Fantastic Voyage was one of the most underrated sets this year at Electric Forest. On their bandcamp page, they do not claim to be searching for status. In fact, it is rather the opposite: They seek expression and amusement.
The group played many songs from Justin Jay's album "Home," which features unique and completely original sounds. It is hard to classify the group into one genre and this is the likely reason why their set was so memorable. Their music incorporates a little bit of rock, soul, funk and jazz all sprinkled in with house music. They sound great live, harmonize well and feature smooth electric guitar solos.
Late in the set, Justin Jay stepped aside from his turn table and synth (his typical instruments) and played the guitar. Before he played, he announced that he had been recently learning how to play and that this would be the first time he did during a live set. He killed it, cementing him and his band at No. 5 on this list.
4. San Holo
Once a ghost producer, San Holo is now a sellout headliner with his own label company. Holo had a fantastic set that was trademarked as soon as he walked on stage — showcasing a creative version of his most popular song "light."
The Dutch bass producer played all his beloved songs and easily landed himself at No. 4 on this list. He played from 2:00 a.m. – 3:15 a.m. at the Tripolee stage on Saturday night. Nearby the stage was a ginormous inflatable pig balloon that I didn't look at long enough to figure out if it was just a balloon or a hot air balloon, so that added to the memorabilia of the set.
Since it was the latest set and I had been festival-ing all day, I stayed for a little over halfway through the set and then left for the long trek to the campsite. I was able to listen to the finale from my tent while reflecting on the day. Saturday was one of my favorite days at Electric Forest and San Holo was a great nightcap.
3. Elohim
Elohim was awe-inspiring to see live, and that is why she made it to No. 3 on this countdown. She moves like electricity courses through her veins and, as a result, she dances with full expression. Her entire set felt very coherent, as if it was all one big performance, which is good because she is performing, but it seemed liked something you were supposed to particularly watch as well as listen.
She never showed her entire face, covering it up with her hair. Her visuals and lighting were on-point and she simply just looked like she was having fun. Overall, her performance was so dope that it inspired people who don't normally dance to kind of dance, and I am speaking from personal experience.
Her debut, self-titled album comprised the content of her set. Elohim is surely making a name for herself. Next up, she is headed to California for HARD Summer Music Festival on Aug. 4, California Academy of Science on Aug. 7 and Outside Lands Music and Arts Festival on Aug. 10.
2. GRiZ Live Band
This set had the works. GRiZ and company rocked the stage at Electric Forest the way they normally do with their funky tunes from his most recent album, "Good Will Prevail."  But even more importantly, they played some unrecognizable jams.
The beginning 45 minutes of the hour-and-a-half set consisted of the select popular songs. After that, the band released a wave of psychedelic, funky jams. I have seen GRiZ three times; however, this was my first time seeing GRiZ's live band.
When GRiZ is solo, he typically doesn't stray too far away from the music he has already released. With his band, he ventured away from the original songs and even recited new lyrics to the crowd. It was a refreshing display of his musical prowess.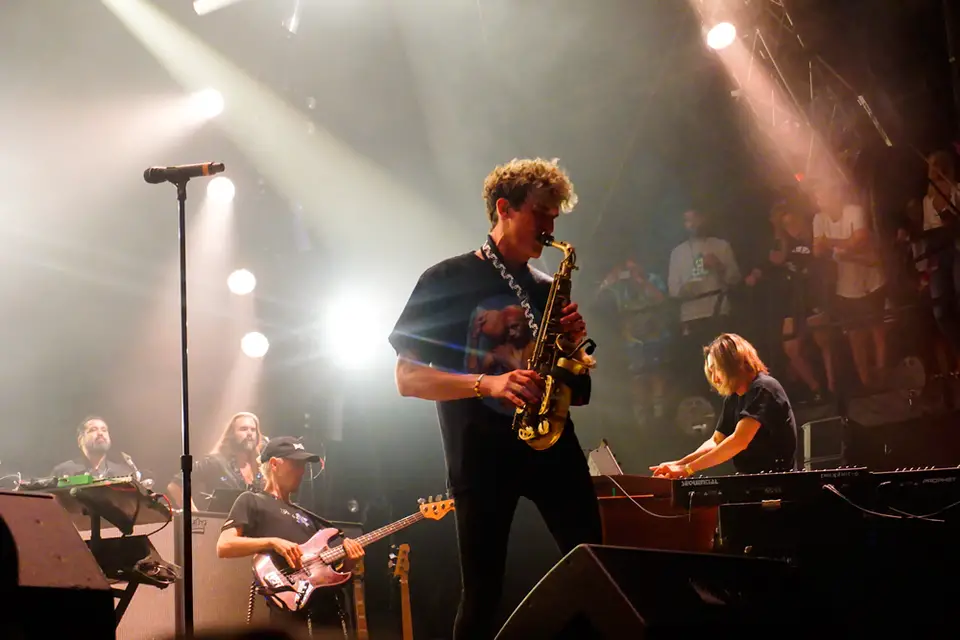 GRiZ is a Michigan native who grew up on the east side of the state near the city of Detroit. This performance, along with his chasing the golden hour set, puts him at one of my all-time favorite artists, and, in addition, lands him at the No. 2 spot for this memorable set countdown.
1. Zhu
Finally, number one on the list goes to Steven Zhu, better known as just Zhu. Pure, clean and sexual are three words that come to mind when thinking back on this set. He presented a flawless and crisp soundscape live — which is hard to do. Just the intro alone is captivating.
The whole performance was not over the top, but was just on point. The live vocals were sung by Zhu himself, playing all of his most popular songs: "Working for it," "faded," the "Cola" remix and others. Interestingly, the American artist actually remained anonymous until 2014 because he wanted to be judged by his music alone.
The word "sexual" came to mind when thinking of this set because the lighting mainly consisted of purple and red, the visuals were often seductive and songs like "Still want you" and "Hometown girl" pushed the right button I guess.
After the set, I felt like I experienced high-class electronic rock. That may be a weird description, but it is seriously how I felt. Zhu's live music was so well produced that it almost sounded too good to be true. It was just that good.