When news broke out that Quavo was officially on the cusp of releasing his debut solo project, Complex, speaking on behalf of everyone wearing distressed PacSun denim joggers, all-white Vans and studded MCM backpacks, summed up how, say, a solid 44.7 percent of the population felt, with a resounding, "Finally." And before you ask, no, I'm not sure what shirt they're wearing, but does it even matter after all those other articles I listed up there? I didn't think so.
Not to sound like a complete dick, tool or whatever the hell anyone considers me for saying this, but these people are ridiculously uncultured, WHICH IS THE MOST IRONIC CONCEPT OF ALL TIME.
Fast forward a few weeks later, and the world has finally been given what they were waiting for: "Quavo Huncho," which has got to be the most original album title in recent history. Personally, I believe it manages to narrowly eclipse the genius of a name such as, "Huncho Jack, Jack Huncho," *cough* give me a fucking break *cough*. The album featured artists from the likes of Drake, who took the trio along as his opening act; Travis Scott, the other half of that Huncho Jack thing-a-ma-whatever; Madonna — for some odd reason — and a boatload of average-to-below-average rappers.
Anywho, here is a glimpse at how the the highly anticipated project is being received by critics: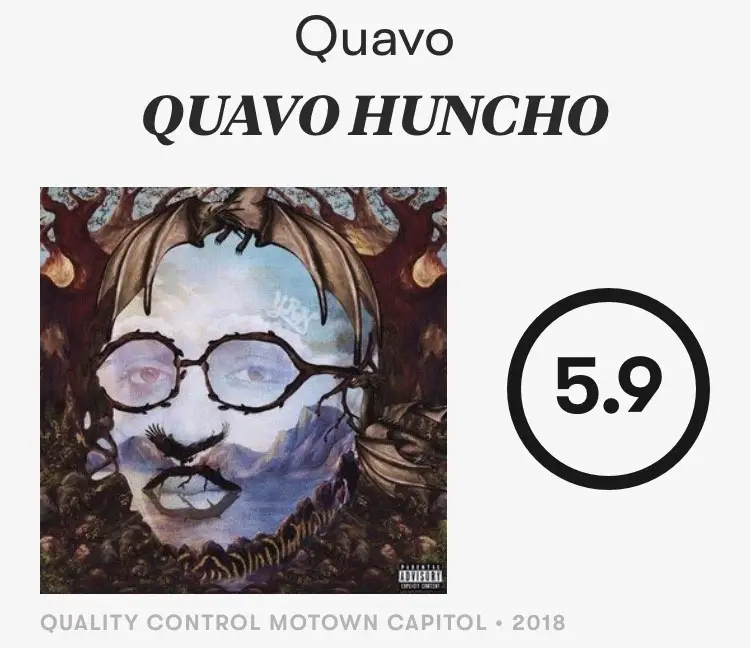 Quavo's album has 19 songs? pic.twitter.com/w2uSLqUStd

— 3-6 Mafia (@Ultralnstinct_) October 12, 2018
Well, to keep it short, sweet and hilarious, there ya have it.
The one thing I find hilarious is the fact that even some of the biggest Migos fans are joking about how awful this project is, but what's the f—in' difference? This is literally the same artist that's been topping the charts for a couple of years now, his music has not progressed in any discernible way and it's more than safe to say that Migos' stuff as a collective has only gotten worse.
It's moments like these where an obvious distinction becomes clear. There are the types of people who place rappers like 21 Savage or the late XXXTentacion on a pedestal and those who, well, simply don't. In other words, the culture vultures versus those who still have capable hearing.
In case all of this Quavo material wasn't enough to satisfy your needs, he's got even more in store for the "culture." To promote LeBron James' home opener at Staples Center a couple of weeks ago, the good folks at ESPN (excluding Mickey Mouse and Stephen A. Smith, respectively) thought that it'd be a good idea to get trendy, hippity-hop sensation Quavo to craft an ode dedicated to James becoming a member of the Lakers. The name of this song, you ask?
Yo, over here, Mr. Quavo, I've got a question! What "culture" are you producing this for necessarily? Because this s— is trash. Garbage, pitiful, ridiculous. For those who have fear of what the afterlife will look like, just know you've made it to the deepest depth of hell when you hear this blaring upon your arrival and from that point forward.
Side note: "Knockin' on the championship's front door," really Quavo? It doesn't seem like he really watched much ESPN this summer, because all their analysts have been saying is that the Lakers are still one piece away from truly contending for a title. Ergo, the team is miles away from the championship door, if I'm being real.
To make matters even worse, Quality Control Music signed a deal with the worldwide sports conglomerate. Just imagine all the other terribly pun-ridden bars everyone's going to have to hear about Giannis Antetokounmpo being from Greece and Jimmy Butler wanting out of Minnesota!
For Christ's sake, I can hear them as I type this up: "Gee-Awn-Iss, yeah, that's the freak in green (Dinero!) / Gonna meet bro and count some cheese in Greece (Gyro!)." Sigh. Take me back to the good old days when Lil' Jon was making individual "Turn Down For What" remixes for the most anticipated matchups that season.
Hold up. Hold the godd— phone here. Literally, as I'm writing this, I FaceTimed with a homie of mine where he asked me, and I quote, "Did you hear about Takeoff dropping a solo album?"
I genuinely froze right there for a split second. I was in shock. I've been working on this piece about why these guys are overplayed, boring and should give it a damn rest, only for this dude to tell me that there's a new one coming out! It's safe to say that I don't think I've ever felt more defeated than I do at this very moment. It's as if everything I was writing down didn't matter at all, as all of Migos are growing to be as unavoidable, and similar, as the other.
On any other day, I'd assume that hearing tracks upon tracks that sound exactly like one another would grow tiring. But, it's safe to say that isn't the cycle that isn't going through. Back when hip hop saw the game shift from the autobiographical '90s to the bling era, old heads would often call all of the new material gibberish; and more often than not, they were wrong. Nowadays, I'm not so sure. But that doesn't matter, gibberish can be okay. Hell, gibberish can even be great. But hearing these three spit the same ad-libs over what sound like YouTube-quality beats is not promising. Not by any means.
The reason I'm saying any of this is simply because I can't f—ing stand Migos, and, even more so, don't believe that they deserve any of the hype they've earned. The Migos bandwagon would probably just call me a hater anyways; I know they couldn't care less. But that doesn't take away from the fact that Migos is garbage, repetitive and boring.
Migos have already taken the rap game by storm for whatever reason. The last thing I need is for these clowns to ruin basketball season for me too.