The 2017 year was Migos' breakout year. Yes, the trio had already developed a strong, loyal following over the past decade through the release of a dozen mixtapes and first studio album in 2015, "Yung Rich Nation." Yes, they had popularized the dance move "dabbing" and caused one of the biggest social trends in recent memory through their 2015 hit, "Look At My Dab." But it wasn't until the release of their Grammy-nominated single for best rap performance, "Bad and Boujee," in late 2016 that Migos truly became one of the most popular rap-music acts of the time.
With their subsequent album, "Culture," their fame only skyrocketed as it became certified platinum and Grammy nominated for best rap album. The trio then began to appear (both together and individually) on other countless singles and also became one of the biggest stories in social media through a tense interview with rapper and talk show host Joe Budden at the BET Awards. Migos even earned a guest appearance on Donald Glover's award-winning TV series, "Atlanta."
Though, despite their rapid success and fame, Migos has often been criticized for influencing the current sound of mainstream music with a genre that is typically not well respected: trap music, a subgenre of hip-hop with southern roots. However, with their two recent Grammy nominations, the group has added a legitimacy to their music and to the genre.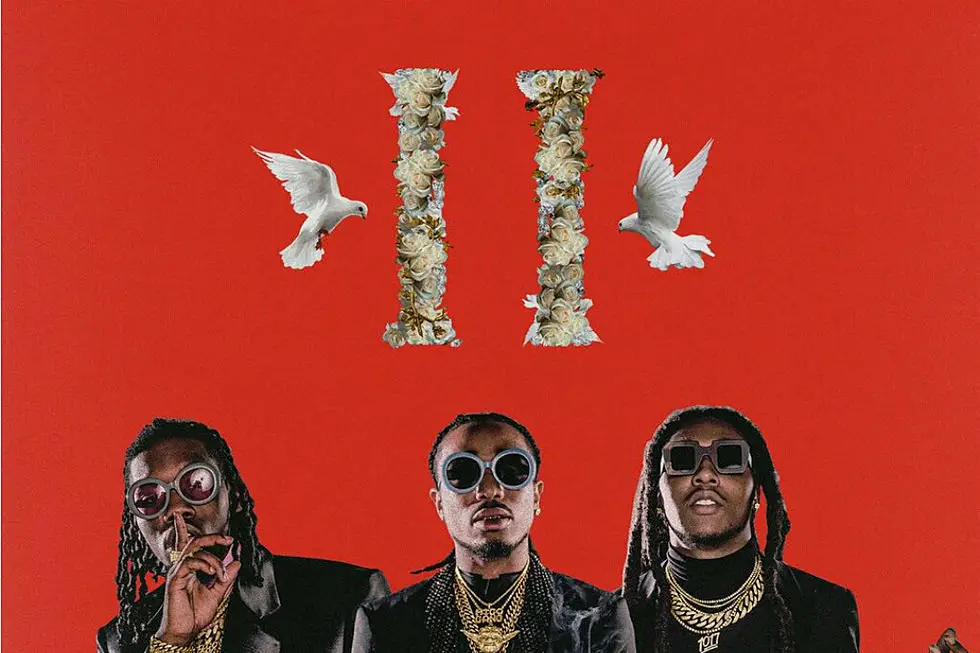 The release of "Culture II" clearly shows Migos experimenting as artists: They have expanded their sound palette without compromising their style. Everything that made their sophomore album "Culture" great is refined and, at times, taken to the next level: the hooks, lyricism, melody and production take on a wide range of influences and styles.
There were also a few great features weaved throughout the album: 21 Savage's style fits perfectly on "BBO," Drake's appearance on "Walk It Talk It" is a great addition, Nicki Minaj and Cardi B offer maybe the hardest hitting verses of the album with their appearances on "Motorsport" and 2 Chainz's appearance on "Too Playa" is short but impactful. Additionally, the music behind the rapping is fantastic. The album was executively produced by Quavo and Migos collaborator DJ Durel, with production credits from Pharrell Williams, Metro Boomin', Zaytoven, Murda Beatz, Buddah Bless and a co-production credit from Kanye West.
In "Culture II," the song "Narcos" sports a groovy Latin guitar sample from Haitian group Les Difficiles De Pétion-Ville's song, "Espoir." The track "CC" contains spacey synths laid over a smooth bass line and "Too Much Jewelry" includes Zaytoven's signature classical-jazz-trap style — a beautiful flute sample paired with original piano arrangements over traditionally trap beats.
[su_youtube url="https://www.youtube.com/watch?v=K3F_TKuysh0″]
Towards the end of the track, Migos' vocals are manipulated to take on a Daft Punk-esque autotuned, robotic tone. The song "Stir Fry" is Pharrell producing at his best — the use of his signature, unapologetic hi-hat, a head-bobbing bass rhythm, the repetitive, hypnotizing croaks is amazing — and results in one of the most captivating and melodic tunes heard in the past few years.
"Too Playa" features the unusual combination of a smooth, jazzy saxophone sample laced with hard hitting drums. The varying influences, styles and sounds of the album's production make it a compelling listen, and complements the varying tones and styles of Migos and company.
The biggest critique made towards "Culture II" is its excessively long runtime, clocking in at an hour and forty-five minutes with 24 tracks. It's nearly twice the length of their sophomore album and only half as focused. Without a cohesive theme or story, it's difficult for "Culture II," or any album for that matter, to maintain its listening value past an hour. Even for records that do have an underlying message, length doesn't necessarily attribute to quality (Jay-Z's Grammy-nominated album "4:44" has a runtime of only 36 minutes).
There are also several tracks that didn't have much to offer, either lyrically or production wise, and could have easily been cut without losing any of the album's original charm or appeal: "Emoji A Chain," "Gang Gang," "Flooded" and "Open It Up" to name a few. Some of the featured artists like Ty Dolla $ign, Big Sean and Post Malone also felt lackluster.
In spite of these imperfections, "Culture II" still offers plenty of great moments for listeners. In "Made Men," Migos offers an uplifting song about how the work they've each put into their craft has prepared them for the lifestyle they are now living and the problems they now face.
Their positive message, paired with Nonstop Da Hitman's soulful production, is one of the more relaxing, touching moments on the album and is reminiscent of a smooth, Dr. Dre-esque, west coast type of beat. The production on each track is versatile enough to make the seemingly daunting, time-consuming task of listening to the album front to back less of a chore and more of a pleasant experience, and serves as one of the album's strongest qualities.
"Culture II" is a solid, well-rounded project by Migos, but the album's biggest fault comes in its attempt to upsize its predecessor by doubling its tracklist and runtime. The overall quality of the album becomes diluted with its excess cuts and even feels lackluster at times.
Had the album been cut in half, or at the very least edited down even a few tracks, I would have no difficulty in claiming this is a legitimate contender for rap album of the year despite the fact that we still have 11 months to go. It contains some of the most memorable tracks of the year, but also some of the most forgettable, and it's this issue that holds it back from being as consistent and exceptional as "Culture."
Regardless, if there's anything this album tells us it's that the trio's ambition to grow and become even bigger is unquestionable. They're at the peak of their game and I know Migos will bring much more in 2018.