Twenty-six-year-old Texan rapper Travis Scott recently released his long-awaited album, "Astroworld," on Aug. 3, and fans went crazy for it. The album has been highly anticipated and definitely did not disappoint. The 17 tracks are truly special, with a unique sound and quality to them that many artists have trouble bringing to their music.
The title, "Astroworld," leads listeners to believe that they are going to hear something somewhat otherworldly — and that's exactly what they get. Scott sculpts a psychedelic-type world through his words and sounds and really takes listeners on an adventurous journey through music and space. Featuring guest stars that represent the world of hip-hop, such as Drake, 21 Savage, The Weeknd, Frank Ocean, Nav, Sheck Wes and Juice WRLD, "Astroworld" is inarguably Scott's best work to date.
Here's a breakdown of each song, and what makes all 17 tracks worth the listen.
1. STARGAZING
The first song of the album, "STARGAZING," opens up with a rhythmic, defined beat and Scott's recognizable auto-tuned sound. He alludes to his use of psychedelics as he sings, "Rollin', rollin', rollin', got me stargazin'," and "Psychedelics got me goin' crazy." Based on the album's sounds and vibes, listeners can argue that the use of psychedelic drugs had a huge impact on every track.
Travis Scott - STARGAZING (Audio)
At 1:39, the beat suddenly switches to something that sounds less euphoric and more agitated. Perhaps this sudden change of sound is the feeling people have when psychedelic euphoria wears off and the difficulties of the real world set back in. During this part of the song, Scott says, "Okay, I been up for some days, I ain't got time to lay: Just to drown out all these thoughts, I tried all kinds of things: If I take you to my past you will be traumatized."
As the album opener, "STARGAZING" does a great job at capturing exactly what the layout for the rest of the tracks will be and is one of my personal favorites.
2. CAROUSEL
"CAROUSEL" initially begins with an alien and space-like beat, but quickly turns into an upbeat sound that makes you want to dance. This track features Frank Ocean with lyrics that demonstrate Scott's recent personal growth and excitement for his latest project. One line reads, "Brand new, brand new this new place I got to: New world, new sky that's so blue it's black too: New growth, new growth, all these fades I outgrew."
Later in the song, Scott alludes to how his dreams have become a reality when he says, "We did it, we said it, we spoke, yeah: We put it out, thought it was smoke, this 504." Unlike his previous albums, Scott really got creative with this project by incorporating his own unique sounds.
3. SICKO MODE
"SICKO MODE" truly takes listeners on an awesome journey through sound. The track starts with a slow and melodic tune in addition to Drake's smooth voice. At 1:00, however, the beat switches to a heavier, electronic pulse. This track is truly a banger, and Scott knows it.
At one point in the song, he says, "Who put this shit together, I'm the glue," in reference to his album as a whole. Scott is truly proud of his work, which is inspiring to hear as a listener.
4. R.I.P. SCREW
"R.I.P. SCREW" seems like it could be a tribute to someone or something in Scott's life that has recently passed or ended. The song begins with the lyrics, "Rest in Peace to Screw, tonight we take it slow," and "Drop top with the wings up, shawty gotta be with us." This track has an electronic and funky sound with a video game vibe.
Clocking in at three minutes and six seconds — an average time for most tracks — the song inexplicably feels much shorter. It's fitting with the theme of otherworldliness to have a song that seemingly changes the effect of time.
5. STOP TRYING TO BE GOD
"STOP TRYING TO BE GOD" commences with the sound of an off-key trumpet playing random notes alongside a voice saying sped-up words that resembles an old newscast. The beat then switches to a slow and melodic beat with a distinguished underlying bass and is accompanied with the lyrics, "Palm trees, oceans, fresh air that can break your heart: Stop trying to be God." Scott talks about his wealth, saying, "All three Rollies look alike: After two you get a hook-up price."
Travis Scott - STOP TRYING TO BE GOD
Some might interpret this line as a brag on Scott's part, but I personally feel like he is trying to explain that even extreme wealth does not make an individual happy; the tone of his voice sounds almost melancholic and hopeless during this part of the song, as though he is yearning for something more.
6. NO BYSTANDERS
"NO BYSTANDERS" starts with the words, "The party never ends: In a motel laying with my sins: I'm tryna get revenge: You'll be all outta love in the end," alluding to Scott's possible underlying desire for something more than drugs, sex and money. (That says a lot about how fulfilling his relationship with Kylie Jenner is, huh?)
The beat of this song is complicit with something you would expect for a party song with a beat that goes hard and lyrics that really make you want to go get faded at the club.
7. SKELETONS
"SKELETONS" resembles the tracks on Scott's previous album, "Birds in the Trap Sing McKnight," with its distinguishable slow yet fast beat. Scott calls on his listeners' morality and poses questions such as, "If you take a girl out, do you expect sex? If she take her titties out, do you expect checks?" He answers the questions he poses with his own perspective on females when he says, "First visit, I gave her a pearl necklace: Next visit, I'ma need to see your girl naked: Took a church visit, you know, 'cause the world hectic."
Later in the song, Scott again suggests he has an issue with truly loving another human being when he says, "Won't fall in love: I can't be tied, I don't know how to love." The several lines that imply this personality issue within Scott lead me to believe that his relationship with Kylie Jenner is superficial, despite having a child with her.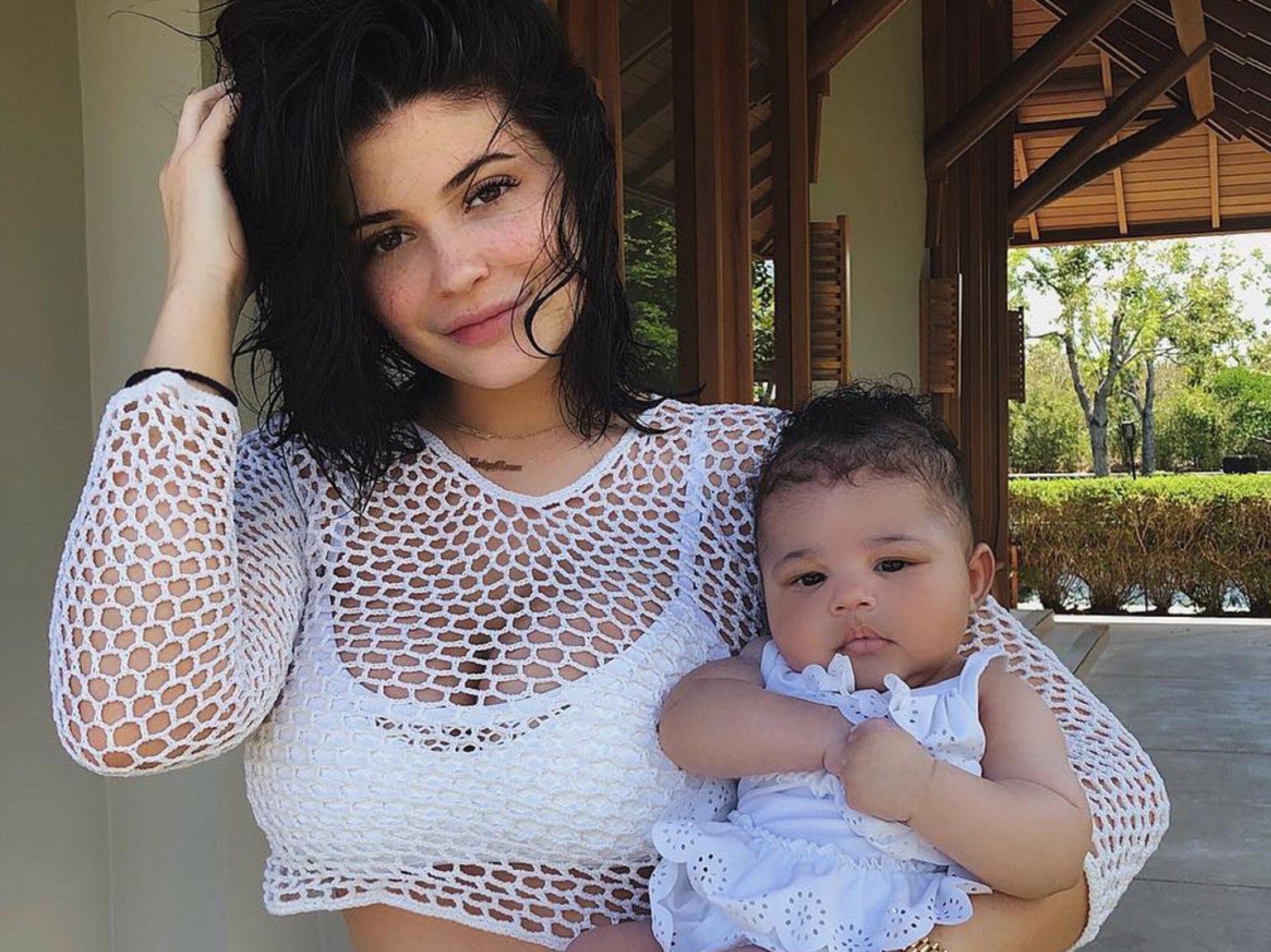 8. WAKE UP
"WAKE UP" introduces itself to listeners with an unexpected but delightful acoustic guitar. It's a refreshing change for the album's midway point. The guitar then leads into The Weeknd's soothing and smooth voice, saying "I don't wanna wake up: I want you spread out on the sheets."
The guitar somewhat fades and is replaced by a groovy, electric sound as Scott makes his way onto the track. "WAKE UP" makes listeners want to sway and sing along with the evident passion that is present throughout the lyrics.
9. 5% TINT
As soon as "5% TINT" opens up, it's hard for me to think of anything other than the intro to Season 4 of "American Horror Story." The track sounds like something you'd hear at a circus, with a bouncy yet somewhat eerie vibe.
The first line of the song contributes to the creepy feel of the track by saying, "Who's that creepin' in my window?" Listeners could argue that Scott is alluding to someone tripping on acid, which would be more proof that Scott used psychedelics while producing this album.
10. NC-17
"NC-17" again feels similar to a track you'd hear on "Birds in the Trap Sing McKnight."  This song is definitely another banger and one for the clubs. The line, "Hangin' with the gang, you get your fangs wet," reminds me of blood-sucking vampires — another creature that is considered otherworldly.
At 1:25, 21 Savage makes his entry onto the track with the lyrics, "Three main bitches thinkin' they my main bitch: Hit the club and swap the hoes I came with: Don't you come outside, we on that gang shit." 21 Savage's unique and distinguishable voice is a very welcome addition to this already strong track.
11. ASTROTHUNDER
"ASTROTHUNDER" has an underlying vibe of outer-space as people typically perceive it: aliens and UFO's. This track makes the listener want to lie back and really contemplate life, the stars, space and existence as a whole.
As Scott says, "Feels like the life I need's a little distant," he is, yet again, alluding to his desire for more from life and a feeling of being unfulfilled.
12. YOSEMITE
A fan favorite, "YOSEMITE" opens up with a flute playing a hypnotizing and enchanting tune that could lull a listener to sleep if it were on its own. The track then reveals the voice of Nav with the lyrics, "Ice on my neck, flawless baguette: Hop off a jet, barely get rest: Cash through the month, I get a check."
The beat is defined and consistent throughout the rest of the song, and is one that makes listeners bob their head to the tune.
13. CAN'T SAY WHY
"CAN'T SAY WHY" is a difficult track to unravel because there's so much to this song, from the constantly changing beat to the loaded lyrics. One line states, "Gotta watch for the 12 around my town, you might get killed," which pertains to the violent actions that African-American individuals face on a daily basis, even from police officers. This track is packed with issues that many citizens endure every day.
14. WHO? WHAT!
"WHO? WHAT!" provides a rocking beat featuring Takeoff, with lyrics such as, "Heard they talkin' shit 'bout I: Who, what, when and why: I'm alive, just took one to revive: Keep that vibe when we show up and collide."
The song screams college-student anthem with its constant references to drug use, partying, friends and women. The song maintains an upbeat sound that brings Scott's skills to a new level. "WHO? WHAT!" brings out the bad-ass within everyone.
15. BUTTERFLY EFFECT
"BUTTERFLY EFFECT" was actually released back in May 2017 as a prelude to "ASTROWORLD." I was just as obsessed with this song when it came out as I am of "ASTROWORLD" now. The track begins with an optimistic, energetic sound and maintains it for the duration of the song. Scott says, "For this life I cannot change," once again suggesting the inner battle he faces regarding the feeling of wanting more from life.
Travis Scott - BUTTERFLY EFFECT
16. HOUSTONFORNICATION
"HOUSTONFORNICATION" is one of my favorites from the album, coming in second to "SICKO MODE." The incorporates a melodic and slow beat along with the lyrics, "I might need me some ventilation: A little vacation, Houstonfornication."
Scott again references the negativity that currently surrounds the police officers of this country when he says, "How I'm supposed to feel safe? Twelve live adjacent." Over the course of the song, the beat periodically switches between slow and steady to upbeat, keeping the listener intrigued for the duration of the track.
17. COFFEE BEAN
As the album closer, "COFFEE BEAN" brings one final, new sound to the project. With a steady beat and jazzy sound, the song opens up with the hypnotizing voice of CyHi the Prince singing, "Bad-bad news: I'm just bad-bad news: Good thing, the two: Bonnie and Clyde, the money and who?" This song could be an implication that Scott's possible unhappiness is related to his relationship with Kylie Jenner. In a line that states, "We ain't been speaking in mad mins: You feelin' free in my absence," indicating that the relationship between the two could be on the rocks. With the unique feel of this track, listeners can truly feel the emotion coming through the words.
As a whole, "ASTROWORLD" is an amazing and hugely successful project by Travis Scott. The album truly takes the listener on an adventure through space, time and existence with its heavy lyrics and intricate sounds. I, for one, give "ASTROWORLD" a 10/10.