After much anticipation from fans around the world, BTS member J-Hope has finally released his own mixtape titled "Hope World." The album marks J-Hope's — born Jung Ho-seok — first album, and it's the third mixtape released by a BTS member, following RM's self-titled release in 2015 and Suga's "Agust D" from 2016.
Despite having less than a day's worth of sales to be considered for the charts, "Hope World" debuted at Number 63 on the Billboard 200, making J-Hope the highest-charting K-pop solo act in Billboard 200 history. Only four other solo K-pop acts have entered the charts, including BoA, Taeyang, Jonghyun and G-Dragon.
What makes J-Hope's achievement on the Billboard 200 even more impressive is the fact that fans had the option to download the album for free instead of purchasing it. As well as being made available for purchase on Spotify and iTunes, fans could download the entire album free of charge through Google, MediaFire and Dropbox.
Because BTS' popularity has grown significantly within the past few months, the mixtape received different treatment than RM and Suga's releases, which were only made available through Soundcloud.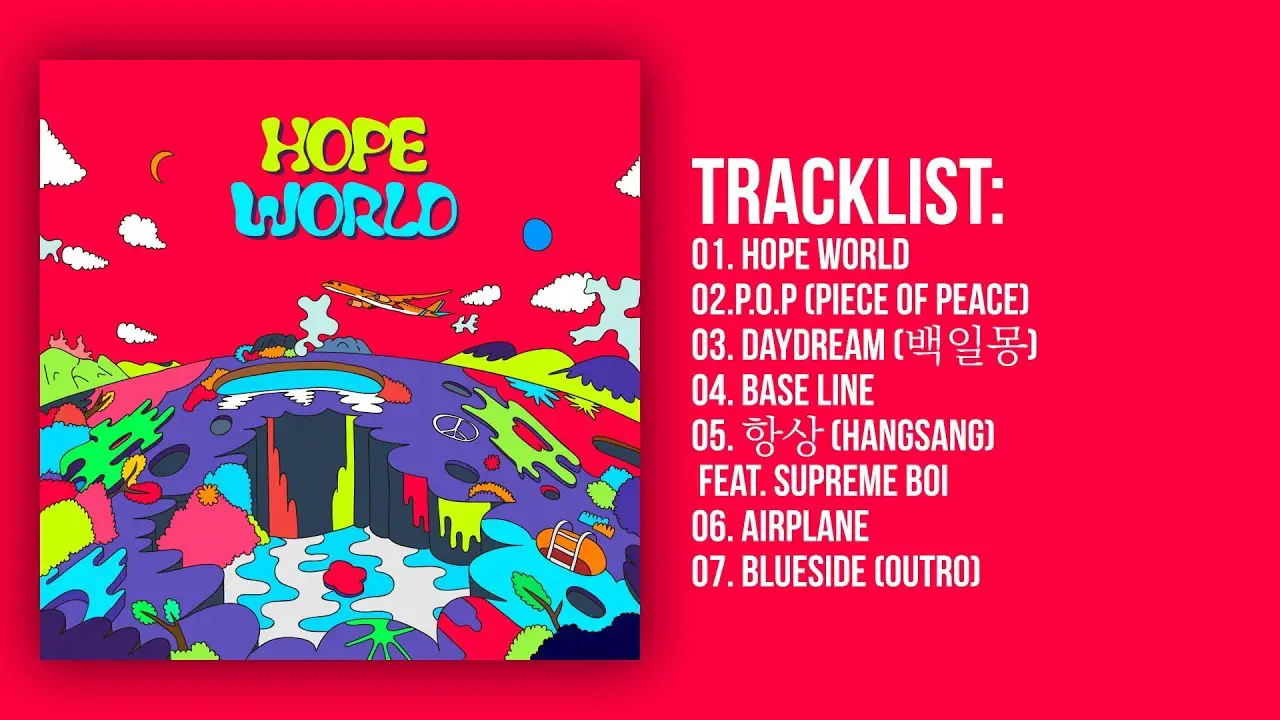 Coming in at just under 20 minutes, the mixtape is a seven-song story of J-Hope's journey to fame and success. Although some songs contain more serious lyrics than others, the album's overall feeling is bright and cheerful, accurately reflecting the BTS member's name and hopeful personality.
"Hope World"
The first track, "Hope World," serves as an appropriate introduction to the album that tells listeners that they are about to begin J-Hope's story. Opening with the sounds of water splashing, the track takes the listener on an adventure to a faraway place called "Hope World."
The track's lyrics introduce J-Hope as someone in his 20s with a whole lifetime of adventures waiting for him. He reflects on his past, present and future, thanking his parents for his optimistic personality that has helped him get to where he is today.
Referencing Jules Verne's "Twenty Thousand Leagues Under the Sea," J-Hope declares himself to be Captain Nemo, who serves as the tour guide for the listeners in the unfamiliar setting of "Hope World."
"P.O.P (Piece of Peace) Pt. 1"
Continuing the story is "P.O.P (Piece of Peace) Pt. 1," which explains J-Hope's aim to be the "piece of peace" for people who may be having negative thoughts about themselves. He is aware that because he is a celebrity, people look to him and his music as an escape from reality, and he doesn't take the responsibility lightly.
The lyrics discuss J-Hope overcoming struggles that he knows other people his age are suffering from as well. The repetition of the chorus, which consists of J-Hope describing himself as the listener's "strength" and "light," both comforts the listener and encourages them, explaining that no matter what they are suffering from, J-Hope is there as their number-one supporter.
Ultimately, he believes that they too can overcome their obstacles just like he did.
"Daydream"
The third track, "Daydream," which also received an accompanying music video upon the mixtape's release, encompasses the entire feeling of the album, which entails entering a dream world. Although the song maintains the album's cheerful tone, its lyrics are more serious, as it deals with the burdens of being a public figure.
J-Hope confesses that he feels like a fish in a bowl, with eyes constantly watching over his every move. He uses references from "Alice in Wonderland" and "Harry Potter" to explain that because magical places are unfamiliar, one will never know exactly what is on the other side.
While the previous two tracks are about J-Hope, "Daydream" expresses Jung Ho-seok's desires to go out and party like any other person his age without getting judged. He is thankful for the position he is in, but he dreams about having more.
His lyrics can be a nod to the K-pop industry, which often prohibits idols from doing anything that critics would remotely deem as "scandalous." Its music video reflects both the song and the album's dreamlike theme, with colorful aesthetics that match J-Hope's positive energy and personality.
Similar to the track, the music video's cheerful tone contrasts with its message, particularly in the end when J-Hope tells himself to "wake up" at the sound of an alarm, indicating that he should put his personal desires on hold because his responsibilities as a BTS member come first.
"Base Line"
The fourth track, "Base Line," serves as an interlude between songs, as well as a transition in sound. As J-Hope explained in a livestream, the song talks about the "essence of him as a person" and his "foundations" in music, which began in street dance.
Although it's only a minute and a half, the hip-hop track is a fan-favorite because of its record-scratch sounds and fun beat.
"Hangsang"
The fifth track, "Hangsang," with its intense rap and hook that has J-Hope showing off his fame and success, immediately stands out on the album. Its title, which means "always," is in dedication to his band members, his label and his fans, who all worked together to make his dream a reality.
Because BTS came from a relatively unknown label, people didn't believe that the group could ever achieve fame. After proving everyone wrong, J-Hope is rubbing his success in the faces of anyone who ever doubted him. The song not only shows off J-Hope's achievements but also his distinct rap voice and impressive flow and delivery of lyrics.
Described by J-Hope as a "turn up" kind of song, the track ties the entire album together because it signifies its climax. Featuring producer Supreme Boi, "Hangsang" is the only collaborative track on the mixtape.
"Airplane"
Apart from "P.O.P (Piece of Peace) Pt. 1," J-Hope reveals that the track "Airplane" is especially meaningful to him. As fans have noticed, J-Hope repeatedly associates the image of an airplane with himself, which people can witness in both in BTS' music videos and his own songs, such as "Daydream" and "Hangsang."
In a livestream, he explains that the reason for the repetition is because as a young kid, he always dreamed of taking a ride on an airplane, and after becoming a celebrity, he feels as if he is constantly traveling on planes.
The dreamlike and lingering sound effects in "Airplane" emphasize the track's mellow and peaceful tone.
Fans can also note that they can hear the rest of the BTS members throughout the track repeating the word "airplane," which according to J-Hope, is meant to show how his story is forever intertwined with the other members.
"Blue Side"
Ending the mixtape is "Blue Side," which has very minimal lyrics besides the title and contains short snippets of lyrics from the mixtape's six other tracks. With its twinkling sounds, the track marks the end of an adventure that started underwater and ascended into the skies.
Since it immediately follows "Airplane," the song gives listeners a feeling of traveling through the clouds at night and drifting off to sleep, obtaining some much-needed rest in order to embark on another journey the next day.
With his mixtape, J-Hope distinguishes himself as an artist separate from BTS while simultaneously paying homage to his group. The seven tracks exemplify both his versatility and his talent as a storyteller, allowing both new and old fans a chance to get to know him a bit better, both as J-Hope and as Jung Ho-seok.
Thank you for inviting us to "Hope World," J-Hope!