The early and mid-2000s already represented a rich era in music history: JT defied all odds and brought "sexy back", Kylie Minogue was the 'Kylie' of greatest significance and Beyoncé finally dropped Kelly and Michelle to begin her solo career and, to top it all off, The Black Eyed Peas added Stacy "Fergie" Ferguson to their lineup.
Fergie rounded out the group nicely and with her addition came their first mainstream success, "Elephunk," which featured the songs "Where Is the Love?" and "Let's Get It Started." That was just the beginning for the group as they went on to find equal and greater success with their following three albums and took home Best Pop Vocal Album for "The E.N.D." in 2009. Along with the myriad other hits BEP released, they also appeared in the halftime show of Super Bowl XLV, and both will.i.am and Fergie appeared in "We Are the World 25 for Haiti." Fergie and will.i.am, the two biggest names within the group, somewhat eclipsed other members with Fergie in particular becoming the most recognizable, if not the most notable, Pea.
In 2006, Fergie released her very first solo effort, "The Dutchess," to mixed reviews, and to fans worldwide who quickly knew "London Bridge," "Glamorous" and "Fergalicious" like the back of their hands. Truly, if you were to say, "to the, to the, to the – Hit it, Fergie!" to just about anyone in their twenties, they would catch the reference and launch into the iconic "Fergalicious" rap. It may not have been entirely well-received critically, but Fergie's music was the bread and butter for Top 40 stations across the country and for their young listeners.
Part of the attraction was that she was capable not only of rapping self-promotionally, or coining an adjective derived from her nickname to describe herself at her best moments, but also departing into a serious ballad like "Big Girls Don't Cry" or switching genres yet again to combine retro soul with electronic pop in "Clumsy," and singing about falling in love as opposed to only rhapsodizing about her "humps." Fergie had a definite bawdiness she'd picked up from her work in mainstream hip-hop, but she took herself seriously as an artist nonetheless.
Over a decade later, The Dutchess has finally come out with her sophomore album, "Double Dutchess." With 15 new songs and a fleet of music videos to accompany nearly every single one, Fergie's artistic work is back under the scrutinizing public eye. The question now is—at forty-two, with a son and a split from her longtime husband—does she have the same mainstream appeal she once did? Will fans meet her halfway, or will they be doing one-handed flips and sipping on drinks elsewhere? Is her music still first class, up in the sky, or has it lost its "Fergalicious" edge with time?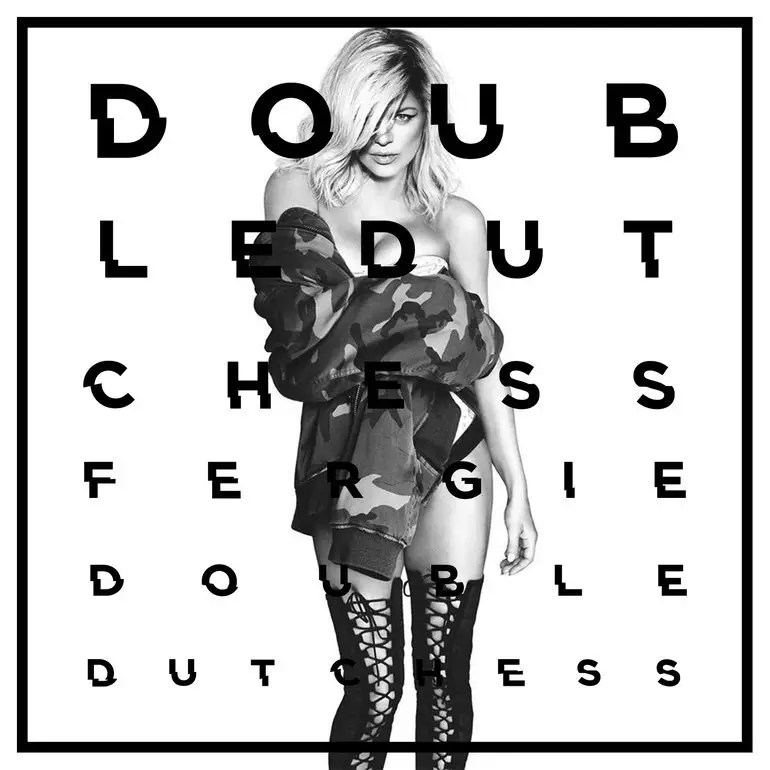 The album's first track, "Hungry," starts out with a sample of the song "Dawn of the Iconoclast" by a group called Dead Can Dance, whose work you may know from the final scene of the 2007 adaptation of Stephen King's "The Mist." If you're unfamiliar with the scene, its musical accompaniment is eerie, unsettling, overdramatic, otherworldly and as incongruous as it is ominous. The decision to use this type of music (which forms the intersection between a gothic Gregorian chant and art rock) is an odd one, especially considering our reintroduction to Fergie is other artists' work (which in no way fits with her established brand).
Its music video is a headscratcher as well, coming closer to a short film festival submission than anything we've come to expect from Fergie. It all does weirdly fit together, though, once Fergie's and Rick Ross's voracious lyrics come in over the Dead Can Dance groans, and artsy imagery of the video (which covers every base from a shot of pills falling toward a surface, to Fergie cutting her own hair) appears alongside, creating a complete product that doesn't contradict itself and stands by what it sets out to be. As a song, however, it's just all right; we won't remember this years down the line, but it is a decent way for Fergie to break in her new record.
"Like It Ain't Nuttin'" has the potential to achieve the status of a 'banger,' but is mostly repetitive in sound; the low piano notes are difficult to listen to, and they persist for the duration of the song. With that said, one upside of the song is that we get to see Fergie dip back into some of her early crudeness, insisting that women listening should "rub on [their] boobies." On its own, it's a fine tune that boldly displays Fergie's trademark swagger, but doesn't hold a candle to the previous times she's done the same.
Rounding out the first three tracks is "You Already Know," which is a necessary, well-timed palate cleanser amidst what we've heard so far. Fergie samples Rob Base & DJ EZ Rock's "It Takes Two" here, which gives the song a sporty, light-on-its-feet feeling. It's also a great opportunity for Fergie to showcase her multidimensional performance skillset, as she carries the tune of the chorus when she's not spitting the lyrics before and after.
Featured with Fergie here is another member out of the pop pantheon, Nicki Minaj, who provides a couple verses typical of other featuring spots she's had, landing in quality somewhere between the largely forgettable one from "Bitch I'm Madonna" and her dynamic spot on "Bang Bang." Neither artist is writing Shakespeare here, and the lyrics aren't of significance—Fergie and Nicki are a rap-pop combo we've yet to see, and it's refreshing to see them together on an above-average track, androgynously wearing black and white suits in the music video. The song itself will hold up over time, though it's bolstered a great deal by the women at the helm of it.
Next comes "Just Like You," which gives the impression almost of an interlude between more interesting tracks, as if it were an afterthought. It never fully captures one's attention, with a markedly temporary feel in sound assuring that better music is soon on the way; that turns out to be half-true, as "A Little Work" follows and is essentially Fergie taking a crack at a generic inspirational pop song, repeating what many other singers have already done (Sara Bareilles, Katy Perry and Rachel Platten being the most successful examples). The musical introduction here sees soft voices embellishing the unimposing instrumentals, sounding less inspirational and more like the song was cut from a lost Fergie Christmas album. It's all fine, but it's less than memorable.
"Life Goes On" is breezy and cheerful, with a chorus that's similar in sound to the hook of Skrillex, Diplo & Justin Bieber's song "Where Are Ü Now." The lyrics are strong and Fergie's vibe is infectious—even if I hadn't gone in knowing who it was by, I would have found it enjoyable. It will stand the test of time, as long as it grabs people's attention while it's new.
The seventh song is an absolute train wreck of disjointed musical phrases, tired pop conventions and a disappointing attempt to get by on audacious, pandering lyrics and a star-studded music video. "M.I.L.F.$" was released with its corresponding video in 2016, in an effort to hold fans over until the official release of the second album. The whole charade threw to listeners an unfinished mess of a club song that relied on us overlooking subpar, boring music to focus on the spectacle of Fergie's good friends Kim Kardashian, Chrissy Teigen and Ciara gathering to stand and do little during the video.
It also beats to death what we hear in other pop songs, with Fergie spelling out the word "independent"—hopping on the feminist bandwagon while it's fashionable—and including lines like "all my girls 'on fleek,'" which have outlasted the shelf life of the term itself. Most notably, toward the end of the song, a choir joins in alongside Fergie's ferocious vocals, and it's all sort of hysterical; it tries for drama but everything goes together so poorly that, more so than anything, it sounds like all the choir singers are being raptured while Fergie watches helplessly. "M.I.L.F.$" has the potential to be a song you love to hate, but that depends on how angry you are at the laziness that went into creating this song.
"Save It Til Morning" boasts the strength and sentimentality of a power ballad infused with elements of hip-hop (in its instances of rapped lyrics peppered throughout). It takes its time between the acoustic, pensive verses, and the emotionally-heightened chorus that's introduced by the hardened presence of an electric guitar.
Our brief break from electronic music now is quickly interrupted by the enchanting "Enchanté," which does center around a repetitive beat but one that's pleasing to the ear (so it's not nearly as flagrant a repetition as that of "Like It Ain't Nuttin'"). Fergie's words are sweet, promising that if she could "live inside this dance," she would; she lyrically builds a story that lulled you in by the soft, music-box quality of the music. The sole mark against the track is that it features guest vocals from The Dutchess' son, which, if you can get over the sheer preciousness of it all, doesn't add much traceable good to anything except the toddler's résumé. But hey, if Blue Ivy can do it and not have it be considered annoying, then by God so can Axl Jack. And with the second-most views on YouTube of all her videos uploaded last month, "Enchanté" has been well-received thus far. The song stands tall by itself, suitable for a club or an ambient car ride and is both quintessential and a curveball for the singer.
Similar to "M.I.L.F.$," "L.A. Love" was released well before the album dropped. It's another track wherein Fergie tries for a breakout party anthem, but sadly the song strives for a greater level of hype than it attains. She raps over crawling, gargling electronic effects, with upbeat backup vocals uttering a catchy "la la la la la;" she even enlisted Cali-based rapper YG to attest further to the track's high quality. It is a strong song compared to some others on the album, and does have an attractive global focus in it, but doesn't stand out in her whole library of work or next to that of other artists.
Sister tracks "Love Is Blind" and "Love Is Pain" provide separate accounts of love and its antithetical aspects. Where the former has a carefree, reggae-influenced mood to it, the latter is a tender, vulnerable soft rock ballad. If you've ever doubted Fergie's capacity as an artist—whether you feel she's limited herself to only half-singing about sexual innuendos, and other topics of low substance—I encourage you to listen to "Love Is Pain;" with vocals that bellow with hurt at times and quiver with rawness at others, intelligent references in her lyrics and a well-constructed piece that preserves what are likely her most profound and pressing emotions, she surely should have proven herself to any skeptics by this point.
Just as Fergie's first album received mixed reviews and her career as a whole has been viewed similarly, "Double Dutchess" is a mixed bag itself. For every "M.I.L.F.$," that desecrates all that is holy, we have an "Enchanté." And even the most underwhelming tracks have at least one redeeming feature to them. The album as a whole is solid, accomplishing what it set out to and reacquainting the public with its duchess through a series of really good songs that may happen to coexist with a few duds.
All in all, Fergie's legacy continues to leave itself as her reemergence into our hearts and minds went off without a relative hitch. She has grown immensely as an artist in the past 10 years—transforming from the fairly one-dimensional "Fergalicious" rap-singer into the now multifaceted, mature Fergie of today—and the wait was well worth it to see her evolution finally come to life. Whether she's a part of the Peas or just the Dutchess on her own, fans will all be rocking their bodies for some time to come to this new era of her music ushered in by "Double Dutchess."