Former member of The Black Eyed Peas Fergie is receiving a lot of backlash after her performance of the national anthem at the NBA All-Star Game at the Los Angeles Staples Center on Sunday night.
Her performance, which many are claiming "went over the top," has incited controversy over what an appropriate rendition of the national anthem can sound like. Critics are decrying her version of the patriotic ballad, saying that she would have been better off to stick to a more conservative cover.
According to NY Daily News, multiple basketball players and stars were seen smiling and laughing while Fergie attempted to sing. Indeed, pictures of Draymond Green, Steph Curry and Chance the Rapper were captured during the song and showed them with peculiar looks on their faces.
Roseanne Barr, who once gave a bad rendition of the song, gave her opinion on Fergie's performance, tweeting, "Who saw Fergie's national anthem performance at the NBA All Star Game? I think mine was better lowkey."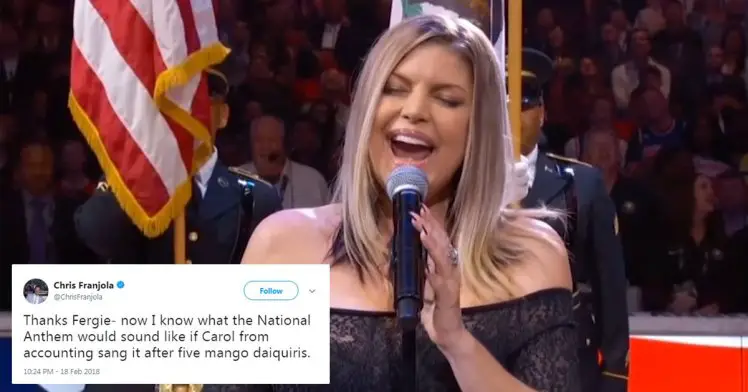 However, singers like Mariah Carey — who famously had an on-stage meltdown on New Year's Eve in 2016 — and Shaquille O'Neal showed support for Fergie and pushed back against the criticism she received. O'Neal, in particular, said that he loved Fergie and thought her performance was different in a good way.
ABC News reported that Fergie spoke on Monday about her performance and what the critics were saying online about it.
She made a statement, saying, "I've always been honored and proud to perform the national anthem and last night I wanted to try something special for the NBA. But clearly this rendition didn't strike the intended tone. I love this country and honestly tried my best."
She also claimed that she was a "risk taker." "Good Morning America" tweeted about the performance, saying, "not everybody was cheering."
According to WCVB, Fergie's ballad inspired hundreds of harshly worded tweets, few of which were afraid to lay into the pop star for her off-key, jazzy rendition of the American anthem.
Arcott Ramathorn tweeted, "Fergie didn't give us the national anthem we needed or wanted to hear, but she did give us the national anthem we all deserve in 2018."
Another armchair critic, Kyndall, tweeted "y'all leave Fergie alone. Her national anthem performance was clearly an interpretation about the state of America."
Even basketball commentator Charles Barkley joked during the halftime show that he "needed a cigarette" after her performance. While there were some positive reviews, the criticism far outweighed them on social media.