Following Sunday night's BET Awards, allegations surfaced accusing Donald Glover of plagiarism. Glover, who musically goes by the pseudonym Childish Gambino, recently came out with the No. 1 hit single, "This is America."
However, after examination, many believe the song shares too many similarities with SoundCloud rapper Jase Harley's song "American Pharaoh," which he released two years ago. The allegations originally surfaced on Reddit before they gained attention and spread to Instagram and Twitter.
After listening to both songs, the similarities between them become blatantly apparent. They both cover similar topics, and many argue the beat and music also seem just a little too similar. But Glover's managers don't seem to agree. Fam Udeorji, the co-manager at Glover's label, Wolf + Rothstein, took to Twitter to express his thoughts regarding the situation.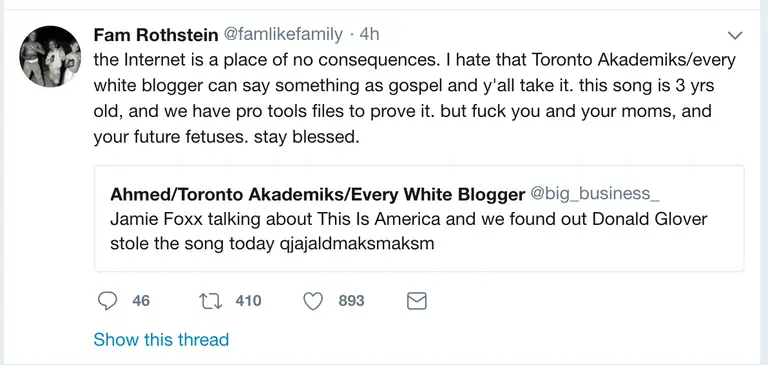 Udeorji (who also goes by Fam Rothstein) argued, in reality, "This is America" was produced three years ago, and he can provide "the pro file tools to prove it." He went on to say, slightly less eloquently, "But f**k you and your moms, and your future fetuses. Stay blessed."
After continuously being asked for the label's official statement, Rothstein then referred to the same tweet and said, "You asked for a comment from the label, this is it." Rothstein also made the point to mention "The internet is a place for no consequence," arguing one person can make one claim, and everyone will immediately believe it. Rothstein's tweets have since been deleted.
Harley, the other rapper, responded with a much different approach than Rothstein. Harley's Instagram flooded with comments asking about the situation and showing support for Harley's music, to which he responded, "I always felt my song inspired it lol from the first time I heard it… it's cool tho. glad they liked my song. It's all love."
Harley went on to dedicate an entire Instagram post to the matter, saying, "I feel extremely humbled to be recognized and labeled as one or the original inspirations for one of the most important pieces of music and visual art of our time."
But then Harley shifted to also express the importance behind the songs themselves, saying, "PLEASE DON'T let this controversy dilute the message me and @childishgambino are trying to convey. We are speaking about injustices we've encountered and he's helping to provide a platform for all voices to be heard."
Whether Glover truly did plagiarize "This is America" — which, if Rothstein's claim about when they created the song is true, seems unlikely — the controversy ultimately detracts from the important message Glover's and Harley's songs convey.
Glover's song draws attention to the discrimination and racial profiling black Americans experience daily in the United States. Their voices, especially in the current political climate, need to be heard, and issues of race should be brought to light. As Harley said, the possibility for such realities to be obscured by controversy would truly be a shame.