Ariana Grande and her team recently decided to turn her Dangerous Woman Tour video archive into a docuseries to share what she's learned from the experiences with her fans. Although Grande admits that she and her team had no intention of making a docuseries while on tour, she collaborated with her team and used footage taken by director Alfredo Flores to create the "Dangerous Woman Diaries."
Now, here are three key take-aways from the first two episodes of Grande's spontaneous creation.
1. It's Important to Find Your Comfort Zone
Grande kicks off the docuseries by telling her fans how important this album was to her, as it was what allowed her to find her comfort zone. "Dangerous Woman" differed greatly from her previous style of music, so she received an immense amount of feedback from her team and fans suggesting that it must have been awkward to transition from her original style to something so jarring.
However, Grande explains that her album was "the most me I've ever felt," and that it was what allowed her to find her comfort zone. By experimenting with her vocals and a new style, Grande expresses her newfound identity by saying that the album "sounds like my DNA" and the feels like "how [she] wants to feel." She encapsulates this journey in finding her true self by collaborating with her director, Dave Meyers, to recreate her discovery in the music video for one of her most recent songs, "The Light Is Coming."
Named after the single, the first episode of the series documents the making of the music video, which shows Grande lost in a dark forest, guided by a light that gets brighter until it illuminates her world and allows her to find her way. Meyers explains that it ends with her walking back into the dark, with the audience unable to see where she goes, to relay the message that we must all find our own light, our own comfort zone, to guide us through our life and be able to express our true selves. We must find the light and "take back everything the darkness stole."
2. Why God Is a Woman
It's no secret that Grande's support and drive comes from the women in her life; she very publicly adores her mother and her grandmother, whom she calls "Nonna," and she dedicated a special moment to them in Episode 1 of the docuseries. Grande credits her mother, Nonna and her cousin, Lani Grande, for being her inspiration in life. The artist explains that when she was younger, it was her cousin Lani she looked up to in hopes of being as successful and beautiful as her in the future.
The docuseries includes clips of Grande bringing all three women onto the stage during her tour, not to mention the sweet tribute she pays to her mother in her most recent single, "thank u, next." Grande sings, "One day I'll walk down the aisle / Holding hands with my mama / I'll be thanking my dad / Cause she grew from the drama," praising her mother for growing as a woman by pushing through the adversity of a struggling marriage.
Though Grande is known for advocating for the equality of all people, no matter gender, race or beliefs, she makes sure to emphasize the special tribute to the strength of women. Meyers explains in the episode, "We [men] wouldn't be here without a woman" and explains that Grande's song, "God is a woman," and its music video "demonstrate the power of a thinking woman which is what people are afraid of these days." Amen Myers, amen. The director dedicates the track to "every woman who's ever put up with a stupid ass dude." Ladies, get you a Dave Myers.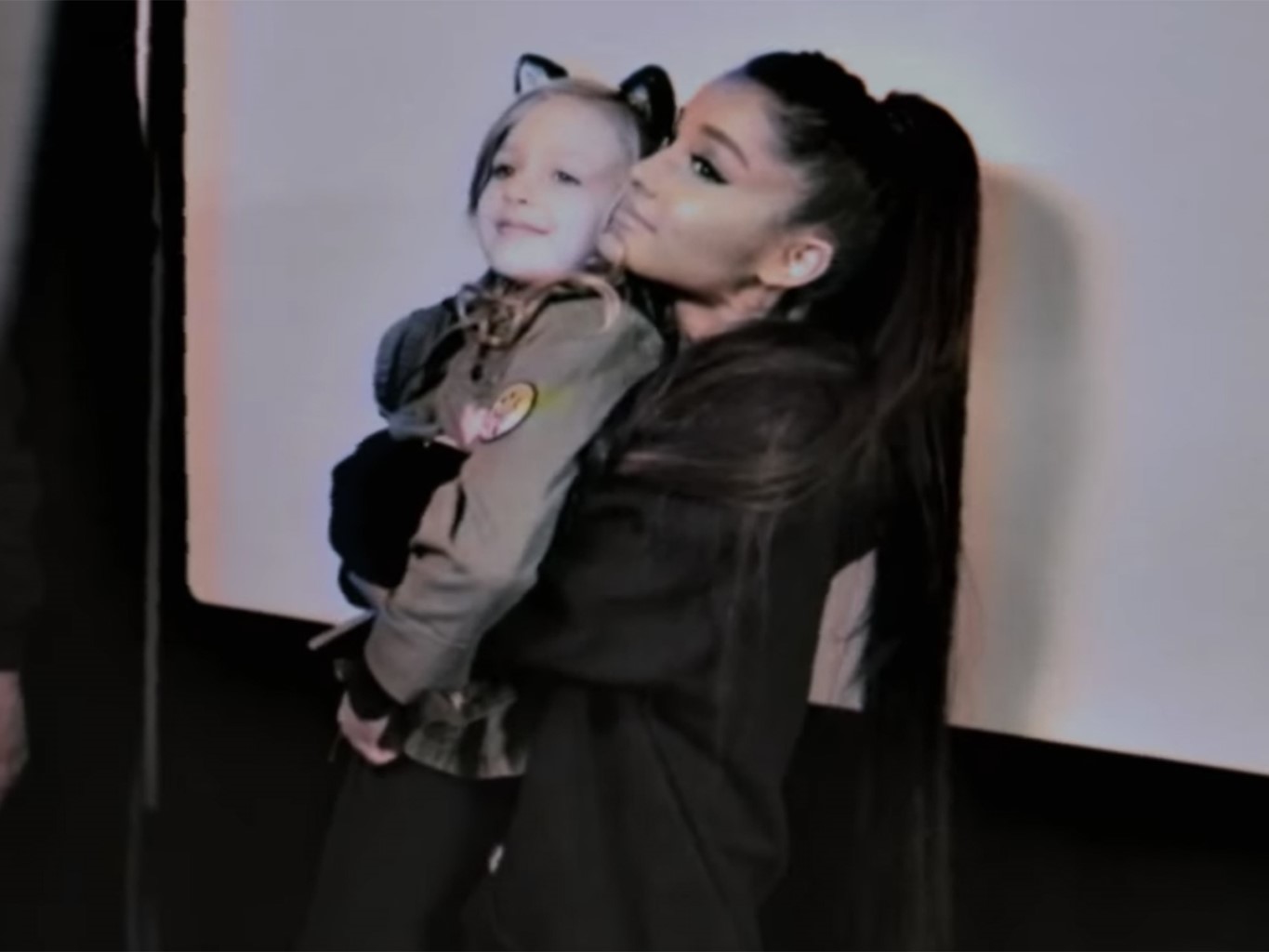 3. Screw Pete, We're the Sweetener
While most documentaries and docuseries revolve around the person they're about, Grande's docuseries is saturated with love and appreciation for her team and her fans. Renowned rapper Pharrell produced Grande's most recent album, "Sweetener," which she includes in the docuseries, and much of Episode 1 is dedicated to depicting her collaboration with the artist and how essential a role he played in producing her album.
Grande also admits that she played "Sweetener" for a group of her fans before showing it to anyone else, including her label. You can watch her receiving their feedback and witness how moved she is by their impressions. Grande may seem too sweet to be true, but she truly does care about her fans and their input into what she's producing.
Included in Episode 1 and 2 are clips of her interactions with her fans, largely one on one and personal, in which she admits that they are the main motivation for producing her music. Grande explains, "My goal in this relationship with them is to make them feel like they can be exactly who they are, who they want to be and that's the most beautiful thing in the whole world because I feel like that's what they do for me over and over again."
While Grande clearly loves her fans above all, in close second are her collaborators, dancers and the leaders of her artistic team, twins Brian and Scott Nicholson. Her two best friends sit next to her while she narrates the series, and she gushes over how much she loves them, and how crucial a role they play in her life. Grande goes as far as to say she would be "incomplete" without them and explains that as two of the most talented people she has ever met, she "could not possibly live without them."
After watching the first two episodes of Grande's "Dangerous Woman Diaries" you must agree, it's true: the sweet, loving, big-hearted woman Grande advertises to the public is exactly who she is inside. While Grande's docuseries portrays her adventure through touring for her album "Dangerous Woman," its content radiates with love for womanhood, independence, her family, her team and her fans. Grande's docuseries suggests that without these people in her life, she would not be the artist she is today, producing the revolutionary music she does.
And for that we say "thank u, next" album please.