I first saw Capyac perform nearly three years ago, in a tiny college co-op in East Austin, in a living room whose furniture had been moved out and lighting replaced with disco balls.
The group, composed then of only Delwin Campbell and Eric Peana, billed itself as a surreal, French electronic band that made it a point of offering extravagant live performances. And from the very beginning, they've delivered on that promise.
Now, years later, the twosome has debuted their third official release, an eight-song album enigmatically titled "Who is Donny Flamingo?" Compared to their early days, the cast of the band has grown in size, and several of the songs feature other artists as well, making the work feel more like the product of a village than the creative outpourings of two musicians.
Campbell and Peana, who routinely refer to themselves by a rotating coterie of nicknames — one of their many methods of cloaking themselves and their work in inscrutability — still run the show, but "Who is Donny Flamingo?" incorporates a significant jazz element, an addition that their saxophonist, who they refer to as Papa Mongoose, is largely responsible for. Mongoose first began appearing on Capyac tracks in their last release, "Headlunge," which premiered in 2016, but his influence is much more prominent in the new album.
Indeed, the first song on the work, "Theme to Donny Flamingo," is a blistering, frenetic jazzy intro. It begins with a salvo of blaring trumpets, before then riding up and down a resonant bass line with a scattering of percussion in the background.
The track is reminiscent of a 1970s theme song, to the point where you can almost imagine a motley cast of crime-fighting vigilantes being introduced in a series of cut scenes as the song plays.
The similarities between the intro and, say, the "Starsky and Hutch" theme song from 1975, reinforce my hypothesis that the album's title is a slight play off the "Where in the World is Carmen Sandiego?" verbiage. Together, the two similarities lend to the idea that the album serves as a kind of tongue-in-cheek introduction to their band as a team of problem-solving friends.
More likely, though, the title has no deeper symbolic meaning, as Peana and Campbell have repeatedly given conflicting, fictional explanations as to the origin of their band name, Capyac, and this seems like probably more of the same. Honestly though, who knows.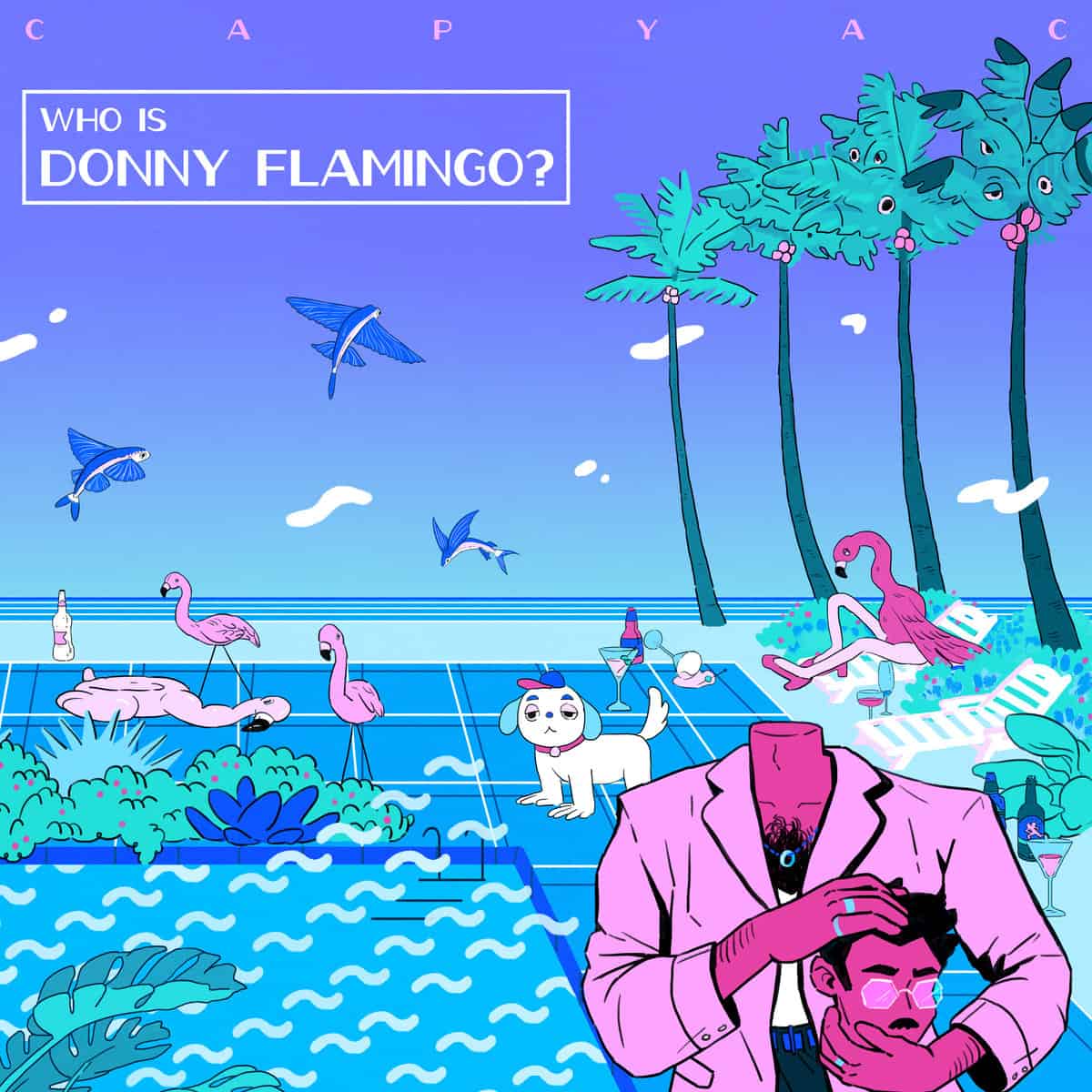 Following the intro comes "Fade Out," the first of two songs, the other being "Down in It," that both have prominent feature artists. "Fade Out" introduces RuDi Devino, a local Austin hip-hop musician. After an initial, synth-heavy intro sung by Peana, Devino jumps onto the track with a verse of impressive lyrical wordplay, flirting with polylingual rhymes and pleasantly extended metaphors.
"Get away, vacay, rendezvous / All day too maybe parlez vous / Francais, gotta go where it's picante / dollar fine-wine at ristorantes / this stuff is concave, trilingual with the lingo, gotta go worldwide like a hit single," Devino raps. Under his voice synths wobble and sway over a warm, soft trumpet, all of which is buoyed by the sharp staccatos of drums.
The other song with a prominent feature, "Down in It," is the fifth on the album and showcases the vocal warmth of frequent Capyac collaborator Caroline Watson. The track begins with wavy synth, as if being played underwater, as Peana sings, warbled and in the background, "Can you move like an animal?"
The melody stays minimal for the first minute, then gets into a slightly jauntier mood, with some finger-snapping and supple trumpets. Then Watson comes in, echoing Peana's "Can you move just like an animal?" with an ethereal croon. Her voice cuts, swishes and gets distorted, all playing over the underwater melody.
Peana and Cambell, though both talented singers, seem more comfortable allowing others to do the heavy lifting in the vocal-forward tracks. Outside of the two features, Peana only sings in "Cat Song"; Campbell's voice is scant throughout.
"Gold Rush," the third song on the album and the only one sung by Oolaf (human name: Collin Finnigan), is one of the compilation's danciest cuts, with a thumping undercurrent, energetic trumpets and a catchy chorus. It's no stretch to imagine the song being a mainstay of future live performances.
"Cat Song," however, goes the opposite direction, building ever so slowly over a sexy, sultry progression, with Peana's vocals hovering in the rafters. The song, like every offering on the album, is incredibly layered and smartly mastered. The sonic nuances make even "Cat Song," perhaps the tamest track on the eight-song album, incredibly engaging, as your ear hardly ever hears the same bar twice.
The group's talent for making bangers out of instrumentals is apparent all throughout the album, as the other four offerings all eschew vocals entirely. Indeed, if you count "Cat Song" as an instrumental (which isn't much of a stretch), then five of the eight tracks go completely without vocals, and of the three with vocals, two of them are sung by feature artists.
While Capyac has always been more than comfortable making instrumental music, "Who is Donny Flamingo?" is a statement piece for that ethos. More than half of the offerings involve no singing, leaving the listener to focus their full attention on the melodies, a reality that Peana and Campbell are more than aware of.
Happily, each of the instrumentals is more than deserving of the spotlight. In addition to the intro track, "Karmann Ghia," "Flamingo World Champion" and "Stamina" all forego lyrics, yet they manage to each impart distinct sonic impressions.
"Karmann Ghia," which was released as a single prior to the album dropping, bounces over Campbell's keyboard and subtle, low-lying synths before erupting into an epiphanic finale.
"Flamingo World Champion" is lighter on its feed, though it too tap dances around Campbell's fleet keyboard work. After a teasing intro, the track unveils another thumping melody, not unlike "Gold Rush" in its assertive verve. This one, too, would be a huge hit live, as its extendable mid-section could be drawn out to soundtrack the on-stage theatrics that are part and parcel of a Capyac concert.
Finally, the album ends on "Stamina," the longest song the work at five minutes and 27 seconds. The track echoes "Flamingo World Champion," sometimes a little too much, and feels the least original on the album. Plinking keyboards lead the track before giving way to a full-bodied synth, the combination of which lasts the rest of the song.
The album is another incredibly strong production from the band, which has grown from a ragtag duo into a well-orchestrated, if still insanely eccentric machine. Still, despite the work's meticulous mastering, their real talent lies in their passion for improvisation, a characteristic you can only appreciate by seeing them live.
When playing, their songs break free from their three to five minute constraints, and the group's love of improvisation takes over, sometimes stretching individual songs well past 20 minutes. As they play, the group and its dancers, all of whom are costumed like something out of a French acid trip, engage in such mesmerizing, often peculiar theatrics — they recently made pancakes on stage — that the performance can feel more like theater than music.
Nonetheless, the group's music is more than entertaining on its own, and "Who is Donny Flamingo?" proves no exception. With three airtight albums under their sleeves and an incredibly talented creative community at their side, Campbell and Peana seem poised for their breakout.