Travis Scott has ventured away from rap numerous times, to varying degrees of success, but his talent for event production nearly matches his musical chops. Last year, his inaugural Astroworld Festival wowed attendees and left them begging for more, and Scott has proven himself one not to disappoint. With over 50,000 tickets sold, Astroworld 2019 has solidified the rapper's widespread appeal and ability to attract audiences from all walks of life.
Back in August of 2018, Scott released his third album, "Astroworld," to resounding critical and commercial success. Debuting at No. 1 on the Billboard 200 chart, the album earned a double platinum certification only half a year later, selling over 2 million units in the United States alone. Critics hailed it as "a futuristic record with virtually flawless production" and "the sound of a musician who has worked to forge an entire world, an empire, around himself." All the buzz plus a Grammy nomination quickly cemented Scott's status as a superstar.
Astroworld Fest Travis Scott Full Performance
Of course, Scott had to follow up "Astroworld" with something spectacular. Inspired by the same devotion to the album's namesake, the now-extinct Houston theme park, Scott decided to craft a massive event, with carnival rides and attractions along with a stacked lineup of performers. And so, he unveiled the first Astroworld Festival just a week after the record's release.
Despite the pesky fact that the official lineup wasn't revealed until the day before the fest, more than 35,000 people purchased tickets in anticipation of an unforgettable experience. And unforgettable it was; when I say the lineup was stacked, I mean like if Woodstock had been just a day instead of a weekend and featured contemporary heavyweights from rap instead of '60s and '70s rock. Lil Wayne, Young Thug, Post Malone, Rae Sremmurd, Trippie Redd and more spat their hearts out onstage.
But Scott has outdone himself with his second annual festival. While the show has retained the same amusement park theme with exhilarating attractions and performances, his experimentation with the lineup has exceeded all expectations and placed Astroworld 2019 far above its predecessor.
Instead of sticking to a set of strictly rappers, Scott also showcased megastars from other genres, including the rising international hit Rosalía and the hard rock/metal icon Marilyn Manson. Both performers brought something new and unexpected to the table and served Scott's desire to make the ultimate music festival.
That's not to say Scott forgot to invite some of the biggest names in rap today. Dababy, Gucci Mane, Migos, Playboi Carti, Pharrell Williams and the incomparable hot girl herself, Megan Thee Stallion, all graced the lineup poster, again only announced the day before. Scott also brought back the Houston All Stars and his label Cactus Jack's Sheck Wes. While some fans were disappointed to see their predictions and favorites not make the list, from Drake to Lil Uzi Vert to Rae Sremmurd, the lineup promised an extraordinary day nonetheless.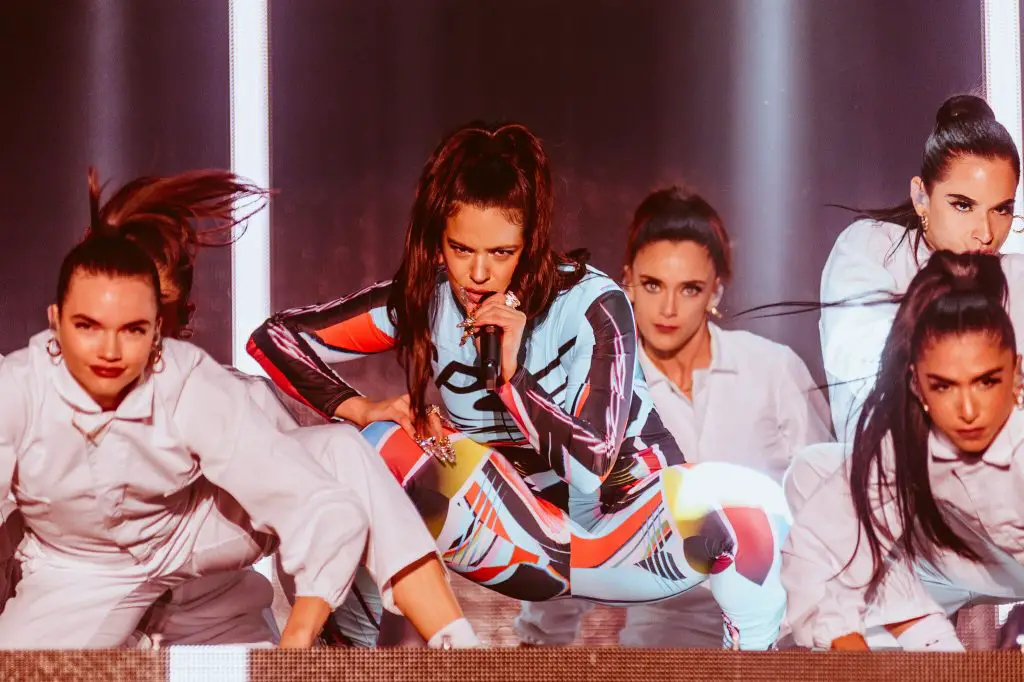 Saturday, November 9, 2019, Houston, Texas. The day dawned with plenty of sun and a beautifully crisp temperature resting in the mid-60s, a welcome change from the week's frigid rain. The air was abuzz with anticipation as attendees began arriving early in the morning, some having camped out all night. Across the city, people ordered Ubers and Lyfts, caught buses or braved the steep parking prices and drove, all congregating at NRG Park next to the Astrodome, all aflutter with excitement.
As soon as gates opened at noon, hordes of people stampeded the grounds, kicking off the festival with multiple ambulance transports. Eventually, officials managed to somewhat organize the mob into several monstrous lines, each packing a hefty wait-time throughout the day as more and more people showed up. Some puked; others passed out; still, most everyone made it in.
The moment attendees passed the gates, they entered a different world. A massive skeletal Travis head greeted attendees, a twist on the original gold inflatable from last year. Food trucks and merch stands lined the edges, tantalizing customers with unique and drool-worthy delights to distract from their excessively expensive prices — seriously, I paid $15 for some Vietnamese Fusion fries.
But I digress. Enticing attractions dotted the festival grounds, from the flashy arcade and funhouse to the mysterious inflatable moon dome that featured a trippy light show set to Scott's music. Another site composed of storage containers provided a nifty picture spot, with mirrors and bright, color-changing lights reflecting off them. Yet another featured a maze to challenge the inebriated brains of festivalgoers.
Apart from the side activities, Scott brought back many traditional rides from the year before. The drop tower, swing ride and Ferris wheel loomed above the grounds, inviting all to spend money on even more tickets. Elsewhere the Gravitron and Tilt-A-Whirl flung people around like ragdolls. The spooky carnival aura emanating from the grounds truly took the overall experience to, dare I say it, astronomical heights.
The two stages were accordingly named "Thrills" and "Chills," but don't let the latter fool you: The performances would be anything but "chill." Each concert hyped up the audience to the nth degree. There were so many individual mosh pits that nobody was safe, from either injury or the temptation to join in. Shoes, socks, pants, tights, leggings and legs soon became caked with mud, courtesy of the rain from the preceding days.
But for most attendees, these qualms were small potatoes. In the grand scheme of things, they witnessed one impressive performance after the next and became part of history in the process. Astroworld has outsold every other single-day festival this year, including those orchestrated by Pharrell, Post Malone and Tyler, the Creator.
Some standout performances include Dababy, Megan Thee Stallion, Playboy Carti, Rosalía, Marilyn Manson and Scott himself, obviously. Megan invited fellow hotties onto the stage to twerk with her as she spat out her rhymes like they were kerosene. While Rosalía wowed with her signature dance routines and her voice, Dababy and Carti both lit up the audience with fiery passion and the essence of rage. Manson provided an interesting departure from the rap that still invoked the same "go hard or go home" mentality. Finally, Scott closed the show with yet another over-the-top, exceptional display of his talents and success, surprising fans with both an introductory cameo by Dave Chappelle and an appearance from Kanye.
How could Astroworld have been better? Probably if Scott had showcased more up-and-coming female rappers, like Rico Nasty, Saweetie or Doja Cat. He also relegated both Megan and Rosalía to the auxiliary stage instead of the main one. There's a lot of insanely popular female rappers right now who could steal any show and attract even more people to the festival, and Scott stands to lose nothing by providing them a platform.
Whatever Astroworld 2020 looks like, it's sure to blow this year's festival out of the water. Scott's manager David Stromberg revealed that they're "already thinking of ways to make it even bigger next year." Whether that manifests as a multi-day affair or an even more diversified lineup, it's likely to be unmissable.