Think of a musical artist who wears eccentric costumes that turn heads, blur gender norms and make a statement.
I don't want to assume your music taste or awareness, but I'm guessing you thought of an artist like Lady Gaga or Madonna.
However, you might have overlooked the elaborate costumes and music videos that Annie Lennox boasted — and continues boasting — in her career. The Scotland native began her singing debut in the early 1980s as a singer, making a name for herself in the band Eurythmics with hits like "Sweet Dreams (Are Made of This)" and "Here Comes the Rain Again."
Now, Lennox has put out six solo albums and is known for having one of the most powerful voices and widest singing ranges. She even sang "Take Me to Church" with Hozier at the 2015 Grammy Awards, proving that she's still relevant in the pop music scene.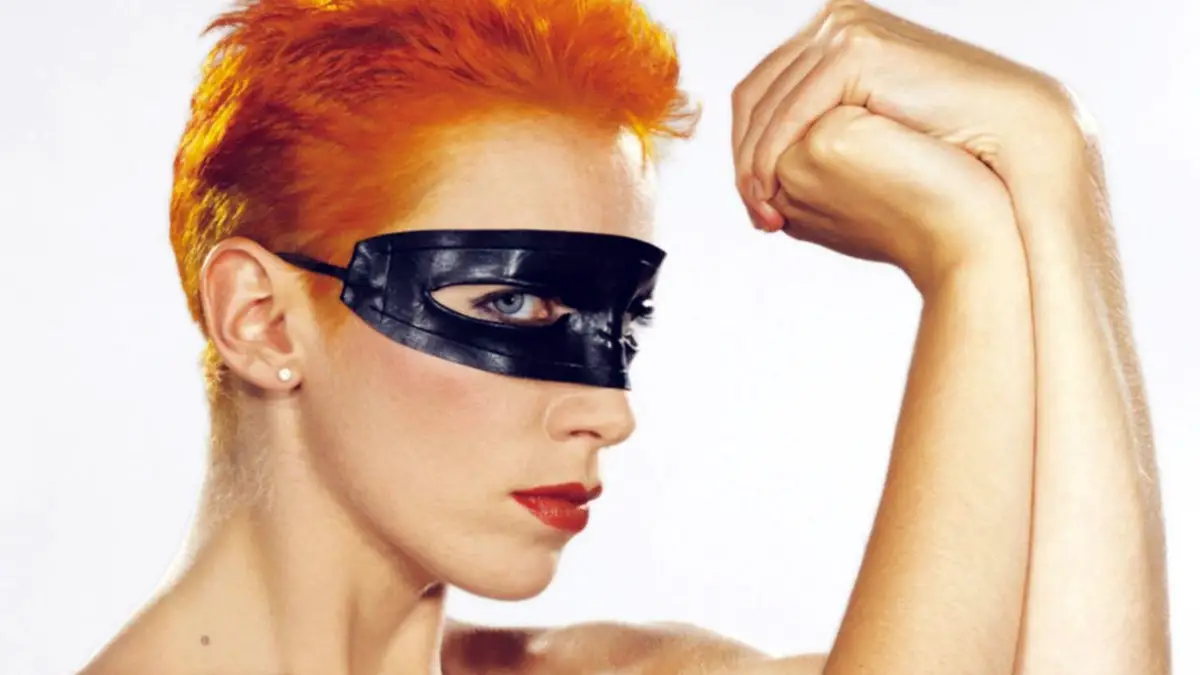 Lennox's costumes and elaborate music videos represent the ultimate confidence a music artist can have in their unique visions. You might think she's too crazy for you, but she sings the deepest emotions that everyone feels at some point or another in life.
Here are five emotional stages everyone goes through beautifully illustrated through the music videos of Annie Lennox.
1. Dramatic
When you have to be at a party celebrating your ex and his new girl, you feel pretty annoyed. So much so that you might just make a scene out of jealousy and the pain of being betrayed.
Lennox understands that emotion and sings about it in the song  "Walking on Broken Glass."  A tinny piano phrase introduces the music video before a string ensemble joins and flashes to differently posed 18th century French actors. Amidst this fancifully clad group is the one and only Annie Lennox. Although everyone around her wears muted colors, Lennox wears a long, red headpiece that surrounds her severely white face and glowing green eyes.
What's her primary mood in the video? Pissed. She's ended up at the wedding of her ex-lover and her heart is broken. But rather than feel sad, Lennox fuels her energy into being dramatic at the party and making a scene.
People turn and look at her with judgmental faces while she sings, "Everyone was made to suffer, everyone was made to weep," downplaying her heartbrokenness and sending the message that everyone has to deal with hard times and she won't let the broken feelings get to her. Her reward? She runs away from her date (played by Hugh Laurie) and ends up with her man (played by John Malkovich) at the end.
2. Fabulous
Yes, Lennox plays a high-class prostitute in the "Love is a Stranger" music video, but you likely won't notice or care because her various wigs and styles ooze confidence and flair.
Lennox sings about the glamor and danger of love while repeating the line "I want you" as she looks into the camera and shifts from a white, curled wig paired with a fur coat reminiscent of old Hollywood and a straight, black wig with bangs that matches a full-leather outfit.
Even when Lennox wears no wig and dons short, slicked hair and a suit with sunglasses like a "Men in Black" character, she maintains her confident air as if she was still wearing a fur coat and fluffy wig.
The truth is that everyone wants the freedom and self-assurance that Lennox has in this video. Regardless of who she is or what she's done, she exudes a belief in herself — her inner, true self —  regardless of what appearance she dons. Every person can feel fabulous for no particular reason and she understands that. Well done, Lennox.
3. Powerful
Much like "Love is a Stranger," Lennox once again sports a suit and short hair in the video for the well-known song  "Sweet Dreams"; however, she raises the stakes in this music video.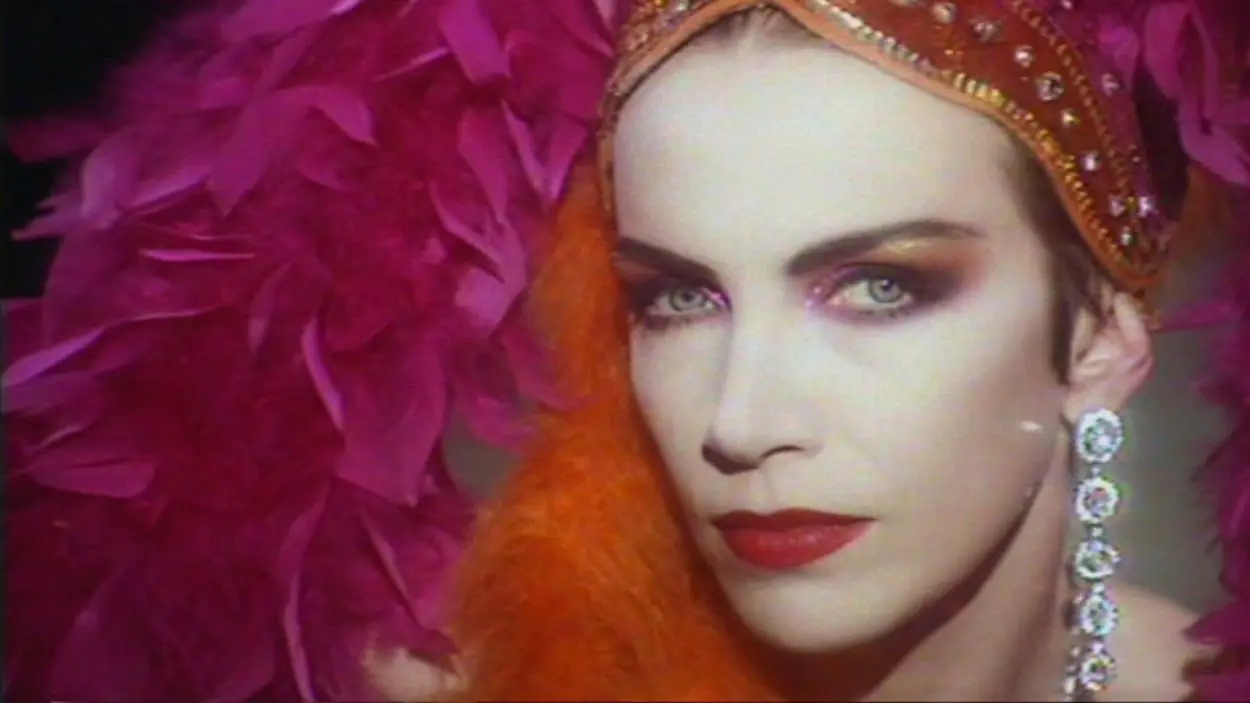 Lennox goes even shorter and brighter with her hair, sporting a buzz-cut in bright orange. The video opens with Lennox's silhouette holding a long pointer and marching around like she runs the world. In this video, Lennox embodies feeling powerful and not being afraid to show it. She wears a suit and tie, but don't mistake this for her trying to be a man. Lennox also wears a beautiful face of makeup that shows audience she is no one but herself and she is daring and influential just as she is.
Some days, you might feel down in the dumps, but other days you need to pick yourself up and remember that you are influential and powerful, just like Lennox in this video.
4. Longing
Even those people who seem to have everything they could ever want still have moments where they long for something or someone else.
The music video for "Here Comes the Rain Again" flawlessly illustrates the experience of longing. It shifts from scenes of Lennox walking along an English shore wrapped in what looks like the pre-blanket scarf trend and then inside a dark room lit by candlelight and walking out into her nightgown with a lamp. She then goes and walks into the water with her lamp and, to be honest, it's a little strange.
But even so, the song gets at what the true feeling of longing and wanting to have a lover. The video illustrates the experience through scenes of being alone in the dark or on a rainy and just wanting to be with someone. Lennox even walks around in the ocean and the setting is empty and barren while she constantly looks and looks but finds nothing. There are many pop songs about longing and wanting a lover specifically, but Lennox takes the experience to a new intensity with this piece.
5. Contented
Not all moments of peacefulness coincide with happiness. Lennox illustrates this in her song "Why" where she talks about feeling mad and even unkind, but nevertheless expresses her content emotions through her body language and the peace that comes with understanding her situation fully.
The music video for "Why" is special among Lennox's other works because it doesn't just present Lennox in all of her makeup and costume glory. Instead, she transitions before the audience's eyes from her bare face to a made-up face, like a true diva, with bright pink and orange eyeshadow and a feather headpiece in red, pink and orange.
Although she still sings about the challenges she faces, the character appears completely at ease and has a full-awareness of the situation, even stating that she knows what the person she addresses is thinking. This video is simple but effective for illustrating inner peace. It even won Lennox an award for best female video at the 1992 MTV Music Awards.
So, if you're going through a bout of any of these emotions lately, check out some of Lennox's work. It just may help you understand your situation better.