Mission: Impossible
In Mission: Impossible – Ghost Protocol, director Christopher McQuarrie dances with the one that brought him.
By Jacoby Bancroft, University of Nevada at Reno
---
After the excellent Mission: Impossible – Ghost Protocol revitalized everyone's third favorite spy franchise (behind Bond and Bourne, obviously), a lot of eyes were on Mission: Impossible – Rogue Nation to see if it could sustain the hot streak.
The series continued its tradition of bringing in fresh blood for the director's chair, calling on Christopher McQuarrie (Jack Reacher) to call the shots as both as writer and director. Though it fails to reach the same frantically-fun heights as the previous installment, Rogue Nation still delivers a solid piece of popcorn entertainment. You'll leave the theater with a smile, and I guarantee you'll have that catchy tune stuck in your head as the credits roll.
As always, Ethan Hunt (Tom Cruise) is on the run. After the government deems the IMF too unstable, they shut down the world-saving agency and the CIA absorbs its assets. This doesn't sit well with superspy Hunt, who's already on a personal mission to take down the nefarious secret organization the Syndicate.
The government doubts that the Syndicate even exists, so Hunt goes rogue and assembles his team of lovable spy sidekicks (spied-kicks) to assist with his seemingly impossible mission. Along the way, he crosses paths with duplicitous femme-fatale Ilsa Faust (Rebecca Ferguson), who may or may not be a part of the dangerous rogue nation.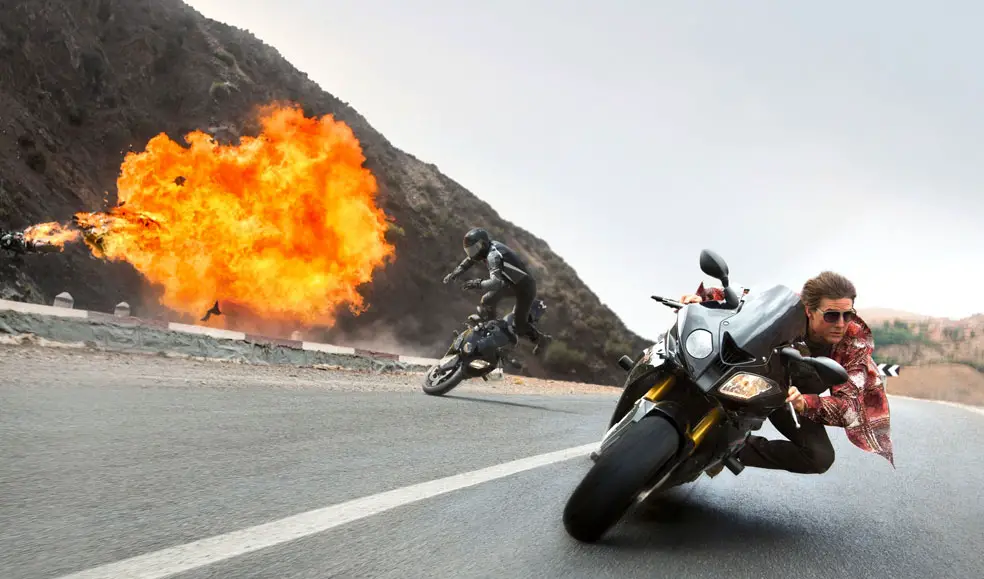 "If it ain't broke, don't fix it" seems to McQuarrie's mantra for the movie. Everything you see in this film you've seen before in the Mission: Impossible franchise: elaborate heists, magic fake masks, sleek spy gadgets, a motorcycle chase, a hilariously vague villain (We're five movies in and still looking for a memorable bad guy) and of course, Tom Cruise performing some insane stunt.
Although it breaks no new ground, McQuarrie still brings his own flair and style to the franchise. He frames his action sequences really well, which helps compensate for a few overarching rough patches in the plot.
The movie seems like it's trying to say a lot of different things. Much like what Skyfall and Bond, Rogue Nation begins by questioning IMF's role in the post-modern world. Unfortunately, the thread practically disappears by the end of the movie.
McQuarrie seems to change his mind halfway through, deciding instead to play with the idea that Hunt is overzealous in his attempt to take down the villain. This too would have been a great idea to explore, but the plot underdevelops the evil Solomon Lane (Sean Harris), leaving Hunt's increasingly frantic pleas to stop Lane sounding expository and unearned.
If analyzed critically the film would get ripped to shreds—but that really doesn't matter. It accomplishes what it sets out to do: entertain. The cast is terrific, the jokes are funny and the action is oftentimes exciting.
McQuarrie has a talent for blending serious, escalating stakes with self-aware absurdity that avoid feeling cartoony. Mission: Impossible movies never use the same director twice, but if McQuarrie were to come back for the sixth installment it wouldn't be the worst thing in the world. Your mission, if you choose to accept it, is to see this movie.
Overall Grade: A-