Starting Jan. 8, 2018, several international menswear designers began presenting their Fall/Winter 2018-2019 collections in London, Milan, Paris and, for some, in New York. Last season the runways were filled with simple statement — but very forgettable — pieces as many designers took a far less social and political approach to fashion.
High-end and commercial designers alike constructed remarkably elegant garments that produce great shows and pictures but by no means challenging to social acceptance. Patterns, muted colors and oversized coats were the three major identifiers of Fall/Winter 2017 Men's Fashion Week. Thom Browne had all of his male models in virtually similar outfits and the same color, while Japanese designer Yohji Yamamoto delivered a Y-3 collection that was overwhelmingly black.
This season, we witness something opposite of the homogeneity that prevail the fashion scene last year: influence, direct inspiration and variance in form and stylistic variety. Characters are the main theme this season as designers, such as Paul Smith, Nicholas Ghesquiere, Olivier Rousteing and Rei Kawakubo, transform streetwear, which has long been disassociated with high fashion, into runway-worthy garments in their latest collections. Their boldness and social and political influence drive Men's Fashion Week this year, making it the best people have seen since 2016.
Character, More Character and Nothing But Character
Lanvin, France's oldest fashion brand, took to streetwear to deliver a cohesive, fine and quintessential style develop a menswear collection that resembled nothing else. The cut of the tops, flooding pants and dad sneakers were all "nerdy chic" but, at the same time, fashionable with a keen attention to details.
It was reminiscent of Will Smith's post-apocalyptic science fiction film "After Earth:" something from the future and beyond expectation. Sartorially, half of that science fiction vibe comes the cut and form of the suits, while the other half of the experience is the product of the minimalistic venue, which allowed the audience to really focus on the looks themselves.
On a similar note, American contemporary designer John Varvatos announced through the clothing, color choice and structure of it show itself the center of his Fall/Winter 2018-19 show: consciousness. The sartorial structure of the garments, though dull in color, was extremely telling of the social and political climate of the U.S.
Though the use is monochromatic color schemes to speak to social issues is not unprecedented in fashion, the continuation of its usage indicates the pervasiveness of these issues, which, when combined with the ruffles in his outerwear and accessories, speaks to an actual ruffling of the system.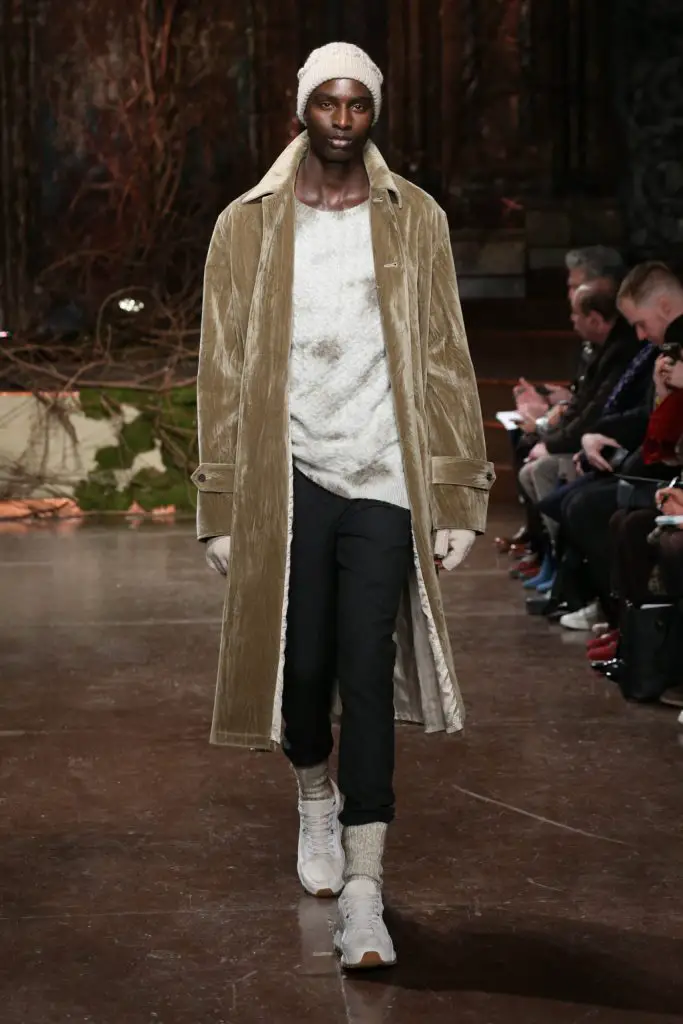 At the closing of the show, Varvatos stands in uniform with his models for what Lee Carter, Editor-in-Chief at Hint Fashion Magazine, calls a "salute-cum-protest." Hand over his heart, wearing a t-shirt spelling "Equality" with the national anthem playing in the background, Varvatos fulfilled the mission of building a collection that speaks, if nothing else.
Another designer that attracted much attention during the Men's Fashion Week this year is Andrea Rosso. Rosso's up and coming fashion label, MYAR, is heavily influenced by the military, which, for this year, caters to the United States Army.
Army green made a consistent appearance throughout the collection, but the combinations of blue, grey and orange surrounding it wards of a sense of homogeneity. Ombre and striped shirts, oversized outerwear and drapey pieces all give out a relaxing vibe of the streetwear style that dominates the high-fashion scene this season.
Another winning point of Rosso's collection is its environmental consciousness. Every piece in Rosso's collection is made of recycled and upcycled source materials. With conscious consumption and sustainability permeating conversations in the fashion industry, MYAR might be the label to ignite a movement amongst other European fashion brands.
Transformative Direction from Big Names
Pierpaolo Picciolo, the current visionary behind Valentino, makes a statement of what menswear is and should be headed for with Valentino's Fall/Winter 2018-19 collection. Traditionally, male sartorial standards have been dictated by the style of older, established, influential and well-to-do men. Guys with jobs such as investment bankers, politicians and c-suite executives have basically been telling men how to dress.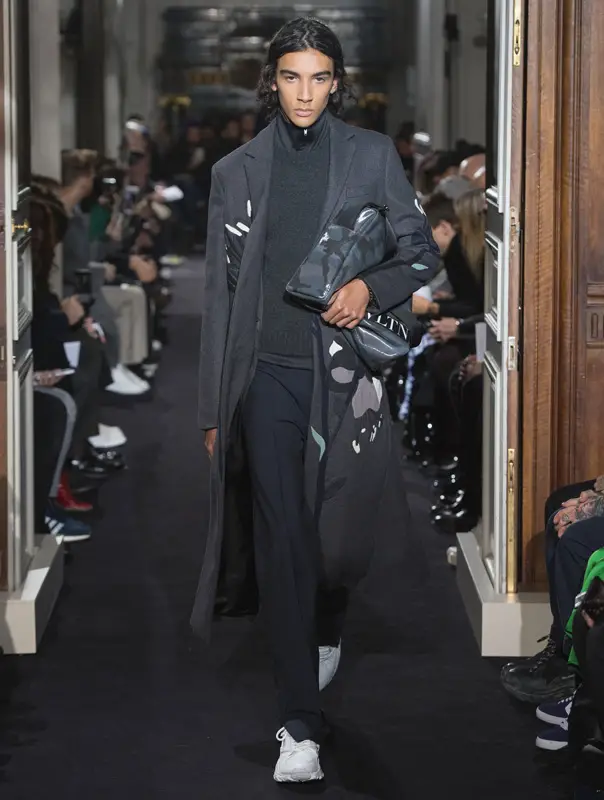 Valentino makes it clearer than ever that time has changed. A younger generation of men who don't hold such restrictive guidelines for dress is the driving force of the fashion industry nowadays.
The resurgence of the dad shoe, color-blocking and mixing traditionally formal garments with casual ones are all fashion choices that Picciolo uses to convey this message. Trousers and tracksuits have never been more casual.
Gender and Sexuality in Fashion
The global social climate has become increasingly more fluid in terms of gender, sexuality and identity. Creatives in the fashion world have dedicated themselves to vocalizing their views and those of society. Smith, Yamamoto, Browne and many other leaders in design have integrated androgynous fashion into their fashion shows, mirroring the changeability of the current time.
Fashion consists of various forms of expressions that simply cannot be ceased, and I think that's one of the most impressive aspects of this industry as seen in Men's Fashion Week in London, Milan and Paris. The designers' collections were largely as artistic as they were social and by providing a provoked, empathized and enlightened experience.
As the fashion business begins to wrap up the Fall/Winter 2018-19 menswear showcases, we're left to see what New York has to offer. Considering the emergence of social movements, political activities and other events, I have high expectations.
Varvatos has already set the tone by integrating the #MeToo and #MenToo movements into his menswear collections. It doesn't get any better than that.