Because it's 2018, and if you're not following meme accounts on Instagram, you're doing it wrong. I only started following meme accounts on Instagram recently for a more well-rounded social media experience.
Now, I find myself laughing at my feed, constantly sending memes to my friends and even reposting them on my own page. If you are ready to have your time sucked into that black hole and looking for a good laugh, here's an array of accounts to follow.
For your daily dose of borderline self-deprecation, nothing is better than Fiona_apple_butter. It is basically a diary of the mental processes behind the anti-social female, which you should indulge at your own risk. Be prepared for B—- City, feminist propaganda and existentialist garble.
A compilation of stupid people online. A depiction of my actual thoughts in transitioning from a teen to adulthood. A lot of random s— that I wish I thought of. Tim really has it all.
https://www.instagram.com/p/BhzTD30n6M1/?taken-by=timsmemeservice
Basically the same as Dabmoms1, but upgraded. Definitely not the things that my mom would think of as funny, but I have found my good dose of laughter from it, and you are likely to do so.
https://www.instagram.com/p/BiVCwG0hAqh/?taken-by=dabmoms2
The account is a bridge between you and the 1990s we all loved. The toys, cartoons and food we all used to love are all reformatted for comedic purposes.
Super relatable content for the average American who wears slacks and engages in conversation with their coworkers.
For the betch in all of us. Each of us has social norms and betches that reiterate these insanities through the use of memes. An illustrated version of the uncomfortability of everyday life.
I don't know what happened with Jerry, but this account is fire.
A classic, a public figure, a religion and a lifestyle. Thefatjewish showcases the absurd nature of everyday scenarios to which, when brought to life in this context, are just f—— hilarious.
His bio says "Your meme dealer" and he's not wrong. Dangerously relatable content for college students and millennials in general. Basically, that sense of humor you hide from the outside world, Memezar knows it and will meme-ify it.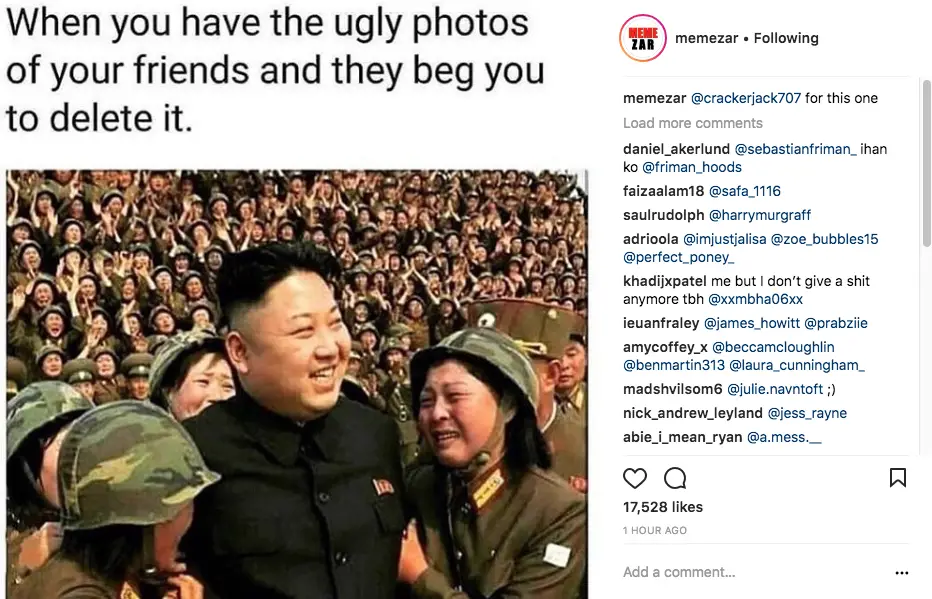 These are the things that I didn't think I would find funny until I did. The dirtiest, most terrifying and offensive memes — all on one page. Follow for your daily dose of the Yodeling Walmart Kid, Spongebob, Shrek and other strange things that are vaguely relatable to all. Absolutely do not follow if you are offended easily.
Humor for the antisocial (such as myself). Included are funny Tumblr posts, tweets, Urban Dictionary definitions and insane headlines. The less offensive version of memes that are just plain funny. This page reminds me of the "good old-fashioned fun" that my parents tell me to have on the weekends.
https://www.instagram.com/p/BiVV_VkHhfH/?taken-by=antisocialhumor
The name is accurate: follow for your daily cringe. This page features a wide array of cringe-worthy content, including Musical.ly's, all things emo, but mainly videos, so whatever you do: Do. Not. Have. Your. Sound. On. When. In. Public. You have been warned.
Call the police on this page. With its wide array of videos, this page brings me back to Vine before the legendary app was deleted. My favorite video has got to be a woman in court pronouncing meme as "mee-mee," saying that she did not make nor start the meme, which is my reaction when confronted by the content I share with my friends daily through these pages.
When I share memes on my own page occasionally, people message me asking me where they're from. And they're almost always from this page. The content is just the right amount of offensive, just the right amount of funny. And it's always relatable.
One of my friends once asked me if I run skabooosh. Unfortunately, I don't, but I'm a huge fan. This account is centered around hip relatable topics, such as the Mark Zuckerberg scandal, the Yodeling Walmart Kid and "Fortnite" (of which I have yet to understand). Also just some weird s—.
This account is also one that serves to terrify. No good humor here, just for those looking to take their humor to the edge and further spice up their feed. I'm fully supportive of the weirdo inside all of us, and this account is too.
For the 12-year-old boy inside all of us, who just hasn't quite reached pubity puberty yet. Relatable content for millennials, college students, "Office" watchers, correct grammar users, dogs, people in relationships and even people who like pineapple on pizza.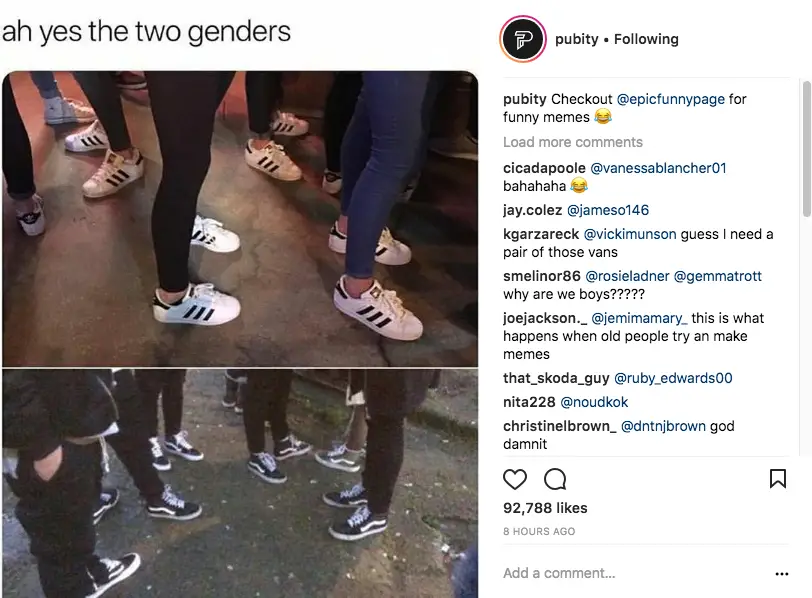 My therapist says I need to stop looking at memes.