The beauty of Instagram is that its culture drives users to care more about popularity than life itself, so the pressure is on to post meaningful, well-composed content. The fact that it's time-consuming and somewhat gauche to post in bulk intensifies the need to be engaging; it means that mass-produced pedestrian content stays in the miserable trenches of Facebook, where it belongs.
Unlike the Zuckerbergian wasteland, Instagram doesn't come with the sense of obligation to follow family members or former high school classmates, so unless you're a truly committed masochist, it's far less likely that you'll suffer unwanted baby pictures or incoherent rants from Trump supporters polluting your feed.
The haven for haute combines the endless scrollability of Tumblr with Twitter's access to the candid thoughts of famous people and casuals alike, with an imposed brevity that allows users to be infinitely more mysterious than they would be on the comparatively transparent Facebook.
You can tailor your public profile to an image entirely unbounded by reality, so no one has to be wise to your stunningly normal life as long as all you post is evidence of your fleeky eyebrow game.
The wonderful emergent property of this curatorial freedom is a collective body of photography that captures people's personal forms of artistic expression. The best part about this is that, like any specialized nook of the internet, weirdos abound and unite on Instagram for others' viewing pleasure. Here are a few examples of the odd subcultures you're likely to find if you spend enough time on the random search page.
Taxidermy
For whatever reason, critter morticians have made Instagram their social platform of choice. You can easily spend hours browsing creepy but expertly executed works, like jewelry designer @juliadeville's pearl-studded alpaca rocking horse.
But the best kind of memento mori teaches us that while death is the great equalizer, we humans are privileged to never have to worry about turning up on @craptaxidermy. This account tirelessly documents the post mortem animal equivalent of botched plastic surgery, to terrifying effect. Viewer discretion is strongly advised.
Weird-looking Live Animal Ownership
Hairless pets are very hot right now, and there's a sphynx cat Instagram account out there for every conceivable taste. Follow @carlthesphynx for his hipster aesthetic; several posts feature Carl lounging in his tattooed musician owner's arms and posing in a tiny gingham parka.
For those who have a soft spot for the obese, check out @meoweddie. He does that adorable thing where cats sit like humans, except the bizarre effect is amplified a millionfold by his million folds.
If you still can't get enough of kitties that look unreasonably angry, enter feline alopecia's answer to Grumpy Cat: @loki_the_sphynx. Loki has a face only a Klingon spinster could love, and perpetually channels the hatred of a one-star Yelp reviewer despite boasting an enviable sweater vest collection.
If you're really more of a naked-looking dog person, combine your love of pastel color schemes and wrinkles with Paddington the white Shar-pei dog.
Part land walrus, part scrunchie, this dog is not technically hairless but looks just as prone to a bad sunburn, which is good enough for me. Besides, my roommate nuked my dreams of owning a hairless cat by informing me that they're oily to the touch due to their lack of fur.
Unapologetic Fashionistas
Sometimes we need a little push to try something new, and in the context of fashion trends, nothing is more effective than getting some inspiration from people who regularly wear truly weird shit. It's classic psychological conditioning: the more you expose yourself to questionable aesthetics, the less outlandish your own choices seem.
If you're worried that your latest Forever 21 haul is a little too edgy, check out the following accounts to remind yourself that it could be much, much stranger. Blogger Leandra Medine's @manreppeller provides a comprehensive introduction to what I'm talking about. She champions avant-garde silhouettes in tastefully garish colors that look crazy on anyone who lacks the self-assured swagger of Evel Knievel.
If your vibe is more meme-literate kawaii-chic than Piet Mondrian at a David Bowie tribute, consider British model/grunge fairy Charlie Barker. She won't judge you for incorporating tiny Hello Kitty pajamas or pink plastic handcuffs into your lewk; bonus points if, like her, you match your color contact lenses with neon hair dye.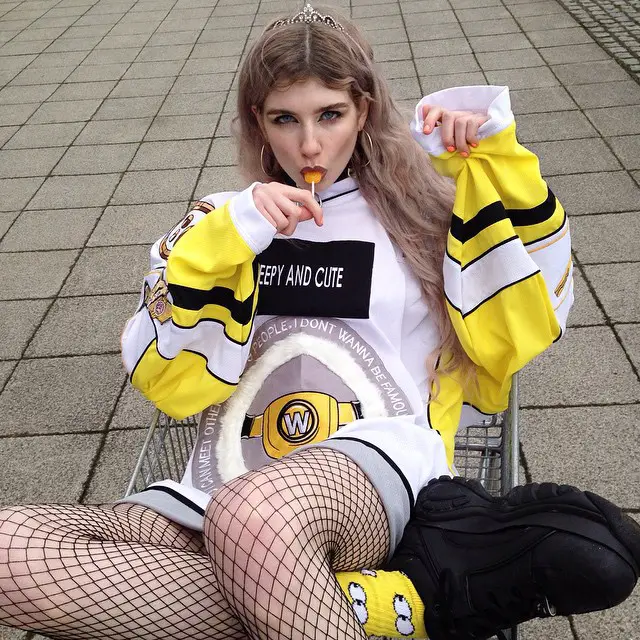 If that isn't out there enough for you, look to @gypsysport. This brand makes "genderless sportswear for the new world," which sounds cool until you realize this translates to ribbed terrycloth bell-bottoms and unisex mesh rope tank tops.
Ironically, Gypsy Sport is now among the fashion industry's biggest up-and-coming labels, which is great news for anyone feeling self conscious about their foray into high-waisted territory.
So long as the fashion world celebrates that which barely qualifies as functional clothing, it'll require considerable effort to commit a truly indefensible faux-pas.
Still, as is demonstrated by the thousands of disparaging comments you'll find on these posts, there will always be those who don't grasp the fashion-forward ingenuity. It's not about if someone questions your choices, it's when and how viciously. The most important lesson to draw from these accounts is that the true artists give no fucks. They just werk.
Hypersexualized Old People
First, there's Paul Mason, the Canadian male model better known to the internet as the "sexy mall Santa." Despite his all-white beard, Mason is only 51 and not quite yet a senior citizen.
Enter @baddiewinkle. This 87-year-old grandmother appears to only have hit her stride in her eighties, which is kind of sad but also kind of YAAAAS Baddie SLAYYYY!!
She's owning the retirement game as the elderly incarnation of the standard-issue "Instagram model": she has more followers that most B-list celebrities, is the face of the cutting-edge marketing agency that represents Nastygal and is regularly pictured posing in skimpy swimwear reading "DIMEPIECE." In other words, she's living out every Millennial's Miley Cyrus fever dream and shows no signs of stopping, U.S. census data be damned.