For decades, music and fashion have been joined at the hip. What would either industry be without Elvis' slicked hair and head-to-toe denim, Jimmy Hendrix's shirtless vest ensembles or The Velvet Underground's effortlessly cool striped-tees and chelsea boots?
The world wouldn't be the same without David Bowie's electric glam-rock style, the Spice Girls' platform British flag boots or Lady Gaga's iconic meat dress. Sure some of these influential style moments weren't all "stylish," but they sure did know how to make a lasting impression. It's safe to say that music would be nothing without its rocking appearance, and fashion would be nearly nonexistent had it not infiltrated the musical arena.
Yves Saint Laurent, a famous design house out of Paris, is the perfect representation of what it means to mix fashion and music to form an unforgettable bond. Zachary Cole Smith of DIIV, Sky Ferreira, Julia Cummings of Sunflower Bean and twin brothers Wyatt and Fletcher Shears of The Garden are all products of the eminent couturier.
Busted for heroin back in 2013 with girlfriend Sky Ferreira, Zachary Cole Smith is the epitome of the bad-to-the-bone musician archetype. His band DIIV, originally called Dive after the Nirvana song, is a perfect mess of grungy punk influence meets sludgy guitar riffs and distorted psych pop madness.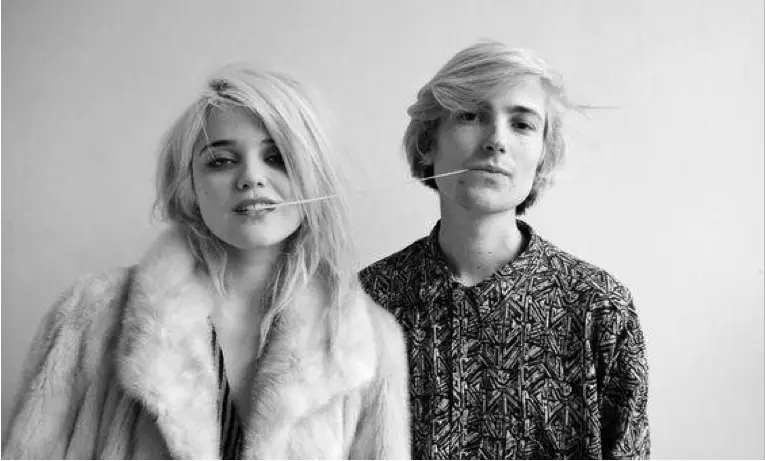 Smith's new album, "Is the Is Are," has seventeen songs that all use a slew of pedal boards like his last record, but they're far more lyric-and-vocally driven than ever before. This rock n roll attitude that's synonymous with drugs and not giving a fuck has been replicated in fashion countless times, but for head designer Hedi Slimane of Yves Saint Laurent, it almost seems to be what their brand is all about.
Cole not only puts his focus on being a Brooklyn psych pop-punk sweetheart, but a rail thin, cool cat walker for the infamous Men's YSL collection as well. Said to get inspiration for modeling from Sky, who is a well known print model and musician herself, Cole has said that he simply wanted a taste of what it was like to be behind the camera. Leather jackets, pin-striped skin-tight pants and the purely recognizable eggshell-white Cobain sunglasses embody the designer's aesthetic. Similarly, Smith's whole career also seems to be built on the iconic grunge god. His long, bleach-blonde hair and stark-white facial features make the uncanny resemblance to Cobain even more real.
Suitably, Sky and Cole also seem to have inherited the iconic role of the intense, drug-laced relationship of the beloved Nirvana frontman and his counterpart Courtney Love. While Cole's Brooklyn signatures are oversized '90s cartoon tees like Garfield and crazy printed '80s harem pants, Sky's go-to's are baggy Megadeth tees layered over baby doll dresses with chunky lace up boots. Her trademark piece is an army green parka with a fur-trimmed hood that nearly swallows the musician/model whole.
Sky has a highly anticipated album coming out this year called "Masochism." Until then, check out her duet on Cole's album, "Blue Boredom," and her collaboration with Primal Scream, "Where The Light Gets In."
From scouting at Austin Psych Fest, to scouring the Brooklyn and LA go-to spots, Hedi Slimane doesn't stop at replicating the rocker lifestyle through his garments: He uses musicians who are just beginning to make a dent in the music scene as sources of inspiration. In fact, Yves Saint Laurent recently snagged Julia Cummings, the front woman of the band Sunflower Bean, to model the brand's designs.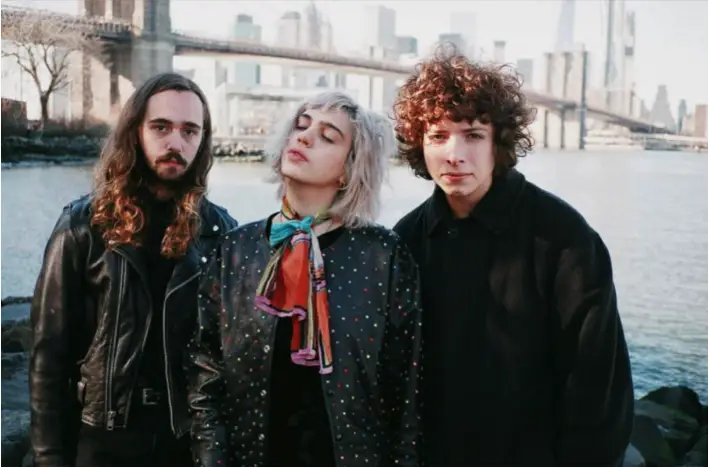 Sunflower Bean's sound—modern dream pop with hints of heavy guitar riffs—might remind of Black Sabbath, but their major influences, The Velvet Underground and Led Zeppelin, are what helped them gain inspiration for their new album "Human Ceremony." The upcoming album utilizes sound in a way that gives the music a dark side while still maintaining a balanced, airy feel. The music video for the trios' single "Wall Watcher" shows Cummings covered in lipstick as she bellows out the repetitive lyrics of the track with her ethereal vocals. Cover child for YSL, the nineteen-year-old Cummings and the rest of her band mates' style seems almost parallel to the iconic brand. Leather jackets, bright vintage suit jackets, platform leather boots and black-on-black everything is what you'll find these cool cats wearing. Follow them on their budding musical journey and take note of their killer attire along the way.
Finally, identical twins Wyatt and Fletcher Shears were one of the first musical muses that Hedi stumbled upon at LA hotspot, The Echoplex. Their defined cheek bones and tall stature were the perfect match for representing YSL on the runway.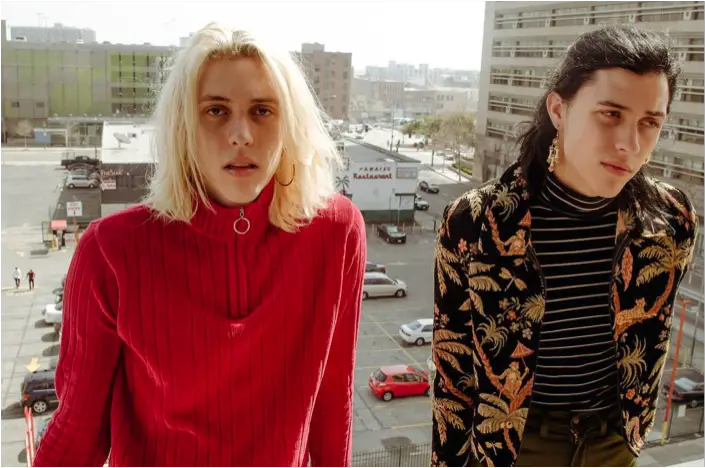 Wyatt and Fletcher were playing as their band The Garden, a group with a lo-fi, gothy, garage punk sound, when they were first scouted by YSL. Signed to Burger Records, the OC record label that's home to Ty Segall and The Black Lips, The Garden is twin telepathy at its finest. The duo has Wyatt on bass and vox with Fletcher killing it on drums.
On and off the stage, they incorporate their own unique fashion sense in addition to their musical abilities. In fact, Fletcher is known for his androgynous crossdressing that helps the two defy categorization in all aspects of their band and way of being.
Not caring whether his clothing is male or female, Fletcher says that he wears whatever makes him feel pretty. This mentality that the twins have created through non-stereotypical self-expression is what we as a society should learn from and try to emulate.
Although the most recent album they've come out with was haha back in October 2015, there's plenty to listen to since they both have released music through their personal side projects, Puzzle (Fletcher) and Enjoy (Wyatt), which can be heard on Burger Records as well.