Let's Hear It for the Girls
America is wild for its dominant, diverse fivesome, and for good reason: In a time of social tension, they've inspired a country.
By Amelia Williams, City College of San Francisco
---
~Disclaimer: The Olympics as an institution, in my opinion, is grossly inflated and places too much value on athleticism as a metaphor for national competency.
Brazil all but bankrupting itself to show the "developed" world that it can straddle the $14 billion budget it takes to host an Olympics is an irresponsible allocation of funds when over 20 percent of Brazil's population lives below the poverty line. Previous Winter Games in Sochi, Russia, and Vancouver, Canada, displayed how poverty is overlooked and that people in poverty are often displaced in favor of housing and accommodating athletes and paying guests. But that is an article for another day.~
First, I would like to shoutout all the American Olympic women who made their nation proud this summer. This was a huge summer of firsts for womankind: We won our first gold medals in the shot put, in wrestling, in the 4×100 relay and in boxing.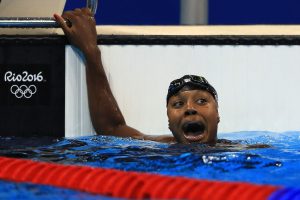 We won gold in basketball, swimming, rowing and even shooting. I don't consider myself a nationalist (let the record show), but I do appreciate women's hard work and celebrate their victories. But no amount of hurdle jumping or freestyling (I love you, Katie Ledecky) or gun-cocking could compare to the elation gymnastics brings me.
Last week, the United States and the world at large watched the women's gymnastics team win team gold. The group followed their first bout of domination by then annihilating the all-around, taking gold and silver in every one of the individual events.
As a long time gymnastics fanatic, former practitioner and sometimes-skeptic, I was ecstatic. The impact of a consecutive team gold after London in 2012 is not lost on me; the first time the US won team gold was in Atlanta in 1996 by less than a point, and the legacies of the Magnificent Seven still echo twenty years later.
I grew up on video cassettes of Shannon Miller's beam routines and the tumbling of both Dominiques, Dawes and Moceanu, and the greatest vault in gymnastics ever: Kerri Strug's one-legged landing that sealed gold for her team at the cost of her ankle and her gymnastics career. Seriously, watch the video; it still gives me chills.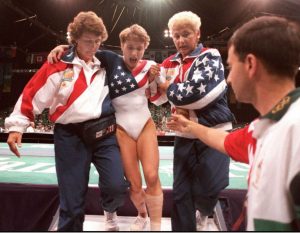 Now, to a casual fan who has only seen the last two or three summer Olympics, this may not seem like a big deal: America has won 3 of the last 5 women's team golds. But if you widen the lens, gymnastics has been an American insecurity for decades, and our newfound success is near-integral to our ego.
Women's artistic gymnastics has been an Olympic sport since 1936, the same year Hitler poised to utilize conspicuous consumption pageantry and athletic competition to showcase the superiority of the Aryan race (the brilliance of Jesse Owens caused Adolf to leave the stadium).
Since 1952, the USSR, now Russia, had not lost team gold in gymnastics. The nature of the Cold War went along nicely with Olympic rivalry, particularly gymnastics and ice dance; since you can't nuke 'em, why not undermine their national ego with some leotards and backhand springs? For Russia, a failing political system could be forgotten when their gymnastics vaulted over American heads, and for the US, the country's disastrous ending to the war in Vietnam could be quelled with a victory in ice hockey in 1980.
Fast-forward to 1996. Seven American women are challenging seven Russians who are representing their country for the first time without Soviet backing. The Americans were on their home turf, the team was full of national champions and they were tired of losing to Oksanas and Svetlanas, all of which led up to a win.
Today, a team gold carries just as much national pride, but it comes from a different place. This year's team, self-titled the "Final Five," was the most diverse group US gymnastics has ever had, with two African-American gymnasts in Simone Biles and Gabby Douglas, a Puerto Rican in Laurie Hernandez, white (and incredibly tiny) Madison Kocian and team captain Aly Raisman, who identifies as Jewish.
At the last Olympics, Gabby Douglas became the first black gymnast to win the individual all around gold, essentially making her the best gymnast in the world.
And after three world championship titles and enough medals to melt down into a golden sarcophagus, Simone Biles won the title this year.
Simone is even carrying the flag for team USA in the closing ceremony.
Not only have US women shown out this summer in Rio, black women in particular have been winning medals and endorsements left and right, and I couldn't be happier. We have entered an era of social activism in the United States where, despite black Americans spearheading music, art, language and athleticism, we as a nation do not respect their everyday autonomy.
Black women have won a quarter of the US medals in Rio, yet nine black women have been wrongfully shot and killed by the police this year. If the United States can openly support, endorse and advertise Simone Biles as an exemplary American, why can't its citizens embrace all black Americans, even the ones who can't stick a two-and-a-half-twist vault?
Kerri Strug was my idol when I started gymnastics, and part of why I could connect with her was because she looked like me. Now, little Latina and African-American girls will have idols, and not just in women's gymnastics.