Augmented reality is no longer pigeonholed into the gamer's corner as numerous medical companies are working to create apps that blur the lines between realities. The brainchild of Microsoft, called the HoloLens, is a self-contained device that lets users submerge themselves into the world of augmented reality.
Augmented reality, or AR, devices are typically associated with gamers, with their main use falling under the umbrella of providing a more realistic gaming environment. Various app designers, specifically those working in lockstep with the medical field, are entirely reimagining the possibilities for augmented reality.
The creation of certain apps based in the medical field that run on augmented reality devices means that doctors could use the HoloLens device in tandem with a medical-related app to potentially treat and diagnose patients. While technology can be instrumental in life-or-death situations, do augmented-reality devices have a place in the medical field?
Augmented Reality in Real-Time
Imagine this chaotic scene: a doctor is smack-dab in the middle of the emergency room with a patient who is in unimaginable pain and the diagnosis is evading all medical personnel, until someone suggests using a HoloLens. The doctor slips on the goggle-like creation, turns on Nomadeec and instantly the device is assessing and attempting to diagnosis the patient. It might seem like such a reality could only be a possibility many years in the future, but companies such as Exelus and Holoforge are combining their brainpower to create an app that could do just that.
Nomadeec is an app that functions on the HoloLens and lets the user immerse themselves in augmented reality to treat patients. The app, as explained in an article posted on Next Reality, can track a patient's vital signs by connecting to numerous types of medical devices, such as ECGs thermometers, stethoscopes and ultrasound devices, via Bluetooth. By simply placing the goggles on one's face, a medical professional can almost instantly assess the patient and even connect to other doctors when a second opinion is needed via videoconferencing.
While the ability to identify elusive health problems would no doubt be not only a time-saver but also lifesaver, it's crucial to investigate the practicality of such devices in the medical field. For example, in the initial article posted on Next Reality, various capabilities of the Nomadeec app are marketed directly at EMTs and paramedics. The premise behind this idea is that EMTs and paramedics are on the frontlines of the medical team, and timely assessments and correct diagnoses of patients can literally mean the difference between life and death.
The idea that paramedics might potentially be fumbling with the HoloLens in a chaotic, time-sensitive moment could have some feeling a bit uneasy because it could put the patient as the second priority. The use of augmented reality in such a stressful situation also might lead some to question the competency of the medical professional who should be able to work quickly and correctly under duress. If paramedics and EMTs become accustomed to using augmented reality to treat patients, what happens if they encounter a situation where they no longer have the HoloLens or Nomadeec as a crutch to guide them?
Still, apps like Nomadeec could see more success in less pressing settings, like in a doctor's office where rapid response isn't the first priority. The app would be useful because it could cut down on interaction time between doctor and patient by potentially storing all of the patient's vitals after quickly obtaining them.
AR and the Classroom
That's not to say that augmented reality doesn't have a place in the medical field; some of the elements of AR should be utilized by med students who are learning how to react in different medical situations. CAE Healthcare has recently launched an app called LucinaAR that lets students experience different medical complications that might arise in different stages of pregnancy.
An article written by Next Reality explains that the app, used with both HoloLens and a physical mannequin, gives students "a visual simulation of birth in a shoulder dystocia scenario, an uncommon pregnancy that presents a higher level of difficult for delivery." LucinaAR is an incredibly useful app because it gives students the opportunity to encounter hyper-realistic, difficult birth scenarios in an environment that allows room for mistakes. The delivery simulation takes learning to an entirely new level as it also lets students see and understand the internal functions of the human body in an interactive setting.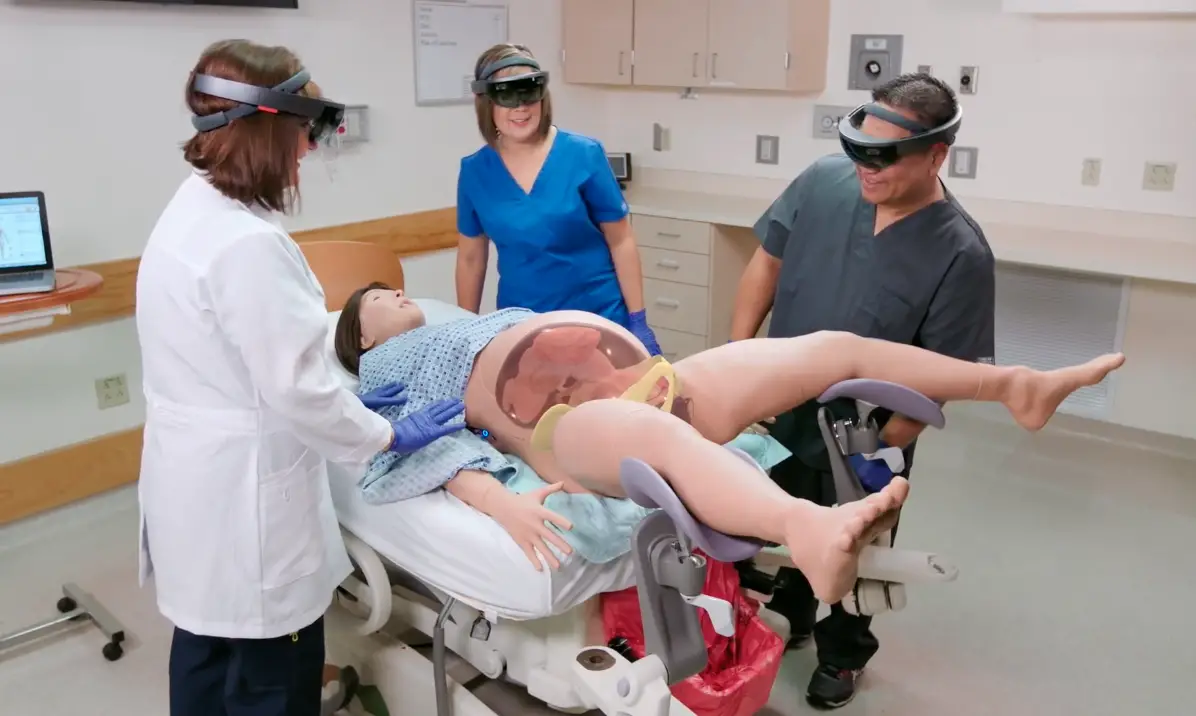 CAE plans to roll out other simulations in the near future as well, including more typical delivery simulations and other high-risk scenarios. The work that CAE is doing speaks to the potential place augmented reality has in the medical world. While CAE focuses on creating more simulations of various augmented-reality birthing options, it can be speculated that other companies might start creating apps that allow medical students to encounter a whole slew of medical emergencies. In doing so, students entering the medical workforce would have not only much more confidence in their own skills, but also a better grasp on what to expect during urgent situations.
It seems that augmented reality and the medical world function more seamlessly when they aren't used in situations that are occurring in real-time. By using AR in controlled environments where room for error exists, students can hone their skills while also becoming familiar with the pressure that comes with working quickly and efficiently. The use of augmented reality in actual instances of medical emergencies seems irresponsible and a bit dangerous for health care professionals because the devices might become more of a distraction as they are precious seconds away from someone in need of medical attention.
Augmented reality is useful when applied to appropriate scenarios, so it will be crucial for medical personnel to decide when the time calls for the use of apps like Nomadeec. As AR continues to revolutionize not only just medicine but also education, it will be interesting to see what parameters are set to keep the blended reality in check.