If websites like SoundCloud and YouTube have taught us anything, it is that anyone can make music—but very few people can make good or original music. In the modern era, this truth is perhaps more relevant to electronic artists than anyone else. In particular, the genre of trip hop seems deceptively elusive. A genre that combines simple hip-hop beats with eclectic sampling and occasional instrumentation seems easy on the surface, but time has proven otherwise. If you have explored aspiring artists in this genre or related ones, then you are already well acquainted with the seemingly infinite sea of lazy sampling and undercooked beat-making that dominates free music sites.
However, those who have risen above the white noise have produced some of the freshest, most fun and culture-defining sounds of the last decade. I'd like to focus on four artists/groups here, selected for their influence, camaraderie with each other and because they are personal favorites of mine: GRiZ, The Floozies, Exmag and Gramatik.
Let's get a couple things out of the way first, though. The genres "future funk" and "trip hop" are being used here as general labels, not ironclad and thoroughly definitive categories. These genre names exist to organize sounds next to each other for the sake of the consumer, as opposed to separating every artist into their perfectly descriptive corner.
Second, these artists are not the only ones killing it in these genres. Pretty Lights, Manic Focus, Sunsquabi, Russ Liquid, Koan Sound, BRANX and Big Gigantic are all comparable examples of talented artists with diverse and funky sounds. If the four artists focused on this article interest you, definitely check out their equally talented counterparts as well. With that said, let's get into it.
1. Gramatik
Denis Jašarević, a.k.a. Gramatik, was born in Slovenia and moved to Brooklyn in his twenties to pursue his music career. He has described his earliest music as straight up hip hop, but was wise enough to market the lyric-less beats to EDM fans on the music-sharing site "Beatport."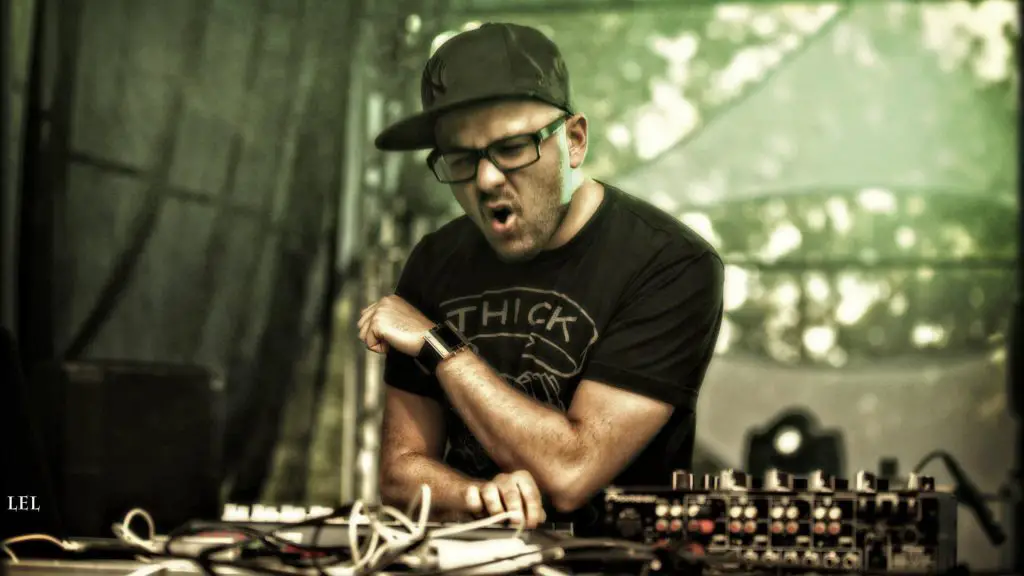 The beats themselves were rarely musically complex, but his genius shined through in his mastery of sampling and layering. He would use '20s jazz and combine it with soul, then place that over top of grimy bass or smooth synthesizers. It is reminiscent of the great hip-hop producer J. Dilla in that each song/beat continuously changes in small ways, so that an attentive listener may pick up the song at any place in its runtime and know exactly which part of the tune they were listening to.
With time, he branched out into dubstep and house music as well, making albums that were extremely diverse in sound and influence. He began reaching out to musicians to solo over top his smooth production to add layers of complexity. Saxophonists, keyboardists, drummers and even flutists have lent their talents to his musical endeavors. He has collaborated with other electronic artists, such as GRiZ and Big Gigantic, as well as actual funk bands like Cherub or Gibbz.
He is also exceptionally prolific. Since 2008, he has released nine studio albums, three EPs and a fantastically chill compilation titled "Coffee Shop Selection." He even started the label Lowtemp Music, which has signed, among others, ILLUMNTR, Russ Liquid and his side project Exmag.
2. Exmag
This brings us to the second group on the list. Exmag (short for Extraordinary Magnitude) is the embodiment of Gramatik's love for collaboration. The group is composed of Eric Mendelson and Tyler Dondero, who both play keyboard and guitar; Mike Iannatto, who does most of the beat-making; occasionally Bryn Bellomy, who plays bass and provides vocals, and Gramatik, who masters all their music. Together, they combine the energy and sound design of electronic music with the good vibes and creative authenticity of musicians who just like to have jam sessions together.
They also have an extremely wide range of sounds. Some of their music, such as their song "Ten Thousand Clams," for instance, is extremely abstract and trippy, while other songs, like "Zan," are composed primarily of funky grooves with minimalist soloing. They've collaborated with GRiZ and been featured on multiple tracks from Gramatik's solo career. They seem to alternate between infusing their work with prototypical elements of rock and reverting back to sexy soul.
Take their song "Tilt Mode" featuring Gibbz, for example. "Tilt Mode" is buttery and intensely funky, taking full advantage of Gibbz's lead singer Mike Gibney's impressive falsetto to deliver a certified banger of a performance. Given that almost every member of Exmag has a significant career outside of the group, they do not release music as often as the other artists on this list, but when they do, it is always a sound to behold.
3. GRiZ
GRiZ, or Grant Kwiecinski, seems to be an innovator in this movement of electronic artists meeting musicianship. Despite being more of a producer than anything else, GRiZ also plays the saxophone and takes every opportunity to use it in his music. He is famous for playing his sax during live concerts while simultaneously mixing. His music is probably the closest to the more traditional electronic sounds of dubstep, house and trap of any other artist on this list, making his music oscillate between relaxing and extraordinarily hype.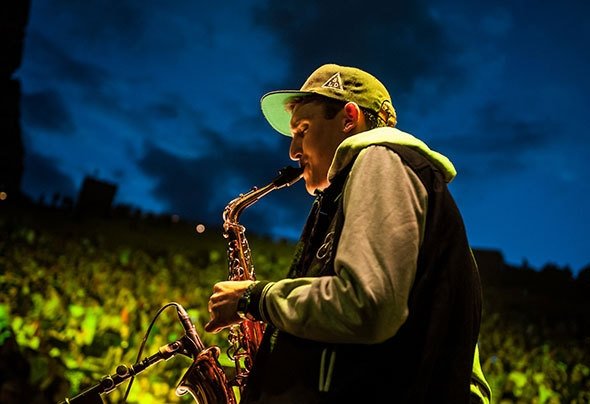 This ties into one of the more unique elements of GRiZ as an artist: His live shows are unlike almost anyone else's. The man knows how to party. His set lists are always fire, his energy is incredible and he is constantly getting other artists to tour with him in order to increase the "live band feeling" as well as the overall spectacle of his performances.
He famously collaborated with Gramatik for multiple tours, forming "Grizmatik" for an all-too-short amount of time, and at one point they even enlisted Big Gigantic to create "Big Grizmatik." He also tours frequently with Russ Liquid and The Floozies, the latter of which are signed under his label All Good Records. He even has his own strain of weed, called GRiZ Kush, that won second place at Denver's Cannabis Cup for People's Choice Flowers. At least for the time being, everything GRiZ touches seems to turn into gold.
4. The Floozies
The Floozies are the group on this list that are impossible to listen to and not dance. They are composed of brothers Matt and Mark Hill, who make what they call "Funk for Aliens." If you ever see them live, you will see why they always tour with GRiZ. The two almost never have a set list or previously recorded samples. Instead, they build using loop pedals and their telepathic connection to feed off of each other's musical ideas and take their audiences on a tour of funk, jazz, film score references and bring-down-the-house trap.
They are the epitome of the creative, jam session-based party music pioneered by people like Gramatik. In front of raving audiences, they experiment with improvisation on a new level for electronic music. In their recorded music, they use incredibly complex layering and sampling to melt your mind while you involuntarily bob your head until your neck hurts. Sometimes they dip into classic rock, sometimes they swing sideways into hip hop, other times they tiptoe into dubstep. You can't not have a good time when they start bumping in your speakers. Whatever The Floozies do, it is always going to be a spectacle.