A question for my fellow Austin locals: Do you remember the first time you went to Barton Springs? Did you watch AcroYoga enthusiasts and wonder, "How the hell can they be so flexible?" When heading down to the water, you probably thought your friends were exaggerating about how cold the water was going to be. After you dove in and began to hyperventilate though, you realized they were not joking. If you looked around, pockets of long since graduated frat guys and circles of friendly hippie folk freckled the crowded hill facing the pool.
Then you laid your eyes on a pair of boobs. Boobs everywhere. Okay, not everywhere, but you probably spotted a few women basking bravely beneath the sun, unafraid to expose their bare bodies to the crowd. And once you left Barton, you might have noticed the naked men biking around downtown. Yes, it's safe to say that after a year in Austin, my curiosity about nudist communities had reached at an all-time high.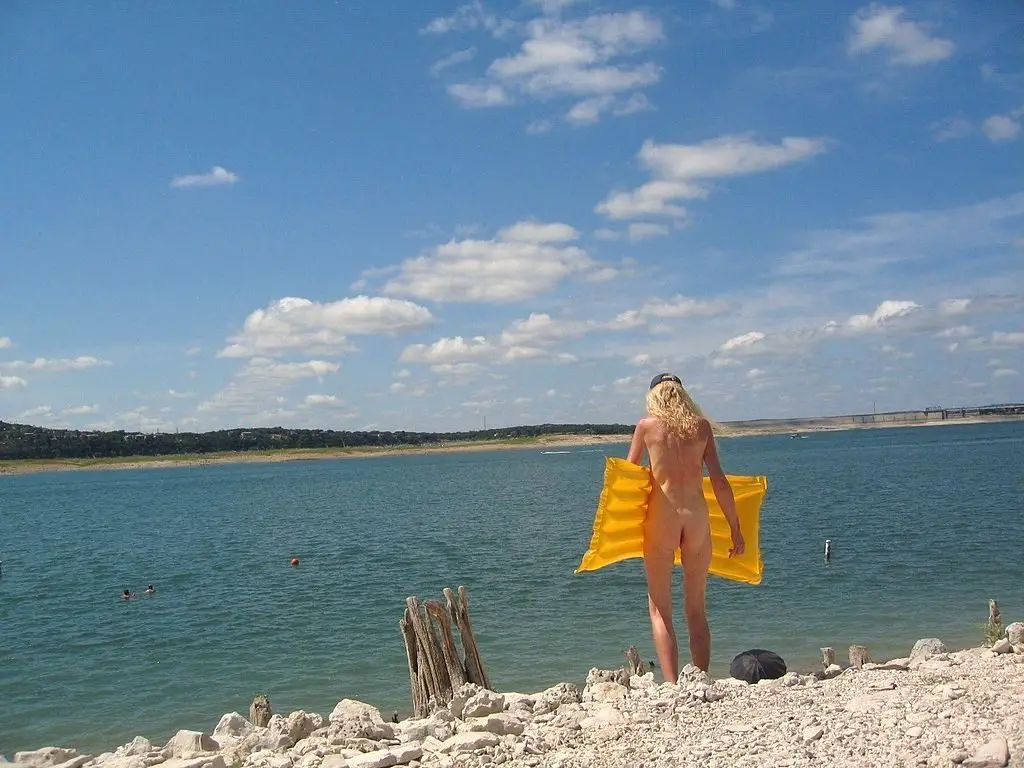 Though first mentioned in the Bible, nudism has been a part of human life since the first clothes were unhappily donned. It wasn't until the twentieth century, though, that the practice became a movement. Nudism is generally defined as the act of being nude in one's personal community or home, though practitioners typically seek out locations that allow them to ditch their clothes.
Similar to nudism, naturism is nudity with theory behind it. Naturists advocate naked living, as well as abstaining from alcohol, tobacco, violence and unhealthy eating. In addition, they also promote practicing yoga and meditating regularly.
Believe it or not, the movement began in Germany and was called "Freikorperkultur," or "Free Body Culture." Playing sports and sunbathing naked were common amongst the participants. This practice was unfortunately curtailed when WWI erupted across the globe, but eventually led to special parks and areas across Europe that were designated as "clothing optional," areas in which men and women could dress (or not dress) as they pleased.
In 1931, The American Association For Nude Recreation was formed to "advocate nudity and nude recreation in appropriate settings, while educating and informing society of their value and enjoyment."
Still around today, the yearly membership gives members discounts at designated nude resorts and clubs, and shares information about classes, activities and updates regarding nudity laws. The association states that social nudity is a form of true body acceptance and insists that clothing is not needed unless protection is required.
What would our world look like nude? Would girls grow into healthy, confident individuals that love their bodies for all that they are? Would males stop sexualizing female body parts? After all, we enter this world completely exposed, so why do we insist on hiding ourselves?
Nowadays, nudity is most common at European beaches, though naked yoga has grown into a legitimate option for exercise, and Forbes estimates that the movement racks in over $800,000 a year. In states such as New York, Hawaii, Maine, Ohio and Texas, women are specifically given the right to be topless in any location that men are. There are unique resorts and hotels that offer clothing optional policies and local areas that refrain from regulating clothing. But where are these places?
Hippie Hollow is a park on Lake Travis that invites recreational nudity. You do have to be 18 to enter for legal reasons, but the area is only 20 minutes outside of Austin and perfect for college students who crave the granola lifestyle. If you're located in South Florida, check out Haulover Beach in Bal Harbour to truly get the Miami experience. And if you're a West Coaster, you'll have no problem in a place like California, where nude beaches decorate the coast.
Not into the public nudity deal? Check into a hotel. Or should I say resort? While Jamaica and Mexico are home to some of the world's most popular nude destinations, the most lenient I've come across is Caliente Caribe in the Dominican Republic. The entire resort is clothing optional without any restrictions on dress codes for dining or tennis matches.
Although most college students can't afford the luxury of vacationing to an isolated island, they can explore local options and educate themselves on the idea of baring all. Studies have shown that spending time nude beneath the sun can increase your vitamin D absorption and mood. Your skin will be healthier because your sweaty toxins won't hang onto your clothing. You'll also live longer; studies show that women who wear less clothing can live up to a staggering 20 years longer.
Reach out to your local naturist community or visit a spot to test the waters (naked). On the other hand, if the idea of being unclothed in front of a crowd scares you to death, maybe you can develop a healthy body image elsewhere, although naturists seem to have found the key to a long, healthy life.