Fruit Infusion 101
You like fruit and you need water, so here are six delicious combinations featuring plenty of both.
By Olivia Buzzacco, Bowling Green State University
---
"Is that real fruit in your water?"
After glancing at my water bottle filled with different kinds of berries, I've had more than one person ask me this question over the past several months. I'd assure them yes, there was real fruit in my water bottle and yes, the fruit did flavor the water (and no, I did not eat the fruit after the water was gone, but you definitely could if you wanted to!).
When it comes to surviving the heat of the summer, you know how important it is to stay hydrated all day long. Hydration is especially key for living in places where summers are constantly sweltering. I recently visited my parents in the Outer Banks of North Carolina, and every day I was there the temperatures hit the nineties with unbearable humidity.
I carried a bottle of water with me everywhere I went. I'm a nut about my water intake. In fact, you're supposed to be drinking anywhere from 2-3 liters of water a day. 2-3 liters seems like a lot of water. And there are a lot of people who don't like drinking water due to the lack of flavor, and usually end up resorting to other drink choices, like Gatorade, flavored water or soda pops. But what about infusing your water with fruits?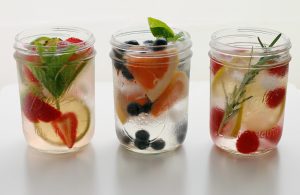 Maybe it sounds weird, but you've definitely been to weddings or restaurants where lemons or cucumbers have been placed in your water goblet. I originally got the idea of infusing my water from my mother, who is a nurse and someone always looking for new ways to replace sugary drinks. So what better way than to try out infusing your water? This is the perfect way to flavor up your summer, and there's so many different combinations to try.
I tend to use strawberries, blueberries, blackberries and raspberries. But I've heard of people who use lemons, apples, mint, cucumbers, oranges and even jalapeños, of all things.
Most people see water infusion as a healthier alternative to sugary drinks, but honestly? That's not the reason I've been doing it at all. I just like the taste and how pretty the fruit looks in a water bottle (it's so visually appealing). But if you're looking for more reasons to give water infusion a try, there are several videos on YouTube and articles online which discuss different fruit combinations to try, helping with stress, your immune system and many others. Other articles discuss how infusion can keep you hydrated without the extra calories.
Of course, there's a couple tricks and tips to keep in mind if you choose to infuse your next glass of water. For one, decide what is the best way for the most flavor to be captured from your choice of fruit. Slice your strawberries, cucumbers, oranges, lemons and limes. If you choose to use apples, slice them very thinly, this way more flavor can be extracted. If you choose to use citrus fruits, consider removing the rinds, as they can produce a bitter taste after a while. I recommend puncturing your blueberries. Raspberries and blackberries are totally fine as they are.
Another thought to keep in mind is how much fruit you're adding to your water. Too much fruit can produce an overpowering taste (this usually happens when I add too many strawberry slices to my water).
You can also choose to let the infused water sit overnight, or drink it right away. There are some fruits better suited for infusion, such as the ones listed above, while others tend not to work so well. For example, strawberries almost immediately flavor the water, but sliced kiwi requires a much longer soak and don't produce much flavor in the water.
Of course, you can choose the alternative route to infusing your water and place the fruit in ice cubes, and if you're really feeling crafty with your ice cubes, check out these different ice cube ideas for all of your everyday activities.
Here's a couple different infusions to try out:
Raspberries and blueberries
This one is my personal favorite. The raspberries are the dominant flavor here, but I find the blueberries to be an especially nice touch. You can also choose to go the raspberry and blackberry route if you choose. Like blueberries, the blackberry flavor is subtle, but very enjoyable.
Lemons and strawberries
An excellent flavor for the summer, the bright colors and contrasting tastes work together so well. It would be best to remove the lemon rinds for this one, as you don't want the bitterness to get too overbearing.
Sliced apples (gala or red) and cinnamon sticks
This is the perfect mixture as you slide into the crisp months of fall, and even in the winter. Apples can be tricky to work with, as the slices used in the water need to stay cold, or else they'll start to brown. But if you go about this infusion the right way, it will be rewarding. Check out this infusion here.
Lemons and pomegranate
This is one combination I absolutely need to try. Pomegranate has a bold, refreshing flavor to it, but can be irritating to eat at times, since you're essentially eating the seeds, which are full of the bursting juices. To get the pomegranate flavor in this combination, be sure to pierce the seeds so the juice is able to mix into the water.
Strawberries, cucumbers, limes and mint
Yes, try out some herbs while you're at it. Aside form mint, you can try out sage, ginger, rosemary, basil, thyme and many others. For the mint, you can either tear it up or crush it into smaller pieces. Mint is also commonly associated with stress relief, so this would be a tasty and calming drink to try out.
Jalapeños and strawberries
It might seem strange, as both of these infusers seem to be so vastly different. But if you like the sweet and the spice, this is something to check out. Take note on how spicy you want this mixture to be, as it doesn't take too much of a jalapeño for the drink to get too spicy.
Of course, there are lots of different combinations to try out. For more ideas, you can check out Vanessa Greaves's article about infused water from AllRecipes, which details many different options and how to prepare the fruits and herbs you use. You can also check out Amy Pogue's website, dedicated to all things water infusion.