Vince Staples is not a gangster-rapper, despite what many have labeled him following his critically acclaimed debut studio album, "Summertime '06." The album acted as a lens into Staples' psyche, and it established him as a legitimate contender in the competitive hip-hop landscape.
In August 2016, Staples released a short EP, titled "Prima Donna," in which he began to dip into more experimental production and vocals.  The EP served as a bit of foreshadowing, as Staples would continue to progress into a more experimental, futuristic sound. Staples released a single titled "Bagbak" in early February of this year, and a wave of speculation began circulating regarding a possible album in 2017.  It was not until May 18 that Staples confirmed that he would be releasing an album, titled "Big Fish Theory," on June 23, as well as dropping the second single from the album, "Big Fish." In the lead up to the release, Staples released a third single, "Rain Come Down," and a track list for the album.  Finally, June 23 came, and "Big Fish Theory" was officially available to the public.
Staples only included twelve tracks on "Big Fish Theory," and the album is only thirty-seven minutes long, a stark contrast to the twenty-track behemoth that was "Summertime '06."  However, the shorter run-time should encourage listeners to experience the album in its entirety, at least on the first listen.
"Big Fish Theory" is not an work that should be skipped through or put on shuffle, as there is a clear effort to make each track tie into one another.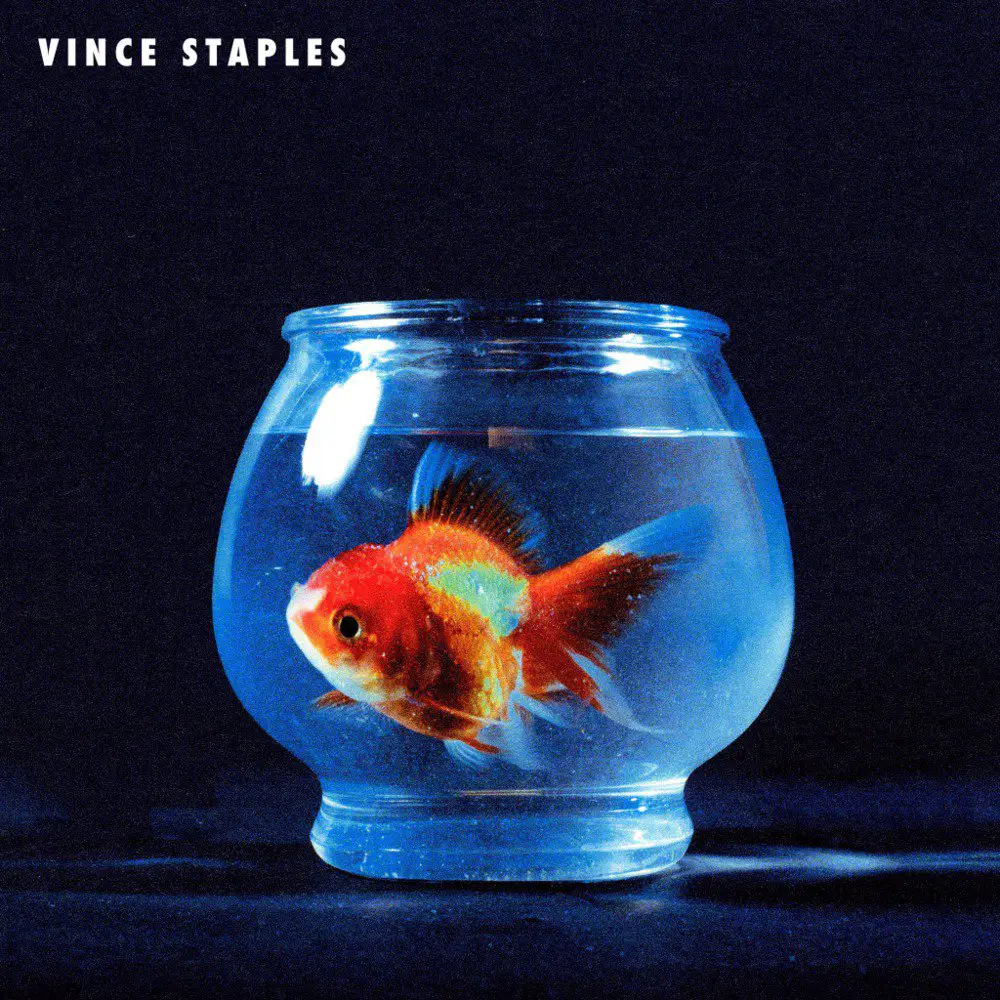 The opening track begins with a soundscape-esque tone, which is quickly interrupted by staggered synth notes and distorted vocals.  Listening to the opening few moments of the song makes the listener feel like they are submerged in deep water.  What was a very relaxing opening to the track becomes unsettling very quickly; eventually, the soundscape tones are completely eliminated, replaced by a low, driving bass.
Staples delivers two verses on the track, and they serve as a glimpse into the mood of the following tracks on the album.  He speaks on multiple topics that will reappear later in the record, such as success, race and how he views his own music.  Finally, Kilo Kish makes her first of multiple appearances on "Big Fish Theory," delivering a beautiful verse.
What is clear from the moment that "Crabs in a Bucket" begins is that "Big Fish Theory" is not going to be a typical hip-hop record, and as an opening track it does a fantastic job of grabbing the listener's attention.
On "Big Fish," Staples takes a moment to reflect on his success and how far he has come at this point in his career.
Corey Smyth (Staples' manager) told "LA Weekly" that, "If you can wake up every day and know that rent is paid, and you don't have to worry about where your next meal is coming from, and you know that if someone you love and care about asked you for something, you can give it to them, it changes perspective."  Smyth says, "Those are three things I know for sure he had to deal with that he doesn't have to deal with now."
Considering the environment that Staples' grew up in, it is clear that he appreciates how fortunate he is to have reached this level of success.
He also touches upon the negatives of success in "Big Fish" when he says:
Swimming upstream while I'm trying to keep my bread
From the sharks make me want to put the hammer to my head.
The idea that staying rich is more difficult than getting rich is an interesting perspective on success, and Staples weaves it into an otherwise braggadocio track very naturally.
The beginning of "Alyssa Interlude" includes a snippet of an interview with Amy Winehouse.  Staples has confirmed that Amy Winehouse was the inspiration for the EP he released last summer, "Prima Donna."  In the interview, Winehouse speaks about a past relationship she had, and how she dealt with the heartbreak of the relationship ending.
Following the interview snippet, Staples delivers one of the most heartfelt performances in his entire discography.  He speaks about a past relationship that he had, and documents a moment in which he is looking out of his window thinking about how much he misses the person.  Eventually, Staples' lyrics become intertwined with The Temptations' "I Wish It Would Rain," highlighting the emotion behind the moment that Staples is describing.
If someone said that Ray J, the Gorillaz' Damon Albarn, Kilo Kish and Vince Staples all collaborated on a house-inspired beat, it would be fair to assume that there would be too much going on for the track to make sense.  However, "Love Can Be…" proves that not only is such a collaboration possible, it could very well be the best track on "Big Fish Theory."
Staples sat down with "LA Weekly" and had this to say about the album: "All I can tell you is that it's current.  It's tomorrow.  It's next Thursday.  We making future music.  It's Afro-futurism.  This is my Afro-futurism.  There's no other kind."
It is clear that "Love Can Be…" is a product of the mindset that Staples had when he set out to create "future music." Not only did he combine multiple different genres within one track, he made it extremely cohesive.  If this is the direction that people like Staples want to bring hip-hop, it is difficult to raise a negative argument against it.
By the way, the Ray J feature was a dream come true for Staples, also.
Continuing with the theme of love that has been present on the previous two tracks, Staples speaks about his experience with women on "745."  The song begins with Staples delivering a lackadaisical hook, in which he is asking a woman if he can pick her up at 7:45.
On his first verse, he talks about how his goals are all coming true, but becomes stuck on the fact that for his whole life women have lied to him. The very same hook that started the song instantly has a different connotation, as it is clear that Staples is essentially begging for approval from this woman that he is talking to.
The most poignant line of the song comes when Staples admits that,
This thing called love real hard for me
This thing called love is a God to me.
He admits that he struggles to connect with people, and success has not changed that.  He compares this relationship to God because it feels like he may never find it, but he continues to have faith that someday he will find it.
This short interlude sees Staples wondering to himself if his memory would live on in a place as far away as New York City if he suddenly died.  He struggles with the idea that if he were to die, that his memory might be limited the area surrounding his home in Long Beach.
"Yeah Right" sees Staples questioning whether or not his contemporaries actually live the lives that they describe in their music.  His first verse is completely composed of questions, and he clearly doubts that these artists actually have all of the things that they talk about; hence the track title—"Yeah Right."
Kendrick Lamar further cements himself as an artist who can fit on any song and make it his own.  His verse is relatively standard compared to what he has released recently, but is still the best feature on "Big Fish Theory."
"Yeah Right" is also an example of the futuristic production that the album prides itself on, as the song's producers, SOPHIE and Flume, are able to capture an extraterrestrial pallet of sounds and make them all fit together perfectly.
The eighth track of the album sees Staples pay "homage" to those that have inspired him, while at the same time questioning his own success. Contrary to popular opinion, Staples does not see artists from the nineties as inspiration. In fact, he thinks the whole decade was overrated. Instead, Staples borrows a hook from Rick Ross, and says that no one is going to stop him from being remembered as a legend.
He sees himself as the new standard, saying that "he is too cultured and too ghetto."  He believes he is the best of both worlds in hip-hop, someone that is cultured enough to take an artistic approach to music that some will not understand it, but still in touch with where he came from to the point that his music will connect with people from his area.
"SAMO" includes clear influence from the A$AP Mob, as the production is reminiscent of a classic A$AP Rocky track. "SAMO" is a play on words that is supposed to sound like "same old," as Staples and Rocky tell their listeners to watch them "do the same old thing."
Staples is declaring on this track that he is done doing anyone favors, and is all about himself from now on. The heavy bass, combined with Staples' confident delivery, creates an intimidating tone that makes "SAMO" feel like a warning to other artists.
The tenth track of the album is ironically one of the most upbeat songs on the album in terms of tempo and tone, yet its lyrics are the darkest and most unsettling on entire record.  Staples speaks about his insecurity and suicidal thoughts, while masking it with a song title like "Party People" and a chorus that implores his listeners to keep dancing.
Staples claims that his entire persona is "false bravado all masked by wealth." The track is an interesting commentary on how people expect artists to be entertaining regardless of what may be happening in their lives. Similarly to how some people may separate themselves from their problems with drugs, Staples uses his ability to control a crowd to escape from his problems, even though it never actually solves anything.
"Bagbak" is an unapologetic, in-your-face barrage of sound.  Whether it is the bass-boosted, electronic beat or Staples' ability to fill every second of the track with vocals, "Bagbak" maintains the energy that was found on "Party People."
Due to how quickly he rose to fame, and how young he still is, Staples has found that people feel like they know him just because they have listened to his music or his interviews.  He reminds these people in "Bagbak" that "you don't know me." He also uses "Bagbak" to say that he is not satisfied with one black president, and wants more black people, specifically women, to gain positions of power in the United States.
The closing track on "Big Fish Theory" is one of the strongest tracks on the entire record.  Rain is a symbol that appears a few times on the album, including in "Alyssa Interlude," when Staples implied that rain on his windowsill reminded him of a past relationship he had, saying, "Sometimes I wish it would rain."
"Rain Come Down" is relatively bare bones in terms of production, and the track is carried by Ty Dolla $ign and Staples' lyrics. The chorus is repetitive, yet the inflection and tone that Ty uses on different points in the lyrics makes the chorus remain fresh throughout the track.
Staples' verses on the track contain many of the themes that he referenced throughout the album: his fear of being killed, his disdain for the police and his experience with love.  Yet, his ability to articulate these ideas in multiple different ways is one of his strengths as an artist.
In general, "Big Fish Theory" is Vince Staples best album to date for a variety of reasons. First, he continues to push the boundaries with the production that he includes on his records. "Yeah Right," "Love Can Be…" and "Party People" all stand out in terms of a futuristic take on hip-hop, and making a futuristic album was something that Staples said he was trying to do.
Second, Staples allowed himself to appear vulnerable on "Big Fish Theory."  He constantly speaks about his experiences with love, and delivers very emotional performances on the album's two interludes, "Alyssa Interlude" and "Ramona Park is Yankee Stadium."  He also speaks from multiple perspectives of his own ego, as he appears powerful in "Big Fish" and "SAMO," and desperate in "745" and "Party People."
Finally, the features on "Big Fish Theory" all fit perfectly and don't feel out of place. Kilo Kish is the MVP of the feature list, as she appears in almost half of the tracks, while Juicy J, Ray J, Kendrick Lamar and Ty Dolla $ign all provide fantastic features, as well.
Compared to his last studio record, "Summertime '06," there is little difference in terms of overall quality, but the fact that "Big Fish Theory" trimmed away all of the filler makes it a more cohesive, and entertaining, experience.  Staples continues to grow as an artist, and, at just twenty-three years old, it is exciting to think what he might do next.