How to Avoid Looking Like a Jerry on the Slopes
Three simple tricks to keep the Coloradans from hating you.
By Will Strecker, University of Texas at Austin
---
It's January, and aside from the dawn of a new year that brought resolutions of personal improvement, the death of David Bowie and the possibility of a Trump dictatorship, we must not forget that January is peak ski season across the country.
Powder enthusiasts and mogul experts alike flock to the top ski destinations in the country, where they spend the deep winter months shredding the gnar with friends and family.
This is all well and good, but for those inhabiting areas of the country where skiing/snowboarding is best served on man-made half pipes in Waco, Texas, (without snow!), actual snow sports are more fiction than fact. Nonetheless, every year plenty of people shed their geological constraints and venture into the mountains to taste the pow pow for the first time.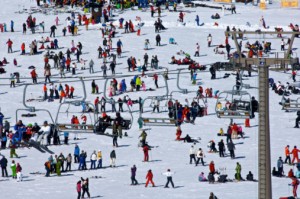 Okay, maybe they tasted it before in the past, but it was a few years ago and they forgot mostly everything. Noobs like these flock to the ski resorts during prime skiing season, looking forward to a winter wonderland, learning a new skill or sometimes sharpening an existing one.
But for the people that ski or board every year, or those that actually live in these areas, the new year and the start of peak ski season brings with it masses of people, making the runs much less enjoyable than any other time of the year.
Since many of the greens and blues are half filled with people either on their ass or moving sheepishly down the mountain, skiers with slope experience are forced to either seclude themselves to black diamonds and more advanced runs, or weave through the crowds of Jerry's that are making the typically smooth descent to the base a lot bumpier.
Now, many of you probably read that last sentence and thought little of it. Others saw the word Jerry and thought, "Jerry? What?"
Maybe some of you even thought I meant that there's an influx of people named Jerry at ski resorts, or that I assume everyone I don't know is named Jerry. Still others of you might be looking at this piece as if you're reading, but can't read, so anything I've written to this point looks like total nonsense.
The truth is, a Jerry is not necessarily someone named Jerry, nor do I assume all strangers are named Jerry.
Jerry is a term used by slope veterans to describe specific kind of person who generally lacks "understanding for their sport, or for life in general," as described by the Instagram account Jerry of the Day. And while spending time in Breckenridge, Colorado, during college week, I encountered countless Jerry's on the slopes.
So, to the point.
I want to help people that are new to winter sports avoid being a Jerry. Or at least minimize their Jerry-ness. And while much of this is general life advice, these tips are more acutely served on the gnar. If you plan on going on a ski trip this winter or spring, keep these valuable tidbits in mind to make your trip more enjoyable.
Coloradans, despite their reputation for being mellow and progressive, hate Texans.
Maybe hate is a strong word, but suffice it to say that most Coloradans who live or work at ski resorts like Breckenridge would prefer it if Texans stayed in Texas. A friend of mine living in Denver told me that Breckenridge is referred to as "the Texans' playground." Or something to that effect.
The reason for this is somewhat obvious. Coloradans ski and snowboard as much as, if not more than, Texans barbeque and wakeboard. Imagine how often someone living in Hawaii must surf—that's roughly how often someone in Colorado snowboards.
Thus, it makes sense for natives to be pissed when Texans (or people from other southern states), who have a fraction of the experience and skill at snowboarding that Coloradans have, flock to the prime ski resorts, where they flood the lifts and turn every open run into an obstacle course from hell. And trust me on this: Many of the Coloradans we encountered didn't hide the fact that they disliked us.
So, what's the solution? How does one from the south beat the prejudice? Well, it helps if you at least know your way around a snowboard/skis.
However, if you're one of the many that don't, there's one foolproof solution.
Pretend to be from somewhere other than Texas or the states to the east.
Just to be safe, don't say you're from Oklahoma either (this should be common sense though, because Oklahoma sucks).
Let's role play.
Pretend I'm an employee at the ski resort and I ask you, "Where are you from?" Don't panic, the answer is within reach. Say it with me: "I'm from California."
Make sure you're confident in your answer, ending your sentence in a down tone instead of an up tone. Up tones make it sound like you're asking a question, and you certainly don't want to be asking a stranger if you are, in fact, from California. That's silly, and instantly leads the employee to question whether you really are from California.
"Maybe you're actually from Texas," he would think, and all your hard work reinventing yourself would be for naught. For the best results, say what state you're from quickly and precisely, and then proceed to the lift.
Now that we've covered interactions with the natives, let's discuss appearance.
Helmets are necessary to fit in.
At a rental shop, I overheard an employee tell some Jerry that 85 percent of people use helmets. So move past your self esteem issues or your desire to look cool and wear a damn helmet.
Not wearing one doesn't make you look more experienced.
If anything, it makes you look more like a rookie, as all the veterans know that falling on a run is inevitable. Falling isn't strictly a result of your lack of skill; one must also account for the ineptitude of Jerry's.
Goggles are also important, especially if you want to see what's in front of you.
Wearing goggles isn't really a point of discussion though, it's how you wear them that's important.
If you don't want to be laughed at or have mean words yelled at you as you're sitting halfway down the run, make sure the gap between the top of your goggles and your helmet is minimal.
In other words, the front of your helmet should come down about halfway down your forehead, and the top of your goggles should cover the other half. A gap on the forehead is a dead Jerry giveaway.
That's it. If you want to have the best possible ski trip this season (or next season, or the next season, etc) remember: Pretend to be from California, wear a helmet, reduce your forehead gap and generally act like you know what you're doing, even if you don't. Be delusional if you must.
It also helps to remember that the ski resorts will likely be crowded with other Jerry's, frustrating the resort employees, so just relax and act super chill and understanding, and you should be fine.
You are now ready to conquer the mountain.