When Superfans Strike
Thank god for sports or who knows what these people would be doing.
By Charlie Wooley, San Diego University
---
With the NFL Playoffs in full swing, the NBA surging toward the second half of the season and March Madness slowly approaching, it's a phenomenal time of year in the sports world.
The Warriors are on pace for a record NBA season, the NFL playoffs have been wildly chaotic and the Florida Panthers of all teams are rising toward the top of the NHL. And that's not even mentioning the gripping College Football Championship we just witnessed.
We're at a transitional stage, where some of the most legendary sports programs are sinking towards mediocrity, giving other small market teams a chance towards glory. There's no better time to be a sports fan.
So it's no surprise that we've seen an abnormal amount of deranged fans screaming from the sidelines, night after night. These are some of the craziest superfans who've recently relished their place in the spotlight.
Memphis Grizzlies' Bongo Lady
Most fans outside of the NBA probably didn't even know that Memphis had a professional sports team, but they do, and the Griz are just as old school and grit-and-grind as you'd expect out of Memphis. But that doesn't mean they don't know how to have fun.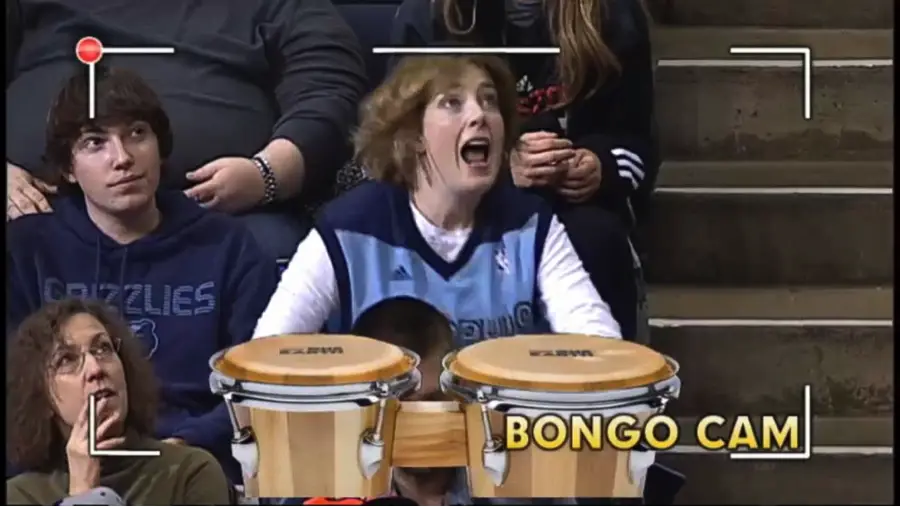 Every home game, superfan and local judge (that's right) Malenda Meacham shows up on the slight chance that Gloria Estefan's hit "Conga" blasts over the loudspeaker. Then she enthusiastically lays down the law on a pair of virtual bongos for as many seconds as she's allowed. And the best part is that she goes fucking crazy!
Who doesn't like to jam along with that song? Admit it, you've probably done the same at some point—just not with thousands of people cheering you on.
She's gained so much notoriety that she was given a customized "Bongo Lady" jersey and has even made appearances on Good Morning America. The fans and the team love her, so much so that Tony "First Team All-Defense" Allen has a special hype-inducing introduction for her on the Jumbotron. For once, Memphis locals enjoy being in her court.
Minnesota Timberwolves' John "Jiggly Boy" Sweeney
Sweeney has become notorious for pumping up the crowd with his ridiculous belly dances that make even the mildest fan want to get loud. He's cheered for the team since Kevin Garnett won the MVP in 2003, but since KG recently returned to the Wolves, Jiggly Boy has been back in action, showing off his moves almost fifteen years later.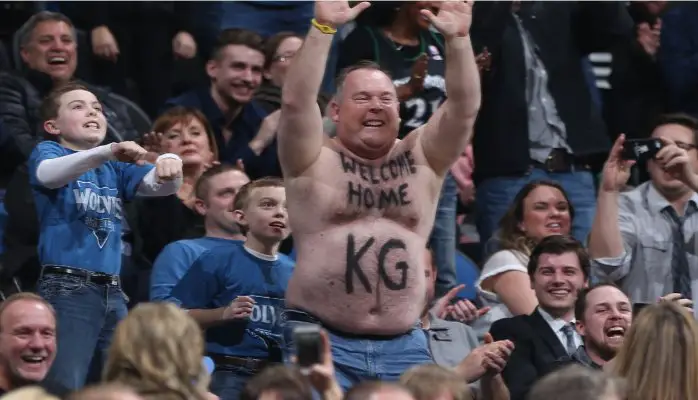 For KG's first game back, after hearing Nelly's "Hot in Herre" booming over the speakers, Jiggly resumed his decade-old tradition, ripping off his shirt to reveal "Welcome Home KG" plastered across his chest.
KG of course, played along and tossed a casual salute up into the stands to acknowledge the naked enthusiasm of Minnesota's favorite superfan.  Although Jiggly has significantly more wiggle than in 2003, the crowds still go wild.
Alabama Basketball's Jack Blankenship
One of my favorite superfans of the last few years is Jack Blankenship, a hardcore Alabama basketball fan. When his home team finally made the NCAA tournament, Blankenship had the courage to print an enormous cardboard cutout of his own face and display it on national TV to use as a free throw distraction.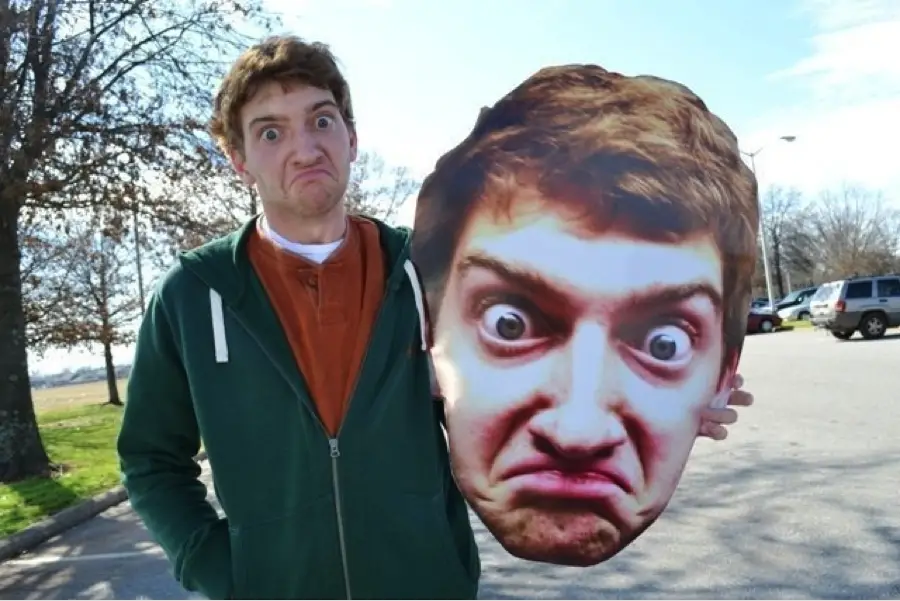 From scantily clad cheerleaders to hypnotic cutouts and spandex morph suits, free-throw line photo bombing has a long and storied history. In all that time though, no one's come up with something this original and absurd.
Some photo-bombs have been cruel (think Tony Parker staring down a cutout of his Ex-wife) or unusual (the Sixers' fat man dance) but this one was just good, clean fun. Plus his facial expression is hysterical.
Tampa Bay Lightning's "Rocket Man"
Although the Rocket Man is one of the newest additions, he's probably one of the most entertaining. Technically, the Rocket Man isn't really a superfan, but he isn't technically a mascot either. What he is is a living, breathing, entertaining advertisement.
In a brilliant PR move, Lightning owner Ben Malek hired an employee to wear one of his company's suits in order to boost morale in a close game, gaining the extra bonus of product placement.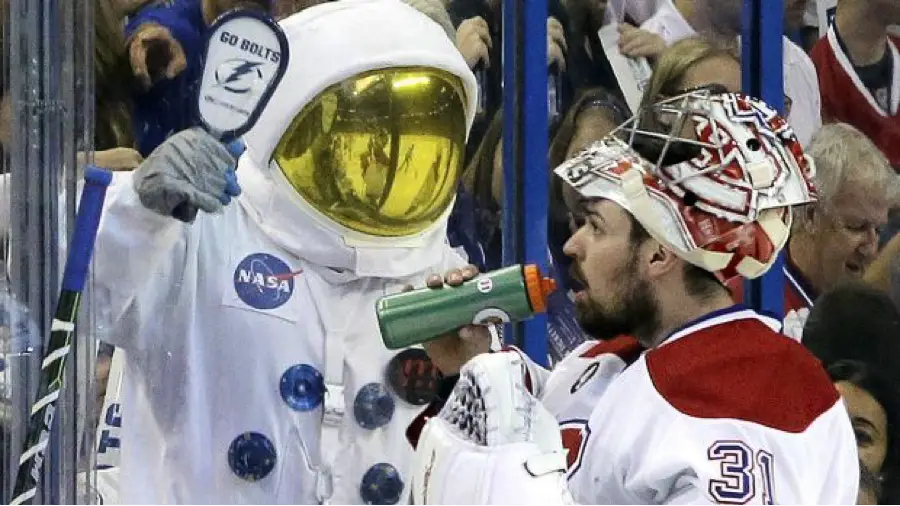 When the Lightning pulled off a last second victory, he kept the Rocket Man as a good luck charm. The Rocket Man became a viral sensation and a source of inspiration for a city typically not known for its sports prowess. The Rocket Man seems like a successful good luck charm, as a young Lightning team recently took a veteran Chicago squad to six games in the Stanley Cup.
Plus you have to admire any fan willing to jump around in a full spacesuit in to antagonize full-grown men riding on razor-sharp blades, who are capable of playing through blood, broken bones and inordinate amounts of pain. Pretty crazy when you think about it right? All that just to support your team? That's the definition of a superfan…or the beginning stages of insanity.
So, if you ever think you've gone too far, watch some of these fans. Do you have your own customizable jersey? Are you playing the air bongos on a Jumbotron in front of 15,000 people? Is everyone around you giving you a weird look or laughing unreasonably hard at your expense? Are you currently half naked? If you've answered yes to any of these questions, you've likely crossed into the fanatic zone. But that's okay.
Whatever your reason is, there's no better time than now to embrace your inner sports fan. With hours of great competitive sports lined up over the next few months, it's the perfect time to think creatively for new ways to support your team. Who knows, maybe next time you'll be on this list.