On campus, it's Paris Fashion Week every day.
And I don't just mean this season, or resort week, or S/S 2018 that shouldn't even exist yet — I mean ALL of them. On campus there are no rules. However, there are plenty of trends. To truly capture the essence of 18-25 year olds with existential dread, three-day hangovers and disposable income in an outfit is a mighty feat, and one students do well.
Note: The trends discussed in this article are from my experiences at two schools on the west coast (Vancouver, British Columbia and San Francisco, California), and do not necessarily reflect the aesthetics of colder climates. And if you go to school in NYC, none of this applies to you.
1. Adidas track pants
These are non-negotiable. I have never seen them worn anywhere but on campus, and I've gone to college in two countries now. They are unisex and go with literally everything: riding boots, Birkenstocks, Rainbow flip-flops, Nike Freeruns — more on footwear later though.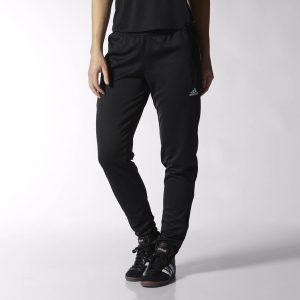 The pants are critical to establishing yourself as brand-conscious, but not trying too hard. They beckon curiosity: Is he going to the gym? Did she just roll out of bed? Who knows! But she looks cool doing it.
Perhaps, though, the pant's greatest benefit to a college student's beleaguered arsenal of clothing is their compatibility with all the major footwear trends.
2. Branded leggings/yoga pants
This is for my ladies, and I'm just as guilty. I say branded instead of Lulus because Lulu applies to 80 percent of leggings worn by college women, but there are exceptions. In Vancouver everyone owns something from Roots, a popular Canadian clothing brand.
Leggings, coupled with the track pants and sport shoes for leisure all feed into the larger trend of college students wearing workout gear
3. An extra bedsheet
At some point, you're going to need a toga. And since the likelihood of finding a toga store adjacent to campus is low, you've got to be resourceful.
4. Footwear
Possibly the most fascinating anthropological study of all time will be an examination of what students put on their feet.
These trends are so prevalent that identifying them has become a game: One point if someone's wearing black Nike Freeruns; two points if they're wearing them with Adidas track pants; three if they have the haircut.
5. Birkenstocks
This trend is especially prevalent in areas in which the weather allows for open-toed shoes all year round, adding socks of course to enable wintertime usage. Birks are campus shoes: rarely do they make it past the libraries and mess halls.
They reflect how lax you are, how much you like walking in the woods and how much weed you smoke. Urban alternatives include Rainbow flip-flops and slides, which can be either Nike, Adidas or Gucci.
6. Dr. Martens
By now you may be getting the feeling that as young people, we are too attached to trends. We do all these things to fit in, including how we dress.
But if you don't want to fit in, how do you communicate that to the rest of your school? You do it with some Dr. Martens. They are tough and counter-culture and that's the vibe you put out by wearing them. The shoes come in many colors and styles, but realistically you're either going to get them in either black or oxblood.
7. Riding boots
These I know are universal. There are three options for the riding boot. In descending order of popularity, they are: light brown, dark brown and black. They should always sit at the knee and the heel should be roughly 2 inches.
They are seen almost all year until it gets warm enough to wear Nikes or flip-flops again. They help transition a lot of summer wear into fall, namely the aforementioned branded leggings. Start with a tank top and Lulu's and add the boots, a cardigan and a scarf and you are college girl™.
8. Accessories
In college it's about more than the clothes. Your accessories should be minimalist, versatile and most of all — very clearly branded (conspicuous consumption is the greatest trend of all).
Backpacks
Backpacks are the new purses. For every girl I see carrying her books in a purse or a bro lugging his day's contents in a duffel, there are ten people toting backpacks. But not just any backpacks. There is somewhat of a backpack hierarchy.
Obviously, Herschel is at the top. Seriously, I was under the impression every other brand had died out for a whole semester. They also come with wallets so you don't have to worry about how to match that.
A close second, and one I think is more for art school kids than your standard American College Student, is the Fjallraven Kanken "rucksack." Yeah, they don't even call it a backpack anymore. This one is great for markers and sketchpads and lots of little quirky art school trinkets. I've only ever rocked a Jansport and a terrible messenger bag before that.
None of us packed enough shirts the first year. I got sick of my wardrobe by Christmas break and needed something to hide how often I was repeating outfits. Enter, those enormous scarves that hang down over your second-day-shirt so no one recognizes you.
That might just be my personal reason for investment in them. Most girls wear them to keep warm, but I can't imagine they haven't covered a fashion faux pas on at least one occasion.
Earrings from Claire's
Just me? Ok then. When all your money goes to your feet, it's easy to forget about your ears. But by spending little on earrings, I'm not losing diamonds when I get drunk off jungle juice at Frosh week, and I have a bounty of earring backs for when I do splurge.
If at least three of these trends apply to your fashion philosophy, congratulations you're probably in college! Wear it while you can, because with that diploma comes the interview pantsuit and office dress code.