The Best of the Twitterverse
You better hurry though, because there's no telling how long @BernieThoughts will be around.
By Olivia Buzzacco, Bowling Green State University
---
There's millions of glorious Twitter accounts out there—the parody accounts, the ones that make you think, relate, laugh out loud—the list goes on and on.
You find new ones all the time through the accounts you follow, and I'm sure you wonder about the accounts you haven't discovered yet. Let me take this opportunity to showcase a couple Twitter pages you should be following, if you're not already. These are the famous, the rising stars, the parodies and everything in between.
If you love coffee, then Coffee Dad is the perfect account for you. Coffee Dad sure loves his coffee, and makes sure everyone knows so.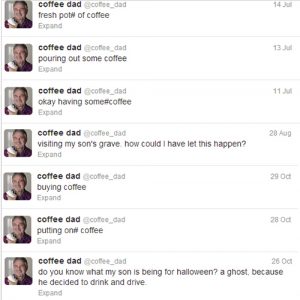 The coffee fanatic in you can definitely relate to a lot of his tweets, because he is short, sweet and to the point about his one true love.
Coffee Dad tries his darnedest using hashtags to reach out to more coffee people, and I'm sure after a while the word "coffee" is going to look and sound foreign to you—that's how dedicated he is to his love for coffee. So get going! Go follow Coffee Dad. He tweets at unexpected times, which will make you love him even more and have you begging to enjoy a nice cup of java with him.
A major switch of the gears, but Yoko's Twitter page is definitely worth it. This is hands down one of my favorite accounts. The once infamous wife of John Lennon, artist Yoko Ono knows how to work and mold the Twitter universe. Her tweets are reflective, thoughtful, and meditative. This account is your daily dose of inner peace.
Yoko inspires with every tweet she puts out ("When you follow your heart, the ropes will disappear."), and even lets you in on her own life little by little ("I don't eat a lot for breakfast. My stomach is still sleeping, so I just have tea or coffee.") I love this woman. Her Twitter knows how to speak to the soul in all the perfect ways.
Now here's a kid who is definitely on his rise to popularity, little by little. Brady is a godsend to the college Twitter crowd. He's quick, smart, wickedly funny and has a very clear love for dogs.
The Western Pennsylvania native lets followers in on his life as he adventures through college ("I have nothing due this week and no tests, so I have been taking it easy, which has actually given me more stress. I hate this place."), a summer internship in Pittsburgh ("Tips for living in Pittsburgh: Use/ lack of a turn signal means nothing. Assume nothing. Be safe. They're all savages here.") and being around his family ("I walked in and my mom goes 'Why are you home? Did you get kicked out?' I didn't even have time.").
Please, take the time to scroll through Brady's tweets. More than once I've spent too much time going through what he has to say, ending up all the way into last year, and it was time well spent. I am #blessed to have Brady in my life, and you will be too.
The Twitter account that lies at the heart of the exciting world of fathers. Total Dad Move is the ultimate account for everything dad, and they've got their own apparel too. I live for TDM, because their tweets are always on point with the dads of the world.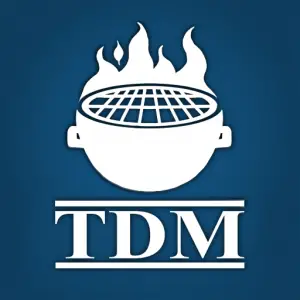 The blend of both dad jokes (*drives past cemetery* "dad: wow people are just dying to get in there") and shit dads do ("Saying 'they don't make them like they used to' when something breaks") is perfect and makes for an enjoyable Twitter experience. Definitely check this account out and see how many of their tweets you can relate to your own father.
5. If Celebs Were in High School (@CelebsInHS)
This account cracks me up every time. If Celebs Were in HS is exactly what it sounds like—putting celebrities into stereotypical high school roles and commenting on what they do and how they act.
The account is hilarious and spot on with each celebrity featured: Ellen DeGeneres as the media teacher? Betty White as the school nurse? Leonardo DiCaprio as the drama club vice president? Jim Carrey as the assistant principal? Anderson Varejão as the kid who only gets put in games when the team is up/down 30 points? Ah, they're all so good. Celebs in HS is an absolute riot, and the list is never ending. Spend lots of time on this account.
With the presidential race in full swing, I'm not sure how much longer the Bernie Thoughts account will be around, so soak up this page while you can. In fact, spend time just scrolling through all of Bernie's past tweets. The all caps is perfect, and everything posted is beautiful ("MANY WEBSITES ARE STILL MADE BY HAND RIGHT HERE IN AMERICA").
Bernie's thoughts are the epitome of his charisma, and he's bold, blunt and gets the job done with his tweets.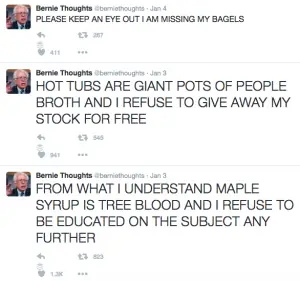 Bernie supporter or not, this account is a definite must for anyone keeping up with the mayhem of politics in the US, and for anyone who likes food.
Bernie spends a lot of time reflecting on food in his tweets("THE CENTER OF THE BAGEL IS A REMINDER OF THE VOID AT THE CENTER OF ALL OF US"), and it's such a fun time.
Not what you're thinking, this Twitter account doesn't really parody good old Daria Morgendorffer from the '90s cartoon "Daria," but rather just whips tweets at you about all the hilarious aspects of life (but I will say the Daria bit is a lovely plus, because many of these tweets can be imagined in that memorable Daria voice).
The account is too relatable to my life ("When I was young I wanted to be married by 23. let's all laugh together."), and I guarantee you'll be able to relate to it as well. I love the variety it has to offer—from everyday complaints, to wishing for seasons and holidays to arrive, to showcasing the cute, romantic, laughable Vines trending online—the account never gets old.
I've been following Medieval Reactions for as long as I can remember. What better way to look at old artwork than through this hilarious account, which adds a lovely twist of humor to each art piece being featured.
The captions for the pictures are always spot on, and not only will have you laughing, but also underscore the weirdness of artwork from all those years ago (no really, babies with abs? Creepy af). More than anything, Medieval Reactions will probably have you getting out and going on trips to art museums—see how many paintings you can put captions to.