Hardly Potter
Why J.K. Rowling's latest work is leaving fans across the world disappointed. 
By Mallory Arnold, Ohio University
---
Like many, I grew up with Harry Potter.
I blew through the first few books and went to the premieres decked out with lightning scars and long black robes. I went to school with a stick stuck in the back of my skirt because I thought it was proper to carry a makeshift wand on me at all times, lest my Hogwarts letter came in last minute.
Point being, I'm a lunatic when it comes to J.K. Rowling's series. She's not only my favorite author, but a fantastic role model to an aspiring writer like me. So when an announcement came out that Jo was releasing a sequel book, I celebrated with a Butter Beer and ordered the book so that I would get it the day it came out.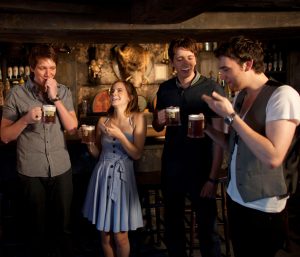 When the novel arrived I was too afraid to open it, so I just slept with it under my pillow for a few days. You think I'm kidding. I don't joke around when it comes to Harry Potter. I finished it in a day, put it down and felt only one emotion radiate through my skin.
Disappointment.
I'm not the only one. Fans everywhere are in an uproar about the "Harry Potter And The Cursed Child," demanding answers from their beloved J.K Rowling. I was curious to know more about how something that was pumped up to be the life-changing read of the century had somehow gone horribly wrong.
First of all, there were three authors involved—not just Jo as fans all hoped. The title of the cover reads: "Based on an original new story by J.K. Rowling" then goes on to list John Tiffany and Jack Thorne below her wonderful name. To most die-hard fans, it's an unsettling feeling to share something as precious as Hogwarts with two random authors they have never heard of. For most, it's inviting two strangers in for Thanksgiving dinner.
The second issue people had to pick with Jo, was the fact that it was a script of a play. Although she specifically tweeted that it was indeed, not a book, fans still were shocked when they cracked the spine to find the format was all wrong. Where was Jo's specific tone? Where was the description and Harry's characterization that fans all craved? It's hard to criticize this simply because it was told beforehand what was going to be published, but fans could still not shake off the uncomfortable feeling of a cold reading.
Still, the play itself seems to be a hit. It officially premiered on July 30th, and was immediately hailed as a sensation while people ranted and raved about how magical it was.
Another issue readers had was the horrible, cringe-worthy words fan fiction. (I shudder typing that.) Fans threw the word around, comparing the 308-pages to a crummy fan fiction by a fake fan. While it hurts my soul to have that word anywhere near my beloved Harry, I find myself agreeing with the masses. Reviews suggest that the writing is basic, sloppy and written so casually that people were offended Jo agreed to have it published.
The most disappointing factors people were up in arms about were the characters.
The wizards fans looked forward to greeting once more with wide smiles and open arms had now changed into complete strangers.
When an author writes a series that explodes into such a big fan-base, you'd think said author would be very cautious as to how he or she's characters are depicted in any later stories. But in "The Cursed Child" that prudence seems to all fly off the broomstick with almost zero resemblance to any of the original cast. The Harry Potter following has dedicated themselves to memorizing, familiarizing and loving each character of the series so there is no fooling them when it comes to re-writing their personalities.
"I know Harry Potter. And that, was not him." An angry tweeter responded to the book, amongst a herd of similar comments.
The last and probably most vocal outrage that was heard about the book was the plot line itself. I even found myself scoffing while flipping the pages, thinking, "That happened? Yeah right." If readers are finding things unbelievable in a story about magic, that's when you know something is a bit askew. With two authors, the plot may have been a little choppy and overall not the most authentic.
Of course, once I finished the book, I said nothing to anyone. I refused to admit that there was something Harry Potter related that I did not like. But once I saw how up in arms everyone was I couldn't keep silent any longer.
It's not only heart-breaking that "The Cursed Child" didn't get a positive response, it's bafflingly interesting. A series with such popularity and loyalty suddenly has all it's fans in an outrage—it's not something that happens everyday. It leaves me buried in a heap of all the original books weeping, "Why Jo, why?"
Funnily enough, the reviews have zero correlation with sales. It has sold 2 million copies in just two days, a whopping number that would make any author feel magical.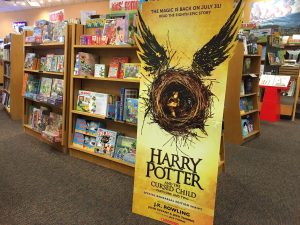 Truth be told, fans are secretly grateful they were given anything at all. I mean, let's be honest. Harry Potter readers would accept anything J.K. Rowling handed to them—even if it was a scribble on a mustard stained napkin. She's extremely talented and created an incredible following that no one should forget. And although readers had a fit about "The Cursed Child," most admitted that they stayed up till the early morning just to finish it.
It's Harry Potter. No matter how it's formatted, written or even cursed, it's him. And although fans are banging down Jo's door demanding for a re-write, none of them will ever turn her back on her. It's a legacy that will live forever, though hopefully this play will not.
So now, I sit immersing myself in everything Harry Potter, keeping a fair distance from "The Cursed Child." No, I did not like it as many people agreed, but I refuse to let a bump in the road disturb the love for all the happiness the series has brought.
As for those who haven't read it, you have been warned and tread lightly. As the title reads, this book has surely been cursed.