Perhaps you thought the all-nighters would never come to an end! But finally, you're proud to say that your dissertation is complete. You're ready to upload it, but your professors are requesting a hard copy. How do you go about that? Well, the dissertation printing and binding process can be broken down into its two stages.
For dissertation printing, you need to decide on what type of paper you'd like, your formatting, etc. For dissertation binding, you have several different types of bindings and various add-ons to choose from. By the end of this article, you'll know which decision is the best for you.
Dissertation Printing
There are a few key decisions to be made when it comes to dissertation printing. These include:
Black and white or color printing
The type of paper you need
The formatting of your paper (i.e., double-sided, or single-sided)
The points have been compiled into the table below to make your decision-making easier.
Your Options:
Tip
Color vs black and white: Colored dissertation printing will cost more; however, it can add a touch of professionalism to your paper.
Keep in mind that excessive color can have the opposite effect than intended. Plus, colored dissertation printing may be required if you're studying a creative degree program.
Paper: Most print shops will offer three different types of paper — 80g/m2, 100g/m2 and 120g/m2. The problem with the first type is that it's too thin and if you need double-sided printing, the ink may shine through. Unfortunately, many print shops use this as their default paper.
You've spent many months perfecting your thesis, so you wouldn't want to print it the day before you hand it in just to notice that the ink shines through the pages and it's barely legible. For double-sided printing, 100g/m2 paper is definitely worth the upgrade.

Top tip: Look for a print shop that uses 100g/m2 paper by default.

Formatting: For university print shops, you need to perfect your formatting prior to printing and hope that nothing is altered during the printing process. However, there are online print shops that will assist you with this.
Say goodbye to last-minute formatting errors, because some online print shops will even check your paper for printability and inform you of any potential errors throughout the dissertation printing process.
The Dissertation Binding Options
Once you've decided on your dissertation printing configurations, you need to choose a dissertation binding that is suitable for your paper. In the end, this depends on the type of paper you're submitting — namely, whether it's a research paper, an essay or a bachelor's thesis, etc.
For example, an essay will only be counted toward a small portion of your final grade, whereas a lengthy research paper or a final dissertation will count for a lot more. Therefore, the bigger the paper, the better the binding.
Tip!

Many institutions have their own standards regarding the type of binding to be used. Double check the printing and binding requirements with your institution before ordering.
All About the Different Dissertation Binding Types
When it comes to dissertation binding, you have several options to choose from. This section will discuss each binding in detail so you can make a well-informed choice regarding your thesis printing and binding configurations.
The Classy Leather Book Binding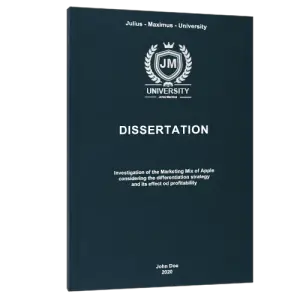 The elegant leather book binding is perfect for your research paper or thesis. There's no doubt that this dissertation binding will reflect your hard work that lies within the pages. Some pages even allow customized embossing and other add-ons such as bookmark ribbons and corner protectors. The leather book binding is certain to make the best first impression on your professor.
 

 

 

 

Recommendations: The leather book binding is great for many different types of papers

Bachelor thesis
Dissertation
Research paper
Master's thesis
The Versatile Thermal Binding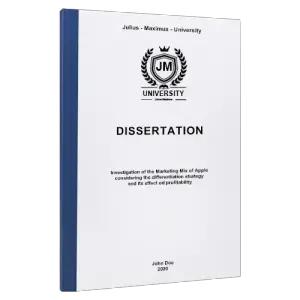 You'll find the classic thermal binding to be a very versatile option. The front cover is transparent, so the first thing that your readers see is your title page, and the faux leather back cover is available in several different colors. This dissertation printing and binding classic is suitable for almost every type of paper.
 

 

 

 

 

Recommendation: Thermal binding is suitable for research papers with a smaller page count. It's also great for putting extra copies of your paper away into storage.
The Personalized Softcover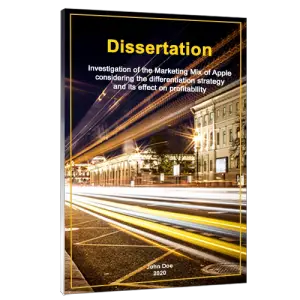 The softcover binding is exactly what you need for your creative study program. The front cover can be designed the way you've envisioned it — with logos, pictures and different fonts. The personalized softcover dissertation binding will make your work stand out from the rest.
 

 

 

 

 

 

Recommendation: The softcover binding is great for your art degree, but it cannot hold a large number of pages, so it's not suitable for your large research paper.
The Cost-friendly Spiral Binding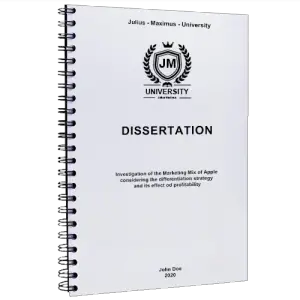 The cost-friendly spiral binding will still impress, even if your dissertation printing and binding budget is a little smaller. It's similar to the thermal binding, except the pages are bound together using metal or plastic spirals, rather than glue. Your front cover will be on display and for the back cover, you can choose from several different colors.
 

 

 

 

 

Recommendation: Due to its simplicity, the spiral binding is great for smaller papers. It is however, not recommended for large research papers or theses.
An Overview of the Dissertation Binding Methods
You'll find all of the information above, compiled into one table for the ease of your dissertation printing and binding decision making.
 
 
Research paper
Bachelor's thesis
Master's thesis
Term paper
Dissertation
Leather book binding
Yes
Yes
Yes
No
Yes
 
The elegant leather book binding is exactly what you need for major papers like a bachelor's thesis or even a Ph.D.
Thermal binding
Yes
Yes
Yes
Yes
Yes
The classic thermal binding is incredibly versatile. This iconic dissertation binding option is great for all types of papers.
Softcover
Yes
Yes
Yes
Yes
No
 
The personalized softcover binding is just the thing for your creative study program. This binding cannot, however, hold a large number of pages.
Spiral binding
No
No
No
Yes
No
 
The spiral binding is the most cost-effective dissertation binding option. It's however, not suitable for major pieces of academic work like a bachelor's thesis.
The Perfect Solution for Your Dissertation Printing and Binding
Now you're very well informed of the dissertation printing and binding process. But there's one question remaining: How can you find high-quality dissertation printing and binding services? In the end, your decision really comes down to an online print shop or another print shop in your city.
The main advantage of an online print shop is that you can place your order from the comfort of your couch and have it delivered straight to your door — no need to leave the house.
---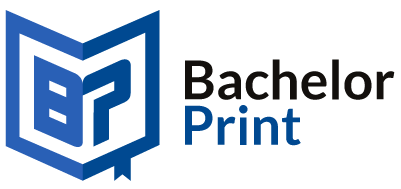 Luckily, we've already done some research and found BachelorPrint. They offer an innovative "look inside" function where you can flip through your printed thesis and check the formatting as though you were holding it in your hands. Further benefits of online dissertation printing and binding services include free express shipping and student-friendly prices.
If you need your dissertation printing and binding completed quickly, then BachelorPrint is the way to go.
We wish you lots of success with your dissertation printing and binding.